Vacation | Film review - A new Griswold is at the wheel - but this comedy sequel cum remake runs into the ditch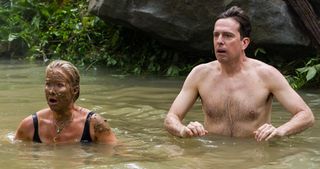 (Image credit: Hopper Stone, SMPSP)
Thirty-two years after Chevy Chase's hapless Clark Griswold took his family on a disaster-strewn road trip in National Lampoon's Vacation - the 1983 film, scripted by John Hughes and directed by Harold Ramis, which set the freewheeling comedy series rolling - another Griswold clan hits the asphalt for sequel-cum-remake Vacation.
The irrepressibly chipper dad at the wheel is Clark's grown-up son Rusty, determined to drag his jaded wife (Christina Applegate) and their two bickering sons – sensitive, guitar-strumming James (Skyler Gisondo) and psychotic, bullying younger brother Kevin (Steele Stebbins) – on a cross-country, family-bonding trip to Walley World, the first film's amusement park destination.
Their hopeless vehicle, a clunky gas-guzzling Albanian minivan with angry-Korean sat nav, supplies some chuckles en route, but for the most part writer-directors Jonthan Goldstein and John Francis Daley seem to reckon what we will find hilariously funny is a steady stream of gross-out gags and even grosser paedophilia jokes.
There are roles for Thor's Chris Hemsworth as Rusty's farcically well-endowed weatherman brother-in-law, and Leslie Mann as Rusty's sister Audrey, plus cameos from Chase and Beverly D'Angelo, the original Griswold parents, but it's hard to believe any of them will reckon this an adornment on their CVs.
Certificate 15. Runtime 99 mins. Directors Jonthan Goldstein, John Francis Daley.
http://www.youtube.com/watch?v=4cNmMLq9ZrQ
Get the latest updates, reviews and unmissable series to watch and more!
Thank you for signing up to Whattowatch. You will receive a verification email shortly.
There was a problem. Please refresh the page and try again.