The Voice mentor Gavin Rossdale: 'There's a lot more to my team's lives than whether they win'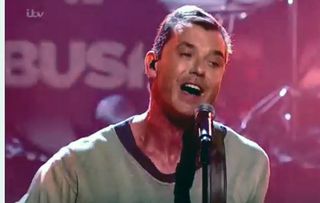 It's Gavin Rossdale's turn tonight to halve his team on The Voice – and hopefully he won't take as long as will.i.am did last night to make his decision!
Bush frontman Gavin Rossdale performed with his band on The Voice on Saturday night, but tonight it's all about Team Gavin, as his six remaining contestants – Truly Ford, Diamond, Sarah Morgan, Carter, Keziah Rodell and Max Carter – sing for a place in the quarter-finals.
So we talked to Gavin about how he thinks his team will do in tonight's show…
Do you feel under pressure? "There's lots of pressure because I want them all to do so well and I don't like any of them having to leave the show. I just care about them, so I'm emotionally invested."
How do you feel about having to halve your team tonight? "I think that's the show's way of making it good TV. They want it to be crushing, like it was when the contestants first came out for the blinds…how they make them stand there for what feels like an eternity. Making it as TV tense as possible is part of it. But I think all of my team has done so well and come so far … You know Jennifer [Hudson] was 7th on American Idol. Everyone's obsessed about the idea that you have to win the show but I don't see it like that. I see it that for all of them they've had this chance to really get themselves together, to sound really professional. On Sunday night, three people will feel like their life is the worst thing in the world, but it won't be."
You think they could still have a future in music? "They've all proved how good they are and I think I have secret dreams that they all go on and have proper careers. I'm not disrespecting the show in any way, because I love it, but there's a lot more to their lives than whether they win or not. I just want them to feel as good as they can."
How have you approached being a mentor? "Every act of mine is so different, so it's perfect. I don't feel as if I have any of the same style and therefore I can really focus on each person. I wanted a real range of individuals… That's why I called it Team Picasso – because the idea was that each of them stood on their own and I think that everybody will stand on their own individually after the show. "I'm really clear that it has to be led by them, it's about how they're confident and how they feel good, not about what anyone else thinks really. So it's just offering advice and seeing them go with it. For me, it's just about them representing themselves as strongly as possible, so that their career starts and goes beyond the show."
Will you be back as a mentor next year? "I'd love to come back again. I enjoy it. But it's not up to me. I'm just a hired gun."
What's the one piece of advice you would give your team? The main thing is that they don't try to please anyone by compromising. Whether it's the song they sing, whether it's how they move on the stage, whether it's what they wear, because each act is going to have to be responsible for themselves and feel good. The worse feeling I could have is that someone on my team didn't get to do what they felt best represented them. That would be cheating them out of a chance of showing who they are, so that's what I'm trying to do for all of them. However it goes, I hope they walk away feeling they have been themselves."
The Voice UK continues on ITV tonight at 7.45pm.
https://youtu.be/2AXl_i2VO8g
Interview by Victoria Wilson
Thank you for signing up to Whattowatch. You will receive a verification email shortly.
There was a problem. Please refresh the page and try again.