Watch the full trailer for Spooks: The Greater Good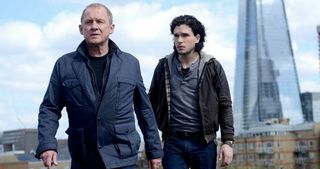 Spooks' lavish big screen adaptation of the long-running BBC spy thiller series will be released on May 8.
Today, the producers released the full official video.
The plot for The Greater Good involves the escape from MI5 custody of a terrorist, (Elyes Gabel), during a high profile handover.
Head of Counter Terrorism Harry Pearce (Peter Firth) is blamed and forced to resign, so when Harry disappears one night off a bridge into the Thames no one's surprised…
With MI5 on its knees in the wake of the Qasim debacle and facing controversial reform, former agent Will Holloway (Kit Harington) is brought back from Moscow to uncover the truth they feared – Harry's still alive. He's gone rogue and needs Will's help!
As Qasim prepares his devastating attack on the heart of MI5 in London, Will must decide whether to turn Harry in - or risk everything by trusting the damaged, dangerous master spy...
Watch the trailer for Spooks: The Greater Good:
http://www.youtube.com/watch?v=hHrizHJ8ObI
Get the latest updates, reviews and unmissable series to watch and more!
Thank you for signing up to Whattowatch. You will receive a verification email shortly.
There was a problem. Please refresh the page and try again.