Waterloo Road's Carl Au: 'Barry wants to uphold the family's criminal name!'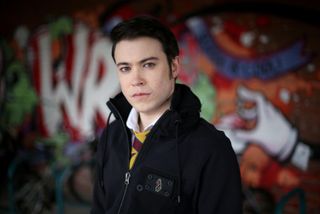 Carl Au reveals how, in the final episode of BBC1's school drama, Waterloo Road's bad boy Barry Barry could be headed for prison…
We discover this week that Barry has stolen the money raised to send his sister Kacey to America on a boxing scholarship. Why does he do such terrible things?
"Barry's always got reasons for his actions. It's never just because he's malicious, although he goes get a kick out of causing mischief. He actually loves his family and would do anything to defend them if he feels they're under threat. Barry may seem confident, but his swaggering hides his underlying insecurities. He's really crying out for attention and love!"
Despite his reasons, he seems to enjoy Kacey's devastation. Has he no feelings of remorse?
"Barry has moments where he reflects on right and wrong. But when he's in his stride, manipulating people and causing chaos he feels little remorse towards those he preys on! He really loves money and also finds it funny to have a sense of power over people, without thinking of the consequences."
With almost £10,000 missing the consequences of being caught are serious. Is he about to follow in his criminal father's footsteps?
"With their dad in prison Barry's definitely been trying to fill his shoes. Because his dad's heavily involved in crime Barry thinks it's important to continue it on and uphold the family name. He might well be following in his footsteps and get thrown into prison himself. We'll have to wait and see!"
Do you enjoy playing someone so devious?
"It's a real guilty pleasure to play Barry! I'm always telling people, I'm nothing like him. In fact, we couldn't be further apart. I really love peace and tranquillity, while Barry relishes causing havoc. The thing is, Barry's got wit and intelligence. If he applied himself he could be a top student, but he never does anything he doesn't want to."
Do you think he could spiral even further out of control?
"One of the thing about Barry is he doesn't actually know what he's capable of. If he got really extreme he could be really, terrifyingly dangerous. Until now he's still had a cheeky twinkle in his eye and is just about getting away with it, but he could easily get out of control. Personally I'd like to see him have a revelation and sort himself out. But in terms of the character I'd like to see him get even more dramatic! It'll be interesting to see how much he'll escalate."
Get the latest updates, reviews and unmissable series to watch and more!
Thank you for signing up to Whattowatch. You will receive a verification email shortly.
There was a problem. Please refresh the page and try again.