Waterloo Road's Philip: Grantly's exit will 'tug a few heartstrings'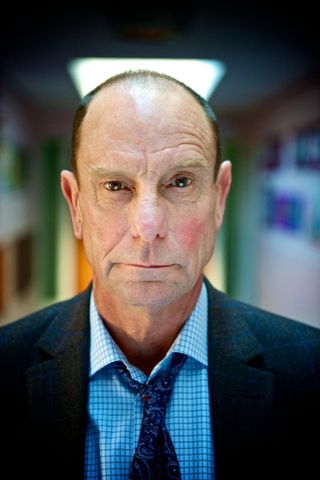 Philip Martin Brown talks exclusively to What's on TV about his emotional exit from BBC1's Waterloo Road (Thurs, October 10) after eight years on the show, which included wig wearing and break dancing!
We've a pack of man-size tissues at the ready. What can you tell us about Grantly's last day at Waterloo Road?
"It's the end of an era and really quite emotional. I'd rather not tell you exactly how he goes, as I'd like to leave it as a surprise for the audience, but I can say it's a fitting end for him. I thought he may go out with a whimper not a bang, but then I read the beautifully written script. It's very poignant and may tug a few heartstrings."
Do you remember your first scene on the show in 2006?
"I really don't - there weren't any great plans for the character so I wasn't in it much! I didn't expect Waterloo Road to last longer than one or two series, but it grew and I stayed, and I've had a ball!"
Why do you think we've become so enamoured with grumpy Grantly over the years?
"Because he says the things everybody thinks but nobody says in these politically correct days. There's nothing PC about Grantly! I think a teacher like him has taught us all…"
Did you base him on anyone you know?
"Yes I did, my old teacher Mike Holmes. I struck up a friendship with him fairly recently. He's quite chuffed Grantly's based on him."
What are your personal highlights after eight years on the show?
"The things the writers have given me to do over the years have been a joy – including some break dancing in series three, where Grantly had a dance off with Bolton Smiley!
I loved the wig Grantly had in the early days – he thought he looked the cat's whiskers, but it had a life of its own when he took his hat off! More recently I enjoyed the storyline when Bolton returned to school and took Grantly hostage and when he got married to his beloved Maggie (Melanie Hill)."
What are your plans for the future?
"It is my intention to make the flesh creep as Panto villain Fleshcreep at Tunbridge Wells this Christmas in Jack and The Beanstalk! I love doing Panto. Years ago I was Captain Hook in Worcestershire. I hired a flat, all my family came down and we went out for Christmas lunch – I had a ball."
What will you miss most about Waterloo Road?
"One of the main reasons I stayed eight years was because the community spirit made it fabulous to work on. I'm still in touch with everyone – Mark Benton, Denise Welch, Jason Done, Alec Newman and, of course, Melanie Hill, who plays Maggie. It's been a fantastic eight years and while it's been difficult to leave I know it's time for me to move on."
Get the latest updates, reviews and unmissable series to watch and more!
Thank you for signing up to Whattowatch. You will receive a verification email shortly.
There was a problem. Please refresh the page and try again.