AWKWARD! Will.i.am's big blunder in tonight's The Voice UK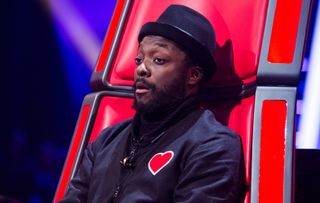 (Image credit: ITV)
Judge Will.i.am presses his button by mistake in tonight's episode of The Voice UK
There's a very awkward moment in tonight's episode of the The Voice when judge Will.i.am presses his button by MISTAKE!
The careless blunder occurs when the Black Eyed Peas star attempts to wipe off some pen marks  he's made on his button.
The judge and mentor is seen licking his thumb before gently rubbing the red button which immediately lights up.
Will.i.am is visibly startled to find his chair spinning around during tonight's show, the fifth round of blind auditions,  and is like a rabbit caught in headlights.
Meanwhile fellow judges  Gavin Rossdale and Jennifer Hudson look equally surprised to see their colleague's chair spin so quickly and Sir Tom Jones is seen struggling to stifle his giggles at the gaff.
It's not the first time Will has accidentally pressed his button.  Last year the eccentric singer and producer  activated his button in error while scribbling notes.
At the time the startled star explained away his blunder to singer, Alaric Green, who was auditioning with his rendition of Broken Vow,  saying it was the work of a 'ghost' saying, "So, I am sitting here listening to you sing, I am writing the notes down, and then my arm hits the button....  I think the Lord works in mysterious ways...if there was ever like a ghost...."
Will the singer's gaffe in tonight's episode lead him to becoming a mentor or will other judges Sir Tom, Jennifer and Gavin also turn for the act?
Watch The Voice UK tonight on ITV from 8pm.
Get the latest updates, reviews and unmissable series to watch and more!
Thank you for signing up to Whattowatch. You will receive a verification email shortly.
There was a problem. Please refresh the page and try again.