Winterwatch presenter Gillian Burke: You can't conserve wildlife selectively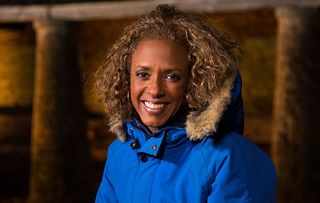 (Image credit: BBC/Jo Charlesworth)
Talking about the new series of Winterwatch Gillian Burke explains it's important to protect all wildlife
Chris Packham, Michaela Strachan and Gillian Burke return to BBC2 next week with a new series of Winterwatch. The team are setting up a new year-round home in Scotland's stunning Cairngorms National Park, and broadcasting live from a tipi on the edge of the ancient Caledonian forest.
It's an area teeming with fascinating wildlife from pine martins and wildcats to wood ants and golden eagles. So, fingers crossed these intriguing residents come out to play for the hidden cameras!
Here Gillian tells us more about The Watches' new home, her childhood love of wildlife and what's planned for Winterwatch...
The Watches have a new home this year. Why is Cairngorms National Park an ideal location for the series?
"It's a really magical place. It's exciting we're spending a whole year-run in the Cairngorms. Over Winter, Summer and Autumn there's going to be a real opportunity to delve through the story of the landscape and the animals that have evolved to live there. It was formed during the Ice Age. It's changed over geological time but has also been changed through human activity. There's a really big story to be told there."
As well as red squirrels, pine martins, otters and badgers, what other wildlife are on the team's watch-list?
"There's an array of remote cameras set up to catch as much as possible from the varied cast of animals that call this place home. From golden and white tailed eagles to salmon and little things like wood ants. As well live activity around the main site we'll have reports from other parts of the country."
What wildlife are you specifically focusing on?
"I'm doing a piece about a population of salmon that spawns later in the Cairngorms because the water downstream from Loch Ness is slightly warmer. Salmon is familiar on our menus; it's the chicken of the fish world in a way! It would be lovely to get people to think about the salmon's lifecycle – it's mind blowing!
"I'm also in Dartmoor filming Winter moths, one of a handful of moth species that stay active in the Winter. They make the most of this time of year because their nemesis the bat is hibernating! It's a lovely example of surprising animal activity during this harsh time of the year."
Is there a special joy in filming the smaller things?
"Yes, there is. It's lovely to tell the big stories but also to shine a light on the small things. They have incredible strategies for survival and I love bringing these stories to screen. My mantra is you can't conserve selectively. We can't choose to conserve elephants and pandas because we like them but not bother with squid because they're ugly. It doesn't work like that. I love when people get over their initial disgust or fear of something unexpected and then become curious."
What preparations do you make to film outside in the Winter elements?
"A flask is essential! I love being in the elements, and don't mind getting wet and muddy. But I also take no prisoners during cold weather – everyone laughs at me because I've more layers on than imaginable!"
Where did your love of the outdoors begin?
"I would say my mum and dad. I was born in Kenya so by default grew up in a place with iconic wildlife. I was lucky that my parents thought it important for me and my brother to experience that first hand. My dad, who passed away in November, was a very outdoorsy person who challenged us to be comfortable outdoors.
"We travelled a lot, did a lot of camping and went out in the bush. My mum worked for the United Nations Environment Programme so I became aware of challenges to our environment from a really young age. Without a doubt, that's where it all began for me – but you don't think like that when you're five and enjoy scratching around in the dirt!"
Winterwatch starts on BBC2 on January 29th at 8pm.
Get the latest updates, reviews and unmissable series to watch and more!
Thank you for signing up to Whattowatch. You will receive a verification email shortly.
There was a problem. Please refresh the page and try again.