X Factor preview: Simon Cowell hates guitars, Mel B hates Cheryl's adoring fans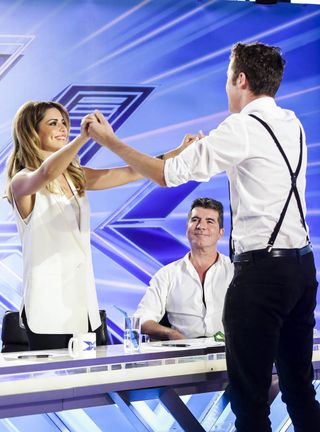 The X Factor returns on Saturday, August 30 and there are at least three singers in the first round of auditions who make the judges feel that they might have found something special.
One of them even gets through to the next round with just one "yes" vote.
And one of them plays the guitar… Which is a surprise because head judge Simon Cowell decides early on that he's become allergic to that particular instrument because so many of the guys turn up to audition with guitars and then play them badly.
"They all sound the same," Simon moans. "I'm going to get 50 guitars and blow them up."
But in the end he settles for grabbing one and smashing it to bits as fellow judges Cheryl, Mel B and Louis Walsh shout "No!"
There's also a singer-songwriter who's so bad that three of the four judges walk out… And you'll be surprised by which judge stays until the very bitter end of the audition.
Simon seems surprised by the number of wannabe stars who have stars in their eyes when they meet Cheryl… Boys and girls tell her over and over - and over - again that she's "beautiful" and "gorgeous" - while Mel sits next next to her.
"What am I, chopped liver? I hate sitting next to this one," Mel said, pointing at Cheryl.
In truth, contrary to a lot of reports, the judges get along fine - for this round, anyway.
Maybe they feel they have to play nice because so many of the auditionees are so young.
The age limit has been lowered to 14 for this year's contest, so there's a lot of excited teens desperate to prove they have the X factor.
"My dream is to have girls screaming my name," says 14-year-old Charlie Jones.
Will the judges think it's a dream that should come true?
Or will they be more keen on 63-year-old Carol Trefarthen, who sings Tina Turner's Simply the Best and teases Simon by taking off some of her clothes?
Cheryl is pleased to see Amy Connolly… Amy auditioned for The X Factor in 2008 and made it all the way to Cheryl's judge's house before she was sent home. How far will she get this time? Will she make it past the first audition?
Not everyone does, of course - and not all of the rejects take their rejection well.
But then the X Factor is all about watching the good with the bad.
Click here for our picture special on the first round of auditions.
Tune in to The X Factor on ITV at 8.00pm, Saturday, 30 August to see exactly which acts turn the judges on - and off.
The X Factor continues on ITV on Sunday, August 31, 8.00pm.
Get the What to Watch Newsletter
The latest updates, reviews and unmissable series to watch and more!