X Factor secrets: 'I always change my pants 10 minutes before the final,' reveals Dermot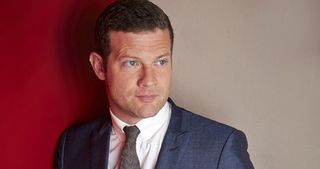 As The X Factor reaches its grand final, host Dermot O'Leary reveals the backstage secrets…
The final is such a big night! Do you get nervous?
"Yes! It's always so busy backstage, the adrenaline's pumping and there's a constant state of pressure. I try to take myself off somewhere quiet and go through my script, but there's never enough time to rehearse. The 30 seconds just before going on air are amazing – the butterflies start going and you start getting really excited about it. I love it!"
Do you have any special rituals before you go on stage?
"I always change my pants 10 minutes before. It's true! I just think it's nice to wear a clean pair of white pants. I've also been thinking about my outfit for the final and I might wear a bit of white tie or tails, Downton Abbey style!"
Can you tell us about the guest stars the finalists will be duetting with?
"Not yet. But the guest duets are really influential and in past series they've probably won it for people. Like with Alexandra Burke and Beyoncé in 2008. I remember Beyoncé came in and said: 'Give Alexandra all the big lines!' She didn't have to do that… it's a sign of a proper star."
Have you been surprised by any judges' decisions this year?
"I was really shocked when the judges took it to deadlock and Paul Akister went, because he did so well in the sing-off. Hand on my heart, as a punter I think it was the wrong call, but I had to maintain my professionalism and get on with it."
What's made this year's competition so special?
"For me, the strength and depth of the contestants has been extraordinary. Any other year, Paul, Lola and even Jay would have reached the final, but they went out relatively early on. Then there's been Stevi! I adore him, he's the nicest guy, but somehow he managed to stay in the competition at the expense of some really big voices! Stevi's ambition was always to get to the quarter-final and get on the tour and he's done that.
"I think the panel's been really good this year, too – they haven't been overawed by Simon which can happen, he's such a big personality. He's the boss of the show and that's hugely important. What I like about Simon is, he never surrounds himself with 'yes' men. He always wants people to challenge and have their own opinions, which is great for the show. As much as we all take the mick out of Louis, personally I couldn't do the show without Louis. Mel's been terrific and Cheryl's just got that stardust. It's been a good year."
So who's your tip to win?
"I can't say that, I'll get in trouble! Last year, we all pretty much knew Sam Bailey was going to win, but this year the competition is wide open."
*The X Factor final is on ITV on Saturday at 8.30pm and Sunday at 8pm
Get the latest updates, reviews and unmissable series to watch and more!
Thank you for signing up to Whattowatch. You will receive a verification email shortly.
There was a problem. Please refresh the page and try again.