Hunters season 2: release date, trailer, episode guide, cast and everything we know about the Jordan Peele series
The Hunters band together one last time in search of Europe's most infamous war criminal.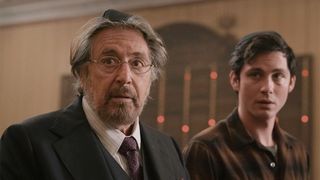 (Image credit: Amazon Prime)
Jordan Peele is concluding the story of the fictional Nazi hunters with Hunters season 2. This time around the eclectic, yet formidable, bunch of heroes are in pursuit of one of Europe's most infamous war criminals, Adolf Hitler. Given this is the show's final season, it seems only fitting that the pursuit is on for the crazed World War II leader.
Here's everything we know about Hunters season 2.
Hunters season 2 release date
Hunters season 2 is officially available to stream worldwide on Prime Video. Here's some bonus good news. All eight episodes of the season are on the platform which means you can binge if you'd like.
Hunters season 2 episode guide
Episode 1: "Van Glooten's Day 1972 Butter Sculptor of the Year"
"Two years after a failed mission scattered The Hunters, Jonah is living a double life in Paris with his fiancée, Clara. Soon, he discovers the most notorious Nazi in history may still be alive. Meanwhile, in Los Angeles, Millie Morris prosecutes a dangerous war criminal. And years before the founding of The Hunters, Meyer Offerman encounters a dangerous threat that could expose his true identity."
Episode 2: "Buenos Aires"
"Jonah convinces Millie to join him on the hunt for Hitler and the duo brings The Hunters back together for one last mission – their most important hunt of all. After The Hunters land in South America, they are soon imperiled by a dangerous foe. In New York City, Meyer Offerman gets closer to unearthing the whereabouts of a former Nazi who threatens to destroy him."
Episode 3: "Duck. Quail. Goose. Crow."
"Jonah, Millie, and The Hunters reluctantly agree to join forces with Chava after discovering her true identity and her connection to Jonah. The team heads to a luxury hotel in the Argentinian countryside to intercept the one person who knows of Hitler's whereabouts – a famed Nazi assassin known only as 'The Crow.' Meanwhile, Meyer collides with the old Nazi colleague who is blackmailing him."
Episode 4: "The Fare"
"As our Hunters grow closer to discovering Hitler's location, Jonah's secret life is jeopardized when his fiancée Clara shows up in Argentina. Meanwhile, Travis and a brainwashed Joe pursue The Hunters in a plot to kill them once and for all. In the past, Meyer and Ruth's connection is revealed and we discover the origins of The Hunters."
Episode 5: "Blutsbande"
"Reeling from the events at the Hotel Palladio, Jonah leads a team to rescue the love of his life before it's too late. Meanwhile, one of our Hunters fights for their life. In the past, as Meyer heads to Germany to recruit a new member of The Hunters, Ruth begins to grow suspicious of Meyer."
Episode 6: "Only the Dead"
"In an expansive Argentinian valley, our Hunters discover Hitler's compound and find themselves in the presence of ultimate evil, as a cataclysmic battle between good and evil ignites. In the past, we learn that Meyer and Chava have met before, a truth Meyer kept from Ruth for so many years, all as Ruth's suspicions about Meyer's true identity escalate."
Episode 7: "The Home"
"As Jonah attempts to smuggle the greatest evil out of Argentina to meet justice, we travel back in time to war-torn Germany to the home of a peculiar old couple whose story has reverberations for Jonah's success or failure."
Episode 8: "The Trial of Adolf Hitler"
"Adolf Hitler finally faces justice on the world stage, as the trial of the century begins. Jonah tries to salvage the life he once had with Clara. Finally, we discover the horrific conclusion of Ruth's pursuit of Meyer's true identity. As the past, present and future collide, Jonah, Meyer, Millie and our Hunters are left wondering whether the hunt for evil can ever truly end."
Hunters season 2 plot
Here is the official synopsis of Hunters season 2:
"After an accident derails their exploits in Europe, The Hunters must band back together to hunt down history's most infamous Nazi — Adolf Hitler — who's hiding in South America. Meanwhile, a look to the past reveals Meyer Offerman (Al Pacino) encountering a dangerous threat that could unravel his secret and expose his true identity, with explosive reverberations for our Hunters."
Hunters season 2 cast
Returning to lead the Hunters cast in the show's final season as Meyer Offerman is Emmy and Oscar-winning actor Al Pacino. While Pacino may forever be remembered as Michael Corleone from the classic trilogy The Godfather, he has quite the decorated resume. Pacino has also starred in Once Upon a Time in Hollywood, Carlito's Way, The Irishman and more recently, House of Gucci.
Josh Radnor also reprises his role as Lonny Flash. Radnor is perhaps best known for playing Ted in How I Met Your Mother. The actor has additionally been seen in Mercy Street, Rise and Fleishman Is in Trouble.
Rounding out the rest of the principal cast are the following:
Jennifer Jason Leigh (Atypical)
Logan Lerman (Bullet Train)
Jerrika Hinton (Servant)
Lena Olin (Riviera)
Tiffany Boone (The Chi)
Carol Kane (Unbreakable Kimmy Schmidt)
Louis Ozawa (Fishpriest)
Kate Mulvany (The Twelve)
Greg Austin (Summer of Rockets)
Hunters season 2 trailer
Prime Video was gracious enough to provide fans with both a trailer and a teaser for season 2. Check them out below.
How to watch Hunters season 2
Hunters is a Prime Video original series. If you're hoping to watch the episodes, you need a subscription to Amazon Prime. With an Amazon Prime subscription, you not only gain access to the Prime Video catalog, but you also gain access to other perks such as faster shipping on products in the Amazon marketplace.
With your Amazon Prime account, you can catch up with Hunters season 1 on Prime Video.
Get the latest updates, reviews and unmissable series to watch and more!
Terrell Smith has a diverse writing background having penned material for a wide array of clients including the federal government and Bravo television personalities. When he's not writing as Terrell, he's writing under his pseudonym Tavion Scott, creating scripts for his audio drama podcasts. Terrell is a huge fan of great storytelling when it comes to television and film. Some of his favorite shows include The Crown, WandaVision, Abbot Elementary and Godfather of Harlem. And a fun fact is he's completely dialed into the TLC 90 Day Fiancé universe.
Thank you for signing up to Whattowatch. You will receive a verification email shortly.
There was a problem. Please refresh the page and try again.