Bullet Train: release date, review, trailer, cast, and everything we know about the Brad Pitt film
Tickets please for the action-packed thriller Bullet Train starring Brad Pitt and Sandra Bullock.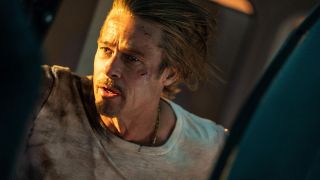 (Image credit: Sony Pictures)
One of the biggest new movies and summer blockbusters of 2022, Bullet Train sees Hollywood superstar Brad Pitt taking center stage as one of many trained killers on board the fastest train in the world in a high-octane thrill ride.
Directed by David Leitch, who is best-known for Deadpool 2 and Fast & Furious Presents: Hobbs & Shaw, Bullet Train sees Pitt's unlucky assassin, Ladybug, boarding the titular train for a simple snatch-and-grab gig that soon goes off the rails. As it turns out, he's not the only trained killer onboard, and his mission sees him crossing paths with these lethal adversaries.
Teasing the movie, Leitch told Empire magazine: "You hear the title Bullet Train and you think, 'Hard-boiled action.' But really it's a deliriously fun, heightened comedic action thriller."
He added: "There's a little bit of physical comedy. The fights are designed to enhance the characters. We're here to have fun in this super-contained space."
Alongside an all-star cast, the chatter about the much-anticipated film suggests it will also feature an abundance of complex and explosive fight scenes, plus a satisfying sense of pace and tension as the train speeds towards its final destination with nowhere to hide and no way off (bullet trains can reach speeds of over 300mph).
So jump on board and discover everything you need to know about Bullet Train.
When is the Bullet Train release date?
Bullet Train is now playing exclusively in movie theaters around the world, after premiering in early August.
This is the final stop for the movie after a few detours previously. Bullet Train was first dated for spring 2022, then moved to July 15. It had one other small date shift to July 29 before finally settling on August 5.
To find out where you can catch it, check out our feature on how to watch Bullet Train.
Bullet Train reviews — what the critics are saying
In What To Watch's Bullet Train review, we said that the cast was clearly having a blast and highlighted the fight sequences, but suggested that the blockbuster ran out of steam in its final half hour.
Critics on the whole appear to have a mixed opinion of the film. On Rotten Tomatoes (opens in new tab), Bullet Train currently has a 54% critics score, putting it just a few points below the 60% "Fresh" threshold, with many saying it is entertaining but also a mess.
Bullet Train plot
Sony's official plot summary for Bullet Train reads:
"In Bullet Train, Brad Pitt stars as Ladybug, an unlucky assassin determined to do his job peacefully after one too many gigs gone off the rails. Fate, however, may have other plans, as Ladybug's latest mission puts him on a collision course with lethal adversaries from around the globe—all with connected, yet conflicting, objectives—on the world's fastest train. The end of the line is just the beginning in this non-stop thrill-ride through modern-day Japan from David Leitch, the director of Deadpool 2."
What is Bullet Train based on?
Bullet Train is based on a novel by Kotaro Isaka. It was originally published in 2010 under the title Maria Beetle (now republished with the title Bullet Train (opens in new tab)).
The adaptation is written by Zak Olkewicz, whose previous credit is Fear Street: Part 2— 1978.
Bullet Train cast
Leading the cast is megastar Brad Pitt. He plays hired killer Ladybug, his latest codename. Alongside Brad is Ocean's Eight actor and fellow Hollywood big-hitter Sandra Bullock as who plays Maria Beetle, Ladybug's handler for his latest mission.
Other big names linked with the production include Kick-Ass and Nowhere Boy actor Aaron Taylor-Johnson as Tangerine, Joey King (The Kissing Booth) as Prince, Eternals actor Brian Tyree Henry as Lemon, Andrew Koji (Warrior) as Kimura, Hiroyuki Sanada (Mortal Kombat) as Elder and hip hop star Bad Bunny (aka Benito A Martínez Ocasio) in as Wolf. Michael Shannon (Knives Out, Nine Perfect Strangers) is also on board as The White Death.
Get a more detailed rundown of the Bullet Train cast here.
Is there a Bullet Train trailer?
Image 1 of 4
After a fake promo for the type of train that will be the setting of the action movie (check that out below), the full trailer for Bullet Train is here, with Brad Pitt having to survive a group of assassins all going after the same briefcase while riding on the locomotive. Watch all the action and hijinks in store below.
And again, here's that teaser we mentioned:
What is Bullet Train rated?
Bullet Train is rated R in the US and 15 in the UK. The reasons for the R rating are described as "strong and bloody violence, pervasive language and brief sexuality."
How long is Bullet Train?
Bullet Train clocks in with a runtime of two hours and six minutes.
Who is director David Leitch?
The director of Bullet Train, David Leitch, began his career as a stuntman and even served as Brad Pitt's stunt double in some of his biggest hits, including Fight Club and Troy.
In an interview with The Hollywood Reporter (opens in new tab), Leitch was asked about his previous job as Pitt's stunt double and how their relationship has evolved now he's directing the megastar.
"It was surreal. There were many times on set where I'd sit there and go, 'That's Brad Pitt!' We have a relationship and a friendship from the movies we did together. It was really cool to come back in this new relationship where I'd grown as an artist, he's grown as an artist and we are doing something that is leaning into both of our strengths. It's something special that you haven't seen from him or me."
While his wife Kelly McCormick added. "I think David was a little intimidated at the very start of the first week because they had such a different dynamic and relationship from before. It was kind of cute for them to figure out their lane and get into a rhythm and then for them to really form a partnership."
Leitch's other directing credits include Atomic Blonde, Deadpool 2, and Fast & Furious Presents: Hobbs & Shaw. He was also a producer on John Wick.
Get the What to Watch Newsletter
The latest updates, reviews and unmissable series to watch and more!
Freelance writer and editor
Joanne Lowles has been writing about TV since 2002. After graduating from Cardiff University with a Postgraduate Diploma in Magazine Journalism, she worked for All About Soap magazine covering the ups and downs of life on the cobbles, the square and the Dales.
Next came nearly 10 years at TV Times magazine as a writer and then deputy features editor. Here she spent many happy days interviewing the biggest names in entertainment and visiting the sets of some of our most popular shows including Downton Abbey, Call the Midwife and Strictly Come Dancing.
With a love of nature and wildlife she's also interviewed the leading experts in this area including David Attenborough, Chris Packham and Steve Backshall. She's also travelled the world visiting Mongolia, Canada and South Africa to see how the best in the business make the most brilliant natural history documentaries.
Freelance since 2013, she is now is a digital writer and editor for What to Watch, previews the best on the box for TV Times mag each week and loves being constantly surprised, entertained and informed by the amazing TV that she is lucky enough to watch.