Scarlett's Driving School: air date and all we know about Scarlett Moffatt's new show
Scarlett's Driving School sees the former Gogglebox favorite open a unique driving school for struggling learners — including herself!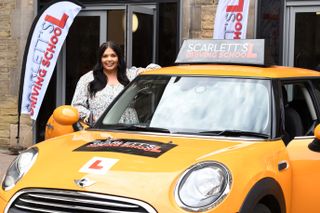 (Image credit: BBC)
They say if at first you don't succeed, try, try again — and this couldn't be more apt for Scarlett Moffatt and her fellow learner drivers who get behind the wheel for a new 10-part series on BBC One.
Scarlett's Driving School follows the former Gogglebox favorite as she not only aims to bag her own licence, but tries to help other learners of all ages who have been struggling to pass a driving test, despite numerous attempts at ditching their L plates.
It was while filming the show that the County Durham-born star, who first started learning how to drive when she was 17, finally passed her test on the 14th attempt.
Here's everything we know, including what happens in the show, some of the learner drivers taking part and a chat with Scarlett herself…
Scarlett's Driving School — air date
Scarlett's Driving School begins on Monday, February 13, 2023, at 8.30 pm, in England, and Wednesday, February 15, 2023, at 8.30pm, in Wales and Northern Ireland.
It's not available to watch in Scotland, but the first five episodes will be available on BBC iPlayer on Monday, February 13.
Scarlett's Driving School — what happens in Scarlett Moffatt's new series?
Each week, a learner driver, who has failed their driving test more than once, arrives at the driving school that Scarlett has set up at Middlesbrough Town Hall.
Also coming along for the ride is the learner's loved one who has taken on the role of driving instructor.
In the school's 'Learners' Lounge', Scarlett chats to the learner about why they think they haven't managed to pass a driving test and why they want to get that all-important licence. She also finds out from the loved one how the lessons have been going and why they have stepped in to help the learner finally ditch their L plates.
Next, Scarlett sends the learner and their loved one off to have a driving lesson in their vehicle which has been fitted with cameras. Back at the school, a professional driving instructor gets to watch what happens as the car-bound pair navigates the roads in and around Teeside and is able to find helpful tips and advice to the loved one via an earpiece.
After an intense five days of lessons, the learner will hopefully leave the school as a better driver and their loved one will leave the school as a better instructor.
Later, after the learner attempts another driving test, they return to the chool with their loved one to tell Scarlett if they have passed or failed.
The series also follows Scarlett as she prepares for her own driving test.
Scarlett's Driving School — meet some of the learners and their instructors
The series is not just about driving — it's about relationships, helping the duos and taking the stress out of being behind the wheel. Along the way, our learners also share touching moments with their instructors, who range from sisters and parents to partners, as they both work together towards a common goal.
In the first episode, we meet 24-year-old Jess, who's had more than 70 lessons and five driving instructors, who told her they couldn't work with her because she was 'untrainable'. After a few unsuccessful lessons with her mum, she's turned to her laidback and patient stepdad Richard to help her over the finish line, but after 200 hours of driving time, Jess is still nowhere near ready for her driving test…
In the second episode, we meet grandma Linda who's desperate to be a bona fide driver so she can help out with her grandkids. She was being taught by her partner but after it led to rows between the couple, she's turned to her younger sister Debbie. But after three years in the car together, both of them are at the end of their tethers… and neither of them are ever wrong!
Other learners in the series include: Fatemah, who's actually never taken a driving test despite learning for eight years; builder Garry, 55, who has been learning to drive for 30 years and single mum Amy, who hopes to be third-time lucky after two failed test and 13 years of lessons.
Scarlett's Driving School — Q&A with Scarlett Moffatt
Here, Scarlett tells us about the series, the first pair to enter her driving school, why it's based in the North East and how she's enjoying life as a bona fide driver!
Congratulations on passing your test! How does it feel to finally have your licence?
"I live in a rural area, so before I could drive, if I wanted to go out and get a pint of milk, I would have to get the rambling sticks and walking boots out! Now I can just get in the car and pop to ASDA. I also like being able to offer to take my nan places or be the designated driver when I'm out with friends. I feel like a proper adult now! I just love it!"
So, tell us what happens at your driving school?
"There's a learner, who's failed their driving test a number of times, and their loved one, who's been trying to help them to drive. What you realise is that the learner isn't always the issue! Two experts teach the loved one how to be of better use in the car for the learner via an earpiece. It's great that they have experts talking in their ears to calm them down and offer advice. I wish everyone got to have an expert in their ear when they were learning to drive!"
The driving school is based in your neck of the woods in Teeside. Why did you want it to be in the North East?
"I'm a huge advocate of the North East so I really wanted to showcase the amazing scenery we have and show just what a warm, friendly place it is. A big thing for me was really encouraging people to visit the North and see what we have to offer. There are lots of things to discover in the North. We have the countryside, we have cities and we have beaches, so we're very fortunate. We went to all these amazing places with loads of history, so that made me so happy that we got to do that."
Tell us about the professional instructors Vicky and Francis…
"They were amazing. If we did something wrong, they didn't make us feel bad and put us at ease. I don't think we could have done it without them. It's really important to have a good rapport with your instructor. You're literally in a tin box with this person for hours and hours on end, so if you don't gel, get a different instructor. It makes life a lot easier. Francis and Vicky got on with everyone though."
Are there any near misses or hairy moments when the learners are having lessons?
"That's why Vicky and Francis were there. First and foremost it's TV but the most important thing is a duty of care, not just for the people in the car, but the people on the pavement and the other cars on the roads! Luckily, there were no major incidents, just a few scrapes and bumps, and nobody was hurt."
In the first episode, learner driver Jess and her stepdad Richard come to the driving school. What can you tell us about them?
"The wonderful thing about the show is you watch people and their loved ones and how they interact. It was really lovely because Jess said 'I feel like I've got a whole new relationship because we've spent so much time together.' Jess really lacked confidence, but in the end, Richard was just so overwhelmed with happiness to see that her confidence had grown. Seeing him cry and say how proud he was warmed my heart. We were all crying. Even the camera crew!"
The series also sees you prepare for your 14th driving test. What was it like to be with other people in the same situation?
"I think because I was with other people who had been learning for a number of years and we were all in it together it felt like real camaraderie. There was a week in September when we all did our tests together and I think actually having that support from everyone helped. We became like a big family."
What advice would you give to other people in the same boat?
"Firstly, don't give up. It's very easy to not pass the first time. Often people will leave a huge gap in their learning because failing has knocked their confidence. I'm hoping that people who watch the show, even if they have failed many times or are a little nervous or apprehensive, this gives them the confidence to go 'Right, I'm going to get some lessons in.'"
What's your top tip for learner drivers?
"We went here, there and everywhere for the series because we wanted to showcase the North East, and that helped me to drive on any road. So I would say if you're learning, don't just stick to one route because then nothing can faze you if you've come up against every kind of sign and roundabout."
When the learners have their driving test, they come back to tell you if they have passed or failed. What's that like?
"It's awful. It is so tense! Obviously, I want everyone to pass because I've heard the reasons why they want to pass and what it means to them. That was the hardest part because I wanted everyone to pass, but I suppose it reflects reality because the national pass rate in the UK is 50%, so I think we were probably being a bit naive in thinking that it would be a full-on success. It's either a celebration or a commiseration, which is hard. Were there tears? Yes! I think it happened in every episode!"
Get the What to Watch Newsletter
The latest updates, reviews and unmissable series to watch and more!
Writer/Editor on Chat, Woman, Woman's Own plus TV & Satellite Week, TV Times and What's On TV
Michael writes about TV for Woman, Woman's Own, Chat, What's On TV, TV Times, TV & Satellite Week and regularly contributes to whattowatch.com (opens in new tab).
After graduating from the University of Winchester with a degree in English and American Studies, he chose a career that combined his great passions in life – magazines and television – and he has primarily worked as a TV journalist for more than 25 years.
He loves classic sitcoms such as The Good Life, Hi-de-Hi! and Man About the House, as well as shows such as Downton Abbey, Call the Midwife, The Great Pottery Throwdown and The Real Housewives of Beverly Hills.
Some of his favourite people who he has interviewed over the years include Gillian Taylforth, Linda Robson, Sara Davies, Alex Polizzi and Bradley Walsh!