'Silent Witness' Season 24 — air dates, cast, plot, trailer and all you need to know
Will Silent Witness Season 24 see romance for Nikki and Jack?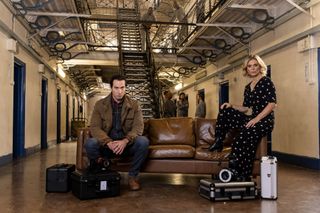 (Image credit: BBC/Rekha Garton)
Silent Witness Season 24 will see Emilia Fox return as Dr Nikki Alexander, who's been in the BBC1 crime hit since 2004.
Also back is David Caves as Jack Hodgson, but there are big changes following the departure of two fan favourites at the end of the last series.
Clarissa Mullery (played by Liz Carr) and Dr Thomas Chamberlain (Richard Lintern) both left the hugely popular long-running series.
Here's everything we know about the new series which has now started! And episode three will see Jason Wong join the team as Adam...
Silent Witness Season 24 release date
Silent Witness Season 24 began on Monday September 6 at 9pm, with the second episode following on Tuesday September 7 at 9pm. New episodes will air every Monday and Tuesday on BBC1 until the finale, and you can catch up on demand via BBC iPlayer.
Episode 7 goes out on Monday September 27 at 9pm.
Silent Witness cast

Emilia Fox and David Caves are both back as Nikki and Jack. In big Silent Witness news it's been revealed that Jason Wong (The Gentleman, Chimerica, Strangers) is playing pathologist Adam Yuen. He's billed as a "a confident, bright and keen pathologist who's constantly striving to be the best, he immediately rubs Nikki and Jack up the wrong way".
Jason joins the series in episode three. Talking about his character, Jason tells us: "Because of his over-eagerness, wanting to please and to do well, I do rub them up the wrong way!"
What's the plot for the new series?
We know that Adam's arrival is going to cause issues for Nikki and Jack. Now, there appears to be a hint of a possible romance between Nikki and Jack. The BBC teases that "when ghosts from the past emerge, the two are forced increasingly close to one another". Does this imply they might become an item?
The opening episode of the new series sees Nikki and Jack visiting a high-security prison. As the pair look into the suspicious death of an inmate, Nikki finds herself dealing with disturbing memories. It's revealed that the victim's cellmate is a student who was responsible for the mass shooting she witnessed a decade before. Nikki is convinced the same student is the killer this time as well. But is she right?
Talking about the opening episode, Emilia tells us: "Nikki and Jack look into a suspicious death in a prison, which reacquaints Nikki with a character called Scott Weston, who was in a memorable Silent Witness episode called Shadows, quite a few years ago. It all becomes a bit too personal, and Jack has to get her back on track, and help her see the bigger picture."
Is there a Silent Witness Season 24 trailer?
Yes. "Our work is vitally important, someone needs to speak to the dead," declares Nikki in a talk she's giving. We also see Adam for the first time and it's clear he's not getting on well with Nikki! Plus we see Nikki and Jack getting rather close!!
What happens in Episode 1?
The first episode of Silent Witness Season 24 saw Dr Nikki Alexander (Emilia Fox) facing an old threat, as she was led to believe that school shooter Scott Weston (Elliott Tittensor) was behind the death of an inmate called Jay at a local prison. This is a difficult case for Dr Alexander, as Scott was the gunman responsible for a horrific shooting spree at a university that took place in Season 13. The first in a two-part story, Nikki is determined to get to the bottom of this case while also navigating complications posed by Scott's girlfriend Paisley (played by Harry Potter's Evanna Lynch), who's determined to get his case reviewed while Scott's own mother believes that her son should serve his full prison sentence.
There's also tension between Dr Alexander and her partner Jack Hodgson (David Caves), who's worried that she's not following the evidence and she's simply looking to blame Scott following a turbulent past case that put him behind bars. But is Scott really the perpetrator in this crime, or is there another reason for the inmate's suspicious death? We'll have to wait until episode 2 to find out!
What happens in Episode 2?
Episode 2 was the conclusion to the inmate case, where it was revealed that Scott actually had nothing to do with Jay's death at all. After presenting a few theories, Nikki and Jack concluded that he'd actually had an allergic reaction to something, resulting in his death and clearing Scott's name.
The exact allergic turned out to be bee venom, which was an active ingredient in his cream which was given to him by his mother Dionne (Cecilia Noble). She had intentionally caused this allergic reaction, hoping he would leave prison and go to hospital for treatment so she could visit him. But it backfired and caused his death instead, something she hadn't intended to happen. So with that story concluded, it's time to see what's in store for Episode 3...
What happens in Episode 3?
The episode begins with a mysterious hooded figure filming a female swimming instructor at a swimming pool on his phone.
Later, she is then murdered in her own home, seemingly by the same hooded assailant. The team, Dr Nikki Alexander (Emilia Fox) and Jack Hodgson (David Caves), are joined by newcomer pathologist Dr Alex Yuen (Jason Wong) and DI Meredith Hughes (Caroline Sheen) in solving the horrific case.
The victim's name is revealed to be Laura Jennings and shocking evidence is soon discovered as the team finds out that she was pregnant when she was killed and had previously been abused. Although, her abuser was never convicted.
Meanwhile, Jack has an unexpected visitor and her sudden appearance uncovers some surprising family secrets.
The horrifying mystery soon begins to unravel as two suspects are identified, including Laura's ex-boyfriend, who was also an ex-detective, and a man who Laura went to school with and apparently recently dated.
The case then takes a dark turn as the team unearths a terrifying secret...
What happens in Episode 4?
Laura Jenning's (Lolly Jones) killer is finally uncovered in this second part of this two part story. CONTAINS SPOILERS!
With two bodies discovered underneath the decking of suspect Tim Garrick's abandoned home (the last location where Laura had been), Nikki and co believe that they're the bodies of Joanna and Tim Garrick.
However, they discover the bodies aren't who they thought they were. We find out that nursing home worker Simon wasn't following Laura, but that he was following a man, who turned out to be Tim and he was the one he was filming at the swimming pool.
Since Laura went to school with Tim, she recognised him at the pool where she was a swimming instructor and became suspicious of his identity.
It turned out that Simon was trying to find Molly's (Ann Mitchell) family, an elderly lady who he became close with at the nursing home, who claimed that her son Michael and his wife Sally had moved to Australia.
Simon found Molly's grandchildren, Dylan and Toby, at the swimming pool with the mystery man, Tim Garrick and things soon took a dark turn.
Soon, the team discovered that the Trasks knew the Garricks through an adoption course. But the Garrick's got rejected, due to Joanna still grieving after her last failed attempt at IVF and their concerns about her medical history. Tim was also rejected due to coercive control.
More shocking evidence was found as the money from the sale of the Garricks' house was transferred to an account in the name of Michael Trask, which unveiled a sinister revelation - the Garricks had stolen the identities of the Trask's after they murdered them and then stole their children!
This led to Laura's death, as she knew who Tim really was and he killed her for it.
What happens in Episode 5?
In the first of a two-part episode, Reputations, part one saw the team investigating the suspicious death of Dr Arnie Rahul (Sagar Arya) who was found murdered right before he was due to perform surgery on a patient named Wilfred Okoye. Dr Nikki Alexander, Jack Hodgson and newcomer Dr Adam Yeun were on the case, trying to get to the bottom of who would have wanted Dr Rahul dead.
Throughout the episode, Adam was behaving strangely and even met with the hospital director at her home to discuss Dr Rahul, which was a clear conflict of interest. He even agreed to perform a postmortem on one of his patients, unbeknownst to his team. Later on, he told Dr Alexander he'd like to perform the postmortem and she agreed, despite initially saying she'd do it herself.
Nikki and Jack attended the christening of Adam's daughter and were shocked to find out that the hospital director was her godmother, information that Adam had withheld from the team. But despite this suspicious activity, when Adam did perform the postmortem he told the truth that it was a surgical error that killed the patient, angering the hospital director who threatened him.
Meanwhile, the episode ended on a bombshell as Jack revealed DNA evidence pointed to Wilfred Okoye, who was due to be operated on by Dr Rahul. But that couldn't be possible as he was under general anesthetic... leaving the team baffled. Following that, Adam threatened to resign, walking out of the room and revealing the hospital director had tried to use incorrect information on his CV in order to blackmail him. But will he be coming back?
What happens in Episode 6?
In the second part of Reputations, Adam came clean to Nikki about why he lied on his CV, revealing that he'd covered up a gap in his employment by saying he'd had a scholarship to cover for the fact he'd actually been in therapy for accidentally killing someone.
He'd tried to perform an emergency procedure on someone injured in a traffic collision and had been unsuccessful, admitting it took him months to recover from his mistake. Following his emotional confession, Adam went off to try and get to the bottom of what happened to Dr Rahul. All signs pointed to Professor Alan Cowley (Nicholas Farrell), a man working in stem-cell research, and it seemed Adam had single-handedly figured out the truth.
At first it seemed like Braithwaite was responsible for poisoning Rahul's patient Wilfred Okoye, and that she had later died of a heart attack due to stress, but Adam was unconvinced and set off to do some more digging into Professor Cowley.
It was soon revealed that Cowley had been framing Braithwaite and later murdered her in her own home. Unfortunately, this revelation would be deadly for Adam as after he confronted the professor about his findings and informed Jack and Nikki, he was struck down by Cowley in his car who wanted to ensure Adam would not live to tell the tale.
David is a Senior Digital Content Editor with over 15 years experience in television journalism. He is currently writing about the latest soap spoilers and television news for Whatsontv.
Before working for Whatsontv, David spent many years on TV Times magazine, interviewing some of television's most famous stars including Hollywood actor Kiefer Sutherland, singer Lionel Richie and wildlife legend Sir David Attenborough. David started out as a writer on TV Times before becoming the title's deputy features editor and then features editor. During his time on TV Times, David also helped run the annual TV Times Awards.
Other than watching and writing about telly, David loves playing cricket, going to the cinema, trying to improve his tennis and chasing about after his kids!
Get the latest updates, reviews and unmissable series to watch and more!
Thank you for signing up to Whattowatch. You will receive a verification email shortly.
There was a problem. Please refresh the page and try again.