The Control Room — release date, cast, interviews, plot, new trailer and everything we know
The Control Room is a BBC1 thriller starring Iain De Caestecker and Joanna Vanderham.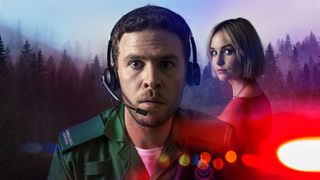 (Image credit: BBC)
The Control Room is a gripping new BBC1 thriller about an emergency response handler whose life is turned upside down by a life and death 999 call and recently aired on BBC1.
Created by the producers of Sherlock, Dracula and Inside Men, and written by BAFTA and RTS award-winning Nick Leather (Mothers' Day, Murdered for Being Different) the three-part series is set in Scotland.
Star Iain De Caestecker says: "I would say it's one of the most exciting scripts I've ever read and it was a page-turner from start to finish. I just had to know how it ended. Nick has a way of using very relatable and universal themes and emotions. The characters are not two-dimensional."
Here's everything we know...
The Control Room release date
The Control Room premiered on BBC One on Sunday 17 July at 9pm.
The three-part series will run on consecutive nights on BBC1 at the same time, with the second episode following on Monday 18 July and the finale on Tuesday 19 July. It is now available to watch on BBC iPlayer.
There's no word on whether the show will be aired in the US at this stage.
Is there a trailer for The Control Room?
Yes, one has finally arrived! And it features the moment Gabe's life change forever when he takes an emergency call...
What's the plot of The Control Room?
The BBC teases the plot as... "A gripping new thriller set in Glasgow. The Control Room tells the story of Gabe (De Caestecker), an ordinary man who works as an emergency call handler for the Scottish Ambulance Service in Glasgow. His world is turned upside down when he receives a desperate life-and-death call from a woman who appears to know him. With Gabe under pressure to work out who she is, he makes a decision that threatens to have devastating consequences..."
What happened in The Control Room?
* SPOILERS FOR THE CONTROL ROOM UP AHEAD *
In The Control Room episode one, Gabe received a call while working as an emergency call operator from a distressed lady called Sam, who's later revealed to be a childhood friend of Gabe.
Sam revealed she had killed her boyfriend Haz in an act of self-defence after he'd "ruined her life" and given her "two years of hell".
Gabe pretends he doesn't know who she is, but the next day she calls back. He again pretends he doesn't know her, but makes his excuses to leave work early and tells Sam he needs to go 'home sweet home' which is a code letting her know they should meet at the hut in a Christmas tree forest they used to hang out in as kids.
When they meet, Gabe tries to persuade Sam to call the police, but she asks him to help her move the body of her boyfriend. He eventually agrees, although as he's doing that his van is hit by a drunk driver, which results in an exciting police chase. Luckily Gabe manages to stash the van in a lock-up belonging to his uncle Charlie.
The first episode ends with a real cliffhanger when the next day at work, Gabe's co-worker Anthony answers Gabe's mobile phone when Sam calls and discovers the truth. He then tells Gabe he'll go to the police unless Gabe does something for him.
How does it end?
During the three-part series Gabe went through hell, ending up with gangsters on his tail after a botched exchange of illegal goods, a dead body in the back of a van, and all sorts of drama to stop Sam from going down for murder... or so he thought.
But there was a twist in the tale, as it was revealed that Gabe's suspicious colleague Anthony (Daniel Portman) is Sam's boyfriend and the two had manipulated Gabe from the beginning, in order to do Anthony's illegal bidding.
It was revealed that Sam was also a figure from Gabe's past, and he speaks to childhood acquaintances Robbo (Daniel Cahill) and Eilidh (Charlene Boyd) to discuss Sam, who they've kept in touch with, and finds out that she was responsible for the fire that accidentally killed Robbo's father during childhood, and not Gabe as everyone was led to believe.
Sam eventually has a change of heart and decided to stop Anthony from ruining Gabe's life and walking away, by calling the police. So the series ends with Sam and Gabe reconciling but it's clear there's still bad blood between them, and it's an ending that has disappointed some viewers.
Who stars in The Control Room?
Iain De Caestecker plays Gabe, the emergency call handler at the centre of the story and the Scottish actor's recent TV dramas include Us and political thriller Roadkill, in which he appeared opposite Hugh Laurie. He has also earned global fame as Agent Leo Fitz in the long-running Marvel franchise Agents of S.H.I.E.L.D.
The show's other lead is played by Joanna Vanderham, who's appeared in British shows such as The Runaway and The Paradise, but has found success in America with hit shows Warriors and Legends of Tomorrow. The pair worked together briefly in 2011 BBC1 series Young James Herriot.
Further cast includes Sharon Rooney (My Mad Fat Diary, The Capture, Finding Alice), Daniel Portman (Game of Thrones, Vigil), Taj Atwal (The Syndicate, Line of Duty) and Stuart Bowman (Bodyguard, Versailles).
Speaking to WTW about his attraction to the role, Iain says:
"When I got sent the scripts I raced through them. It's a real page turner, but the characters are written with a lot of heart and sensitivity."
Joanna adds: "I read the script and thought, 'I've not seen anything like this on TV before' And I wanted to work with Iain again. It's so long ago since we made Young James Herriot [2011] together!"
What do the cast say about The Control Room?
Iain De Caestecker says: "What I really like about The Control Room is that it's a mishmash between different genres. You have the obvious thriller side of it, with lots of plot twists and cliff-hangers at every corner. On the other hand, it could be described as a love story, about enduring love and how far a person might go to protect somebody or someone that they love.
"There's also a coming-of-age quality to it as well. Nick is a master writer of suspense and it leaves you on the edge of your seat. It's nail biting but it has a more sensitive side as well."
Joanna Vanderham adds: "It's genuinely like nothing you've seen before. Nick's script is so fast-paced, there's so much plot, it's so character-driven and it's the type of show where you think, how this could really happen to anyone?
"People will question what they would have done in that situation. I think people will love these characters, want to spend time with them and watch them come through the other side of this hugely transformative couple of days."
The Control Room filming locations
The series was filmed in various locations in Scotland, which made it an extra special project for Scottish stars Iain and Joanna:
Iain says: "We filmed around Glasgow, Stirling, and on a real Christmas tree farm. For the control room we built a set in an old police control room.
"There's something about home that you feel a bit more at ease. I'd spent some time before filming in America, which I really loved. Out there there's more emphasis on being an actor off screen rather than on screen sometimes. Scotland's a really down to earth place."
Joanna agrees: "Working in Glasgow is the dream - my mum looks after my dog and I see them every weekend! It's also a lovely opportunity to show how beautiful Scotland is. One night we were filming at the Christmas tree farm and this mist settled. It looked like there were diamonds all over the trees. That felt special.
"I mean, we were thrown in at the deep end with the weather. We looked like drowned rats some days!"
Action-packed twists and turns
The Control Room promises to be a rollercoaster, cat and mouse thriller...
Iain tells us: "Without giving too much away, I would say it's about confronting and coming to terms with their past. How they know each other and the reasons why their bond is so sacred will be revealed…"
Joanna tells us even more: "There's a big twist right at the end! They realise they've been blinkered for years, making this an extraordinary story about ordinary people. I'd definitely refer to them as Bonnie and Clyde - though I don't think Gabe realises he's Clyde!"
Who's who in The Control Room
Gabe (Iain De Caestecker)
The mild-mannered ambulance call handler's normal life is turned upside down when mysterious Sam asks him to honour a promise made many years ago.
Speaking about the emergency service part of his role, Iain says: "I felt a degree of responsibility in making the ambulance emergency control room authentic. I spent a bunch of time in real control rooms. You could say they're the invisible or faceless side of the emergency services, but they do such an amazing job. I don't think I could handle it - even going into the control room I was a nervous wreck."
Sam (Joanna Vanderham)
A femme fatale figure seeking redemption, she turns to Gabe to help her escape a shocking situation.
Joanna teases: "Sam isn't being honest with herself or the other people in her life about what she really wants. The balance of how much do you give away was the trickiest part. I've never played a character like this before. Sam's almost like two people."
Ian (Stuart Bowman)
Widower Ian has a fractured relationship with his son, Gabe, and becomes furious when he returns home and starts asking questions about Sam…
Seasoned actor, Stuart, has starred in Taggart, Versailles, Bodyguard, The Serpent, Guilt, Alex Rider, and Grantchester.
Leigh (Taj Atwal)
Gabe's boss and lover lays her heart on the line, unaware of the secrets he's keeping as he embarks on a dangerous double life…
Taj has starred in Stella, Line of Duty, Cold Call, The Syndicate and, most recently, as Rana in Hullraisers
Anthony (Daniel Portman)
A work friend of Gabe's. Will he suspect all is not well with his mate and go to the police?
Daniel is best known for his roles in Game of Thrones and Vigil.
DI Breck (Sharon Rooney)
The dogged detective is suspicious of Gabe's increasingly shifty behaviour, resulting in a thrilling game of cat and mouse.
Sharon has starred in My Mad Fat Diary, Mountain Goats, Two Doors Down, No Offence, The Capture, and Jerk.
Young Gabe (Harvey Calderwood)
Part of Gabe and Sam's story is told in flashback. Speaking about meeting the actor playing Young Gabe, Iain says: "It's weird to say, but Harvey Calderwood, who plays young Gabe, looked a lot like me when I was younger! I remember chatting with him about a week before shooting, and he was much further ahead than me with the character. He'd say something, and I was like 'say that again' so I could write it down!"
Young Sam (Farrah Thomas)
Speaking about the actor playing Young Sam, Joanna says: "The casting was perfect. Beforehand [director] Amy Neil cleverly suggested that we see if they'd any mannerisms we could bring into our performances to link us back to the childhood versions. Farrah Thomas, who plays young Sam, was a little firecracker. She has so much energy, and it felt like this is exactly what Sam would have been like."
Get the What to Watch Newsletter
The latest updates, reviews and unmissable series to watch and more!
Feature writer for TV Times, What's On TV, TV & Satellite Week and whattowatch.com
Sean has been writing about all things telly for over 10 years and in that time he's been lucky enough to interview stars like Ian McKellen, Tom Hardy and Kate Winslet. His favourite shows are The Great British Bake-Off, People Just Do Nothing and Succession and in his spare time he enjoys drinking tea, doing crosswords and watching football.