'The Mating Game': release date, animals and everything we know
In 'The Mating Game' on BBC1, Sir David Attenborough shows how animals pursue a partner and keep their species going.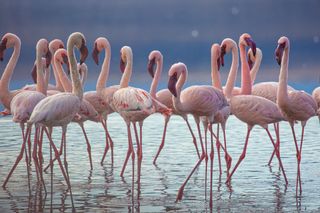 (Image credit: BBC)
BBC1's epic new nature series The Mating Game, sees legendary nature presenter Sir David Attenborough revealing the fascinating story behind some real-life animal romantics. The veteran broadcaster explores the animal kingdom's dating scene and how creatures from ostriches in Namibia to giant pandas in China find the perfect partner.
"I hope viewers will take away the overwhelming truth, which is how unbelievably ungraspable the variety of the natural world is, what governs the animal world, and what governs the way in which animals behave,'" says Sir David Attenborough. "It shows the natural world at its most spectacular."
So here's everything you need to know about BBC1's The Mating Game…
'The Mating Game' release date
The Mating Game, which is shown over five episodes, starts on Sunday 3 Oct. at 8pm on BBC1. It will then be shown every subsequent Sunday at the same time, with episodes also going on to streaming service BBCiPlayer. We haven't yet heard of a US or worldwide air date, but we'll update when we hear.
Is there a trailer for 'The Mating Game'?
Yes! A trailer for The Mating Game has been released by the BBC, and as expected there is spectacular wildlife footage, mostly of animals fighting. So the background song used, Fight For This Love by Cheryl Cole, is quite apt! Take a look right here...
Sir David Attenborough on what happens in 'The Mating Game'...
The Mating Game explores nature's ultimate quest, the pursuit for a partner, and how animals across the globe go about it, whether it's by thoughtful gestures, deception, flamboyance or good old-fashioned fighting!
"One challenge faces almost all animals on earth, the need to find a partner," says Attenborough. "For some it's conducted on an immense scale, others need to put on a show and for many it involves intense, even lethal battles! It makes for a wonderful sight and can be very dramatic."
The Mating Game also uses state-of-the-art camera technology to capture some extraordinary mating rituals, including the never-before-filmed display of the Argus pheasant in Borneo's rainforest.
"It's beyond question one of the most dramatic bird displays ever," says Sir David Attenborough. "We used six or seven camera traps and the results are sensational."
Which animals are featured in 'The Mating Game'?
The Mating Game features creatures from all corners of the earth come under the spotlight including several animals who like to fight off rivals for a chance to woo a potential mate.
Chimps are notorious for their brutality and violence, while kangaroos are seen boxing off their rivals and ostriches will defend their harem from younger males with a kick that has the power to kill a lion.
Sir David Attenborough also profiles animals that live in the ocean, including humpback whales, sea lions and flatworms, who determine who fertilises by penis fencing! And the presenter also reveals how tree frogs in their thousands descend on one pond in French Guiana on a single night to breed, plus how zebras (see below) fight each other for mating rights.
"The conditions for mating and the displays were restricted to just 12 hours in the year when the jungle got so drenched that pools form on the ground," Sir David says. "You need a hundred percent humidity and high temperatures and no sunlight and there's about a dozen, if not more, different species all of which want these pools. So it is a jamboree on a giant scale and the air is filled with so much noise that you can hardly hear yourself speak."
'The Mating Game' episode one: Grassland: In Plain Sight
The kick of an ostrich is powerful enough to kill a lion. So it takes a lot of guts for a young ostrich to challenge a dominant male for his harem, as Sir David Attenborough reveals in the first episode of The Mating Game called Grassland: In Plain Sight...
"There aren't many ostriches on the dry plains of Namibia and females are hard to come by," says Sir David. "During their breeding season, each flock is dominated by a single male. His territory and the females that come with it is a hard won asset, so his leadership is only challenged by the brave - or the foolhardy!"
The five-part series reveals the extraordinary strategies that animals use to find a mate, but in this week's first episode most of it seems to involve fighting!
In Africa's Serengeti, zebra stallions aggressively drive hopeful bachelors away from their females, while in the meadows of southern Australia, male grey kangaroos use their kick to get to the females.
"These battles are nearly always won by the largest male,' explains Sir David. 'As a result, the males have become very big indeed. At two and a half metres tall they're more than twice the size of the females!"
Even though some birds, like the ruff wading bird, put on a show to attract a mate by displaying their impressive neck feathers, they often still end up squabbling over the females!
"The females have plenty of males to choose from and, with only a few females, the males soon squabble amongst themselves,' says Sir David. "Some do find a mate, but many do nothing but fight!"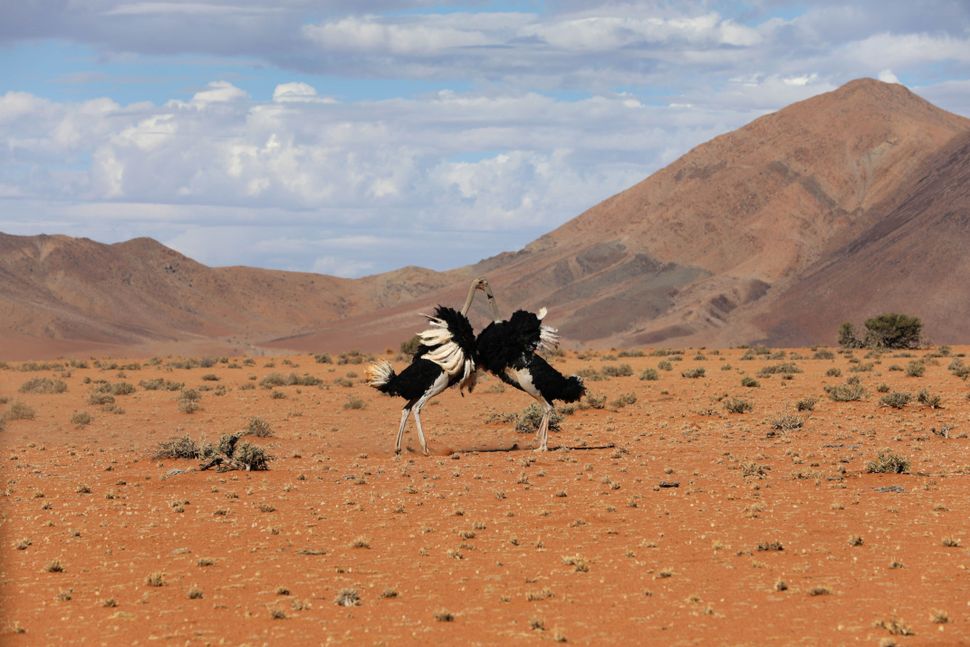 'The Mating Game' episode 2: Oceans: Out of the Blue
As we head into the coral reefs during this second episode of The Mating Game, a large female clownfish governing over her healthy family is a heart-warming sight. 'Her family is growing fast with well cared-for young who are clearly thriving,' says Sir David Attenborough. 'What could be more perfect?'
But not all is as it seems, and the matriarch used an astonishing tactic in order to become the group's leader. 'Before she became the head of this family, she was a he,' explains David. 'It was the disappearance of the previous ruling female that triggered this change of sex.'
For ocean-dwelling creatures changing sex is not uncommon but, then again, this series is full of incredible mating tactics, for example the flatworms that duel with their penises in order to impregnate one another and the manta rays who attend a pampering session with cleaner fish before they feel ready to look for partners.
We also witness the spectacular but violent courtship chase of humpback whales, called the 'heat run' which sees a female pursued by more than 20 males.
'They bellow and blow huge curtains of bubbles to intimidate one another,' says David. 'Then these 35-tonne males barge into each other to force their way to the front.'
However what follows are some of the most touching and tender scenes witnessed in the animal kingdom as the chosen male gently caresses his love. 'These creatures have to find mates in the largest and least populated habitat on earth,' says Sir David. 'The success of any species anywhere depends on the skill with which its members manage to play the dating game.'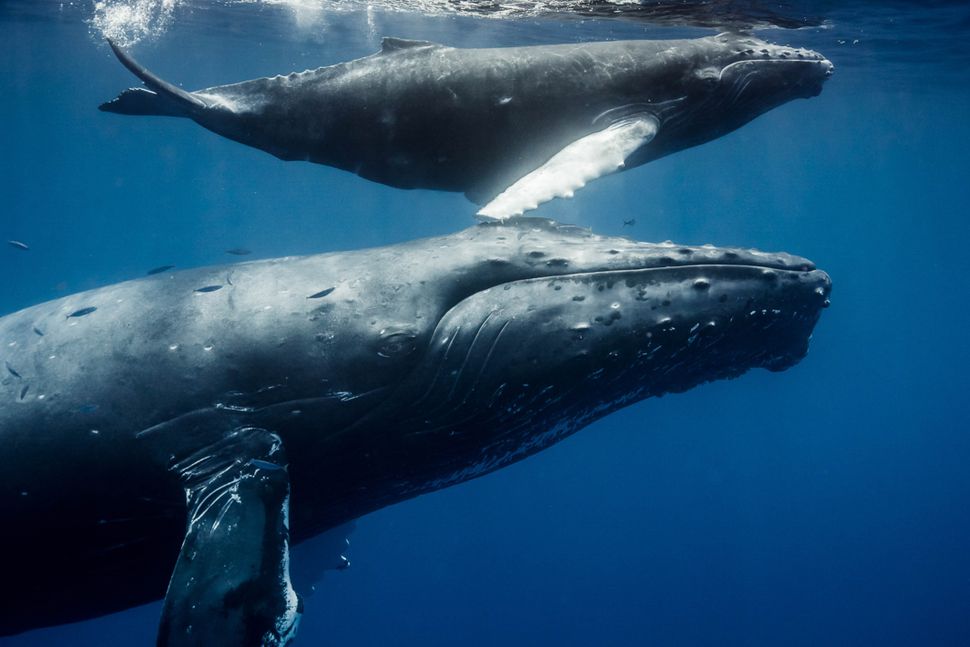 'The Mating Game' episode 3: Jungles: In the Thick Of It
Sir David Attenborough has seen some of the rarest animals in the world but one has always eluded him — the Argus pheasant in Borneo. So as soon as he heard he was to narrate The Mating Game, he quickly checked the bird was on the show's wishlist, as its incredible mating extravaganza has never been filmed before.
"I've been trying to film the Argus pheasant forever. Every time I went to Borneo we failed so I thought I'd spend my broadcasting life without ever having filmed it," says David. "It's beyond question one of the most dramatic bird displays ever. The results we got are sensational."
This episode of The Mating Game focuses on our overcrowded rainforests and jungles, where being lucky in love depends on being noticed. That's why dominant male mandrills (see our main picture) wear their blue and red faces with pride and it's safe to say the ladies can't get enough. Viewers also meet the young chimp who's shunned the normal violence of his species and forged long-lasting relationships using care and attention instead.
Another fabulous mating event filmed is a 12-hour congregation of thousands of frogs, all looking for a mate in French Guiana. This phenomena only happens occasionally, when heavy rain leads to pools forming on the ground where the frogs gather to mate. 'It's a jamboree on a giant scale," says Sir David. "The place was throbbing with a dozen different species' calls. All males go berserk to try to find a female."
'The Mating Game' episode 4: Freshwater: Timing Is Everything
When super-salty lakes form in the Great Rift Valley in East Africa, millions of lesser flamingos congregate there to find a mate. But the male flamingos will only be attractive to females if they've eaten enough, and they have an unusual way of proving it. For the algae they eat contains toxins which the birds keep in their plumage rather than digesting, meaning their feathers turn pinker the more they eat. And once they're suitably rosy, they begin an extraordinary display to find a partner.
'Dance fever spreads through the flock and at last the performance begins,' says Sir David Attenborough. 'Both males and females dance. Laying their eggs at exactly the same time maximises their offspring's chance of survival. Dancing ensures they are all in sync with one another.'
The week's episode of The Mating Game looks at freshwater habitats, which are some of the most unpredictable environments on earth. In South Africa we see giant African bullfrogs, the size of dinner plates, fighting to reach the middle of a pond where the females will mate. 'It's like a downtown bar on a Friday night,' quips David. 'These battles are no-holds barred and they may be fatal. Dodging the hits is all part of winning the bout.'
Some animals relying on freshwater to emerge must wait years until the conditions are right for mating so if they don't succeed in beating their rivals, then the chance to pass on their genes will have gone. 'Correctly predicting freshwater's arrival is the difference between success and disaster,' says David. 'Timing is crucial for the animals who must breed in the variable and only too unpredictable of earth's environments – its fresh waters.'
'The Mating Game' episode 5: Against All Odds
For decades, conservationists in China assumed they could breed captive giant pandas by simply acting as matchmakers. They believed all they had to do was put a female and a male panda together and let nature take its course. But as Sir David Attenborough reveals in the last episode The Mating Game, it rarely worked!
'It turns out giant pandas are extremely fussy about who they mate with,' he says. 'Field research has since revealed that female pandas need to choose a mate for themselves. 'In the wild a female panda sits high up in a tree and picks the best of the males she attracts and avoids any she doesn't fancy. This research is changing how we help captive-bred giant pandas breed more naturally.'
But not all artificial breeding programmes have been unsuccessful. There are fewer than 400 wild black-footed ferrets left on the American prairies and all are descended from just seven individuals, meaning pairs may be too closely related to have healthy young. But thanks to science and the ability to freeze the DNA of a species on the brink of extinction, one very special ferret, called Elizabeth Anne, could secure the future of black-footed ferrets.
'Elizabeth Anne is a clone. She's been created from the frozen cells of a ferret that died more than 30 years ago,' explains Sir David. 'Because she isn't closely related to any of the other ferrets, the chances of creating healthy offspring with her are much higher. We now have the ability to breed any animal or at least save its tissues until we discover how.'
'The Mating Game' episode guide in full
Here are the five episodes of The Mating Game with the dates they land/landed on BBC1 and details of most of the animals featured...
The Mating Game Ep 1 — Grasslands: In Plain Sight – Sunday 3 Oct., 8pm, BBC1
Ostriches, termites, nursery web spiders, zebras, kangaroos, ruffs. See above for our episode one preview.
The Mating Game Ep 2 — Oceans: Out of the Blue – Sunday 10 Oct., 8pm, BBC1
Humpback whales, sharks, manta rays, sea horse, clownfish, marine flatworms, banana fiddler crab. See above for our episode two preview.
The Mating Game Ep 3 — Jungles: In the Thick Of It – Sunday 17 Oct., 6pm, BBC1
Chimpanzees, chameleon, mandrill, Australian tree-running mantis, fireflies, Argus pheasant, purple-throated carib hummingbird, frogs aratai. See above for our episode three preview.
The Mating Game Ep 4 — Freshwater: Timing is Everything – Sunday 24 Oct., 8pm, BBC1
Giant African bullfrog, hooded grebe, sock-eye salmon, hellbender, lesser flamingos, callipterus fish, red lechwe, caiman. See above for our episode four preview.
The Mating Game Ep 5 — Against All Odds – Sunday 31 Oct., 8pm, BBC1
Giant pandas, toads, albatross, digger bees, monarch butterfly, wild turkeys, cicada. See above for our episode five preview.
-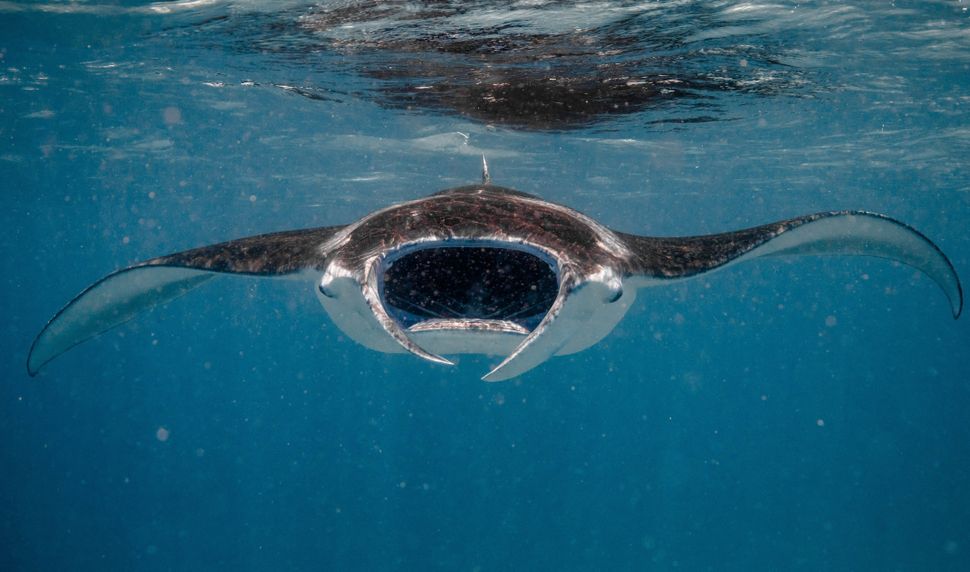 * Best BBC documentaries
* Best BBC nature documentaries — all the must-see shows on iPlayer
TV Content Director on TV Times, What's On TV and TV & Satellite Week
I'm a huge fan of television so I really have found the perfect job, as I've been writing about TV shows, films and interviewing major television, film and sports stars for over 25 years. I'm currently TV Content Director on What's On TV, TV Times, TV and Satellite Week magazines plus Whattowatch.com. I previously worked on Woman and Woman's Own in the 1990s. Outside of work I swim every morning, support Charlton Athletic football club and get nostalgic about TV shows Cagney & Lacey, I Claudius, Dallas and Tenko. I'm totally on top of everything good coming up too.
Thank you for signing up to Whattowatch. You will receive a verification email shortly.
There was a problem. Please refresh the page and try again.