'The Madame Blanc Mysteries' — release date, cast, plot and more
'The Madame Blanc Mysteries' is a thriller series created by former 'Coronation Street' star Sally Lindsay.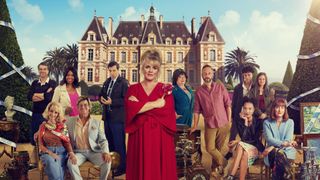 (Image credit: C5)
The Madame Blanc Mysteries is a new six-part thriller for Channel 5 and Acorn TV, created and written by Coronation Street legend Sally Lindsay.
Sally, who's co-written it with Sue Vincent (Mount Pleasant, Shameless), also plays the lead role of Jean White, a renowned and admired antiques dealer who runs a successful business in Cheshire with her husband, Rory. But things quickly take an ugly turn...
Sally impressed viewers when she starred in the thriller Cold Call in 2019. So it is more fitting than ever that she will front this role, which is a raw and gritty character that is strikingly different from Sally's comedic roles, like in Still Open All Hours.
Sebastian Cardwell, Channel 5 Deputy Director of Programmes, ViacomCBS Networks UK commented: "Channel 5's return to original Drama has been a great success, especially with Sally Lindsay starring in Cold Call in 2019, which was a real hit with our viewers.
"With a brilliant creative team at the helm, I have no doubt that this series will also have viewers hooked from the very beginning, impatiently waiting for the mystery to unravel in Saint Victoire!"
Please note the series was previously called The Reluctant Madame Blanc.
'The Madame Blanc Mysteries' release date
The Madame Blanc Mysteries started on Channel 5 on Saturday, Oct. 16 at 9pm in the UK. Every episode has now aired. You can catch up on My5.
US viewers can watch the series with Acorn TV.
'The Madame Blanc Mysteries' plot
We first meet Jean on a rainy Manchester morning, overcome with grief as she discovers that Rory has shockingly died on his way home from their vintage treasure-trove retreat in the South of France.
Heartbroken Jean then makes the dark discovery that all of their money has disappeared, their shop has been re-mortgaged to the brim and their assets have been pawned off.
With the dwindling remainder of thousands in their joint account eventually spent on Rory's funeral, Jean finds her life thrown upside down. Until her solicitor tells her that her husband luckily did not sell their cottage in the French antiques hub, Saint Victoire.
However, when Jean finds out that the lavish ring Rory was supposed to bring back to her has gone missing, she notices something is wrong and jets off to Saint Victoire. Will she find the answers she's looking for?
Sally says: "I've always been fascinated by the worlds of antiques and Agatha Christie, so putting the two together and creating the world of St. Victoire with Sue has been an absolute joy.
"We are so excited to show the audience the stunning sunny locations and beautiful antiques cloaked in a veil of mystery and can't wait for you to see what Jean unravels as she embarks on her new life in the sun."
What happens in episode one?
A man driving a truck in Sainte Victoire, France is being followed by a black car behind. As he tries to light a cigarette, he begins to cough heavily and crashes the vehicle. A mysterious yet lavish woman steps out of the black car in pink high heels, seemingly to help the injured man, but instead steals an antique ring from him and runs off.
The emergency services arrive, where we discover that the man has died and the thief is still there, watching the commotion from afar.
In Manchester, England, Jean White, (Sally Lindsay), a renowned antiques dealer who ran a successful antiques business with her husband Rory (Peter Gaynor), is distraught after attending his funeral (he is the man from the car accident in Sainte Victoire). She's then told some shocking news that all their money has gone and the shop will be repossessed, with the contents needing to be sold to pay off creditors.
Luckily, the solicitor reveals that Jean's still in possession of the vintage treasure-trove cottage in Sainte Victoire where Rory would go searching for antiques.
When the solicitor shows pictures of what Rory had on him at the crash site, Jean sees a picture of an empty ring box and questions where the "very expensive" ring has gone. She grows suspicious and senses that something is wrong and jets off to Sainte Victoire to investigate.
While on the flight, she meets property director Barbara (Olivia Caffrey) who offers her services to help Jean sell the cottage.
Taxi driver and handyman Dom Hayes (Steve Edge) is waiting to pick Jean up from the airport, where he bumps into Judith (Sue Holderness) who is waiting for her husband, Jeremy (Robin Askwith). They talk about Rory's death and Judith assumes that Dominic is picking up Rory's mother, much to the confusion of Jean when she arrives.
Jean relives past memories while she stays in the cottage and Dom stays at the police station with Jean while she collects Rory's items from the crash scene. Jean presses the head of police, Andre Caron (Alex Gaumond) for answers as to where the missing ring is from the box and believes that it's been stolen. She also shows a video of the ring Rory had sent to her before his death.
Things get more suspicious when Andre tells her that he bought a Rolex watch off Jean for his son's birthday, yet Jean hasn't been in the country for ten years. The watch turns out to be a fake and that it's not Jean's signature on the proof of purchase Caron was given. But, Dominic soon tells a shocking truth and gossip spreads across Sainte Victoire.
Jean suspects that foul play is involved and fights to prove that her husband has been murdered.
A secret soon spills from a resident of Sainte Victoire and Jean uncovers some horrifying evidence.
What happens in episode two?

An elderly woman awakes from a nightmare of her mother and brother being taken away by Nazis when she was younger.
Meanwhile, a TV Producer is in town searching for couples in Sainte Victoire to appear in a TV series called A New Life In France.
Jean is frustrated at the police for taking their time with the case, despite recent evidence that suggests Rory was murdered.
Judith and Jeremy's assistant, Adele (Félicité Du Jeu), seeks help from Jean with a fragile issue regarding her mother's night terrors of Nazi-occupied France. While Judith and Jeremy get busy winning over the TV Producer, Jean pays a visit to Adele's mum, Eleanor, whose mother and brother were snatched by the Nazis in 1943.
Eleanor treasures an antique book her mother left her and is convinced that an inscription written by her mother is a riddle that will lead to her parents' hidden riches. Jean takes on the mission, alongside Dom.
Dom and Jean's investigations take them to a well in the grounds of Judith and Jeremy's chateau as well as a German burial ground, where things take a sinister turn and aren't all they appear to be. But Jean refuses to give up and is determined to find answers for Eleanor.
In the end, Jean manages to reunite Eleanor with another missing treasure in her life.
What happens in episode three?
It's Jeremy and Judith's 80s themed wedding anniversary party, but things turn awry when Adele discovers a dead body.
The previous morning, Jean has a chat with Gloria and questions about who Xavier's father is, but Gloria clams up and doesn't answer.
A new face arrives at Sainte Victoire and checks into a hotel, but it seems a mysterious hooded figure is watching her.
More new faces pop up as an arrogant couple also arrive attempting to check into the pub, thinking it's a hotel.
As they arrive at the hotel room, their names are revealed as Harry and Cressida, and Jeremy is Harry's brother. They have come to Sainte Victoire to attend their wedding anniversary party.
When Cressida complains that Harry brought the wrong tuxedo, she finds a suspicious piece of paper in the tuxedo pocket.
Dom invites Jean to be his plus one at the party. Meanwhile, a mysterious figure is sneaking into somebody's room while they sleep. We realise that the person sleeping is the lady from before checking into the hotel, and that the figure is trying to steal her brooch. But the thief is interrupted by the fire alarm and the lady takes the brooch with her as she leaves the room.
We soon find out that the lady with the brooch is Mary, Judith's sister, who Jeremy had asked to come to the party as a surprise for Judith. Harry and Cressida soon arrive and there's instant tension between them all. Gloria's dad arrives with a surprise visit, then she heads off to the party.
While Judith and Jeremy recreate their first dance at the party, Gloria takes a call from her dad where she sees Cressida bleeding from her wrist, but she then disappears. Adele's scream halts the performance as she sees Mary dead and bleeding from her mouth, leaving Judith inconsolable and the guests shaken.
Jean questions Caron about the brooch Mary was wearing on her turban, but a shocking revelation is soon discovered as Caron reveals that there was no brooch, so it must have been stolen.
Jean and Caron investigate the crime scene, where Caron tells Jean that Mary was poisoned. Back at the police station, Jean talks about how valuable the brooch could potentially be and investigates a Victorian mourning locket Mary had in her belongings. One side of the locket had a lock of hair, and the other had a family crest.
Gloria pops into Jean's home and they chat about the incident, where she sees a picture of the locket on Jean's laptop. She's quick to point out that it's Jeremy's family crest inside the locket and tells her that she saw Cressida bleeding from her hand.
Jean realises who the hair belongs to and confronts Harry and Cressida with Dom, where she uncovers Mary and Harry's affair. The piece of paper Cressida found in Harry's tuxedo was in fact a love note written to Harry from Mary. Cressida denies killing her, and that she had cut her wrist on a broken window after discovering Mary's body when she wanted to confront her about the note.
Cressida is disgusted when she finds out that Harry had gifted Mary the locket and as the couple continue to argue, Dom and Jean head back to the chateau where Jean unearths a completely shocking discovery.
What happens in episode four?
A man awakens to thieves robbing his home. They knock him unconscious and steal a rare painting.
Caron calls on Jean for her help in looking at the victim's antique art catalogue, now named as local art dealer Albert Gilbert.
The stolen painting turns out to be by Hilma af Klint, the first abstract artist and it's very valuable due to its rarity.
A man turns up at an antiques shop demanding his money back for a painting they sold him. He claims it's a fake and they reluctantly give him the money back. Once he leaves, he gives the money to an unknown woman with red nails in a car and walks off.
Barbara turns up at Jean's house and tells her that viewers have all been saying that the house is messy and she should declutter.
Antique shop owner Charlie recruits Jean to help her identify the painting returned by the man and spots it as an instant fake. Charlie points out that it's the second time someone has claimed a painting to be real, only to be returned as a fake.
Albert Gilbert is killed in the hospital, presumably by the same red nailed woman in the car seen earlier, who injects something into Albert's arm.
Claudie finds a card by Xavier to someone called Sammy when sorting through things to take for the stall at the vide grenier. But when she starts to tease him and question who it is, he gets angry and asks her to leave.
Caron calls Jean to immediately come to the station and she presumes it's about her antique ruby ring. When she turns up at the station, she's stunned to find Charlie locked in a cell begging for her help.
It's discovered that Charlie has been arrested for dealing fake paintings, which she adamantly denies. She reveals to Jean that she's been accused of trying to sell a fake Jacqueline Marval painting, which Jean had inspected earlier and said that it was genuine.
When Jean asks to see the painting, she's shocked to discover that it's not the same canvas she had seen before and that it's a copy.
Dom and Jean set up a stall at the vide grenier where they see a strange man talk to Charlie's wife, Simone.
While out doing their duties, two bin men find the murder weapon covered in blood. It turns out it's an ornament from Judith's house.
Using an Art Revealed app on her phone, Jean makes an astounding discovery that lies underneath the fake Monet hanging in the antique shop and Charlie discovers that Simone has left.
Jean tells Charlie a hard truth about Simone and soon the culprit is revealed in a shocking twist.
Xavier reveals who Sammy really is to Claudie.
What happens in episode five?
Jean and Dom are on a tour of an ancient Catholic church. After they leave, Father Donadieu is brutally murdered and a valuable relic is stolen.
Jean and Caron tend to the murder scene and although Jean isn't an expert in relics, she says that it's priceless in its spiritual value. She calls in Dom to help and they go on a trip to Lourdes.
When in Lourdes, Dom and Jean meet up with Karen, a nun who is one of the world's leading experts in religious art.
Karen tells them about the history of the stolen relic, the Sacred Heart of Pope Pius VI. But they're all stumped when they try to think of a place someone would go to get rid of it for money. Karen thinks of one dealer who could possibly know, called Vivienne Dumonet.
Jean and Dom pay her a visit, but to no avail. However, when they are about to drive off, Jean spots Vivienne getting into a car with a man seen back at the church in Sainte Victoire with Father Donadieu.
They watch the couple on their date and then see the man go into the church and leave, so Jean decides to do some investigating. Father Durand and his mother, Paulette reveal the man as Sacha Ruse, a builder who came over to sign the paperwork for the field he purchased from the church. They also reveal that Father Donadieu was not keen on selling it to him when he was alive.
Jean is confident that Sacha Ruse murdered Father Donadieu after he refused to sell him a piece of land, which he went back and bought after the murder. Caron does not seem convinced by her evidence, however.
They talk to Sacha and he is stunned by their accusation. He tells the true reason as to why he wanted to buy the land at the back of the church — it has the pauper's pit where his grandmother lies and tells them of his plans to transform it into a sanctuary to help others.
Caron is furious at Jean for humiliating him, until he gets a call that another stabbing has happened. The victim is the local drug dealer.
Meanwhile, Xavier's dark past is uncovered when Niall's mother, Niamh pays a visit and Celine loses her temper with her.
While Jean and Dom attend a prayer service, Jean uncovers some truly shocking evidence and the murderer is soon arrested.
Jean gets some exciting news that there's a cash buyer interested in buying her cottage, but Dom doesn't seem so pleased.
What happens in episode six?
Caron returns the ring back to Jean and gives her the unfortunate news that they didn't uncover any evidence from it. As she leaves the police station, the lady with the red nails is watching her from her car.
Jean calls her friend David for some expertise on the ring to make sure it's genuine, until she hears something break outside.
Gloria's dog, Douglas goes missing and Dom and Claudette help her search for him, but they're stunned to see Douglas being held by Georgina, Dom's wife.
Someone breaks in while Jean sleeps, but she's awoken when an ornament crashes onto the floor. When she goes to investigate, the burglar sneaks away and she realises the back door is unlocked.
Claudette and Dean don't seem impressed by Georgina's arrival and she gives the excuse that her acting tour got extended for the reason of her absence. But they soon find out that the reason she was away for so long was because she had met someone else and it didn't work out. Georgina tries to reconcile her relationship with Dom, but he isn't having any of it.
When Jean returns to the cottage from her shopping trip, she sees the door wide open and is fearful that the burglar has returned, but she's relieved to find it's just Barbara.
Jean decides to fly back home the next day after finding a buyer for her cottage and Celine comes up with an idea to throw Jean a leaving party.
Things turn awry when Georgina makes a mysterious phone call and it seems she has a sinister reason for her return. Later on, she receives a text from Jack, the apparent lover that didn't work out, saying that he needs money and can't hold out for much longer.
Barbara turns up to Jean's home unexpectedly and acts strangely. She pulls a gun on Jean and she finally discovers that Barbara is the cause of all of this and is responsible for Rory's death. As well as being the other woman he was having an affair with.
Barbara and Jean struggle over the gun and Jean accidentally shoots Barbara. Jean calls Caron, but when they go inside to investigate Barbara has disappeared and the blood stain on the rug has gone.
Jean is frightened and decides not to attend the leaving party and asks Caron for a lift to the airport.
Georgina is sitting on a flight, waiting to leave as she holds the valuable paperweight she's stolen from Dom to sell it and make money for her lover, Jack.
Jean shows up to her leaving party and Dom tells her that Georgina has gone off on her travels again. After, Jean gets a sinister phone call from Barbara, warning her that it isn't over.
Is there a trailer?
Yes, a new trailer has been revealed and gives a real sense of what's in store...
🆕 Trailer released for the brand new @channel5_tv drama The Madame Blanc Mysteries which stars @SueHolderness as Judith 📺 #MadameBlanc pic.twitter.com/AIFgJ028m3October 8, 2021
Get the What to Watch Newsletter
The latest updates, reviews and unmissable series to watch and more!
Grace is a digital writer with WhatToWatch.com, where she writes series guides for must-watch shows and the latest TV news. She graduated from Anglia Ruskin University in 2020 with a degree in Writing and Film Studies, which only made her love for creative writing, film and TV grow stronger.
You'll usually find her watching the drama unfold in the latest reality series and much-loved soaps (usually with chocolate by her side!). Grace also likes to explore new places with her friends and family and, of course, watch and read about the latest films and TV series.