The House Across The Street — next episode, cast, plot, interviews and all about the twisty thriller
The House Across The Street on Channel 5 sees Shirley Henderson play a lonely single mother who becomes obsessive about a missing child.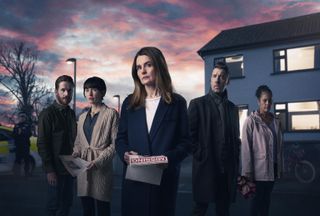 (Image credit: Channel 5)
The House Across The Street has got viewers gripped... showing how good intentions can quickly lead to obsession.
Formerly called The Winter Child the Channel 5 thriller stars Harry Potter star Shirley Henderson and Line of Duty's Craig Parkinson and is written by White House Farm creator Giula Sandler.
The series follows a lonely single mother who hears about a missing girl in the community and signs up to help find her. But her concern soon spirals into an unhealthy obsession.
Here's everything you need to know about Channel 5's psychological thriller The House Across The Street…
The House Across The Street release date
The House Across The Street is a four-parter that started on Channel 5 on Monday, October 17. The following episode airs on Tuesday, October 18 at 9 pm.
The final episodes will air next week on Monday, October 24 and Tuesday, October 25 at the same time.
Episodes are also available on the streaming service My5.
We don't know if US viewers will be able to watch the show but if it's picked up by an international screening service we'll let you know.
What happened in episode one of The House Across The Street?
The first episode saw Claudia, a lonely single mum who is recovering from breast cancer, become involved in the hunt for missing schoolgirl Emily Winter. But soon strange things start happening when overly friendly neighbor Joanne shows Claudia a collection of weird-looking dolls in her shed, Emily's dad gets drunk alone in the woods and even Claudia's own son seems to be spooked by some images he has been shown by his new tutor, George. At this point, it seems everyone and anyone could be guilty of Emily's disappearance... but when the case turns into a murder inquiry, just what happened to Emily and who took her from the local park in broad daylight? And why is Claudia so invested in the case? Is she just trying to fill her lonely life, or is there more to her involvment than meets the eye?
What happens in episode two of The House Across The Street?
Claudia gets suspicious of her neighbours when the search becomes a murder investigation. But is she looking in the right places or is the truth staring her in the face?
Is there a trailer for The House Across The Street?
No trailer has been released yet by Channel 5 for The House Across The Street.
The House Across The Street plot
The House Across The Street follows Claudia, a lonely single mother. Recovering from breast cancer while working as a school nurse, Claudia's days appear bleak.
When she hears about a local girl, Emily Winter, who has gone missing she seizes her opportunity to become a hero and make some friends. Soon Claudia becomes embroiled in the case and grows fixated on uncovering the truth. But not only is she determined to find out what happened to Emily, she's also becoming obsessed with the Winter family at the center of the case — Emily's devastated father Owen, her cold mother Sabine, and her 12-year-old brother, Dean.
Claudia finds herself obsessed with the investigation, even organizing a vigil, raising money for the girl's parents, Owen and Sabine, and helping Owen get home when she finds him drunk and in despair.
But as the story unfolds and the search for Emily becomes a murder investigation, Claudia becomes suspicious of everyone, including overly friendly neighbor Joanne, who has a creepy collection of dolls, her new love interest, teacher George (Craig Parkinson), and even Emily's grieving family.
The House Across The Street cast — Shirley Henderson as Claudia
Taking the lead role of Claudia in The House Across The Street, Shirley Henderson is perhaps best known for her role as Moaning Myrtle in the Harry Potter movies. She played villain Frances Drummond in the hit series Happy Valley and Siobhan in the 2020 drama The Nest. Shirley has an impressive film career, starring in movies such as Trainspotting, Bridget Jones's Diary, 24 Hour Party People and Star Wars: The Rise of Skywalker, in which she voiced Babu Frik. She has also appeared in Worzel Gummidge, Jamaica Inn, Hamish Macbeth and The ABC murders.
Craig Parkinson as George
Craig Parkinson plays affable English tutor George in The House Across The Street. The actor had us all gripped watching him play DI Matthew 'Dot' Cottan in the hit police series Line of Duty. He also played The Grand Serpent in Doctor Who as well as starring in Sandylands, Intergalactic. Life and Death in The Warehouse and The English Game. Craig has also had roles in Outlaws, Whitechapel and Misfits as well as voicing the character of Sergeant Sainfoin in the 2018 animation Watership Down.
Who else is starring in The House Across The Street?
There's a large ensemble cast in The House Across The Street, formlery The Winter Child. Emily's heartbroken parents, Owen and Sabine, are played by Ian-Lloyd Anderson (Game of Thrones, Derek) and Lisa Dwyer Hogg (Silent Witness).
Sara Powell (Doctor Who, Ghosts) plays their neighbor Joanne alongside Ronan Leahy (Batman Begins) as her husband Dave. Luke Griffin (1983) plays Leon, Claudia's estranged husband, while newcomers Myah Mason and Calum Jess play siblings Emily and Dean Winter. Caleb Wilson plays Claudia's son Rhys while Eddie Brett, Francesca Europa, Niamh McCann and Danielle Ryan round up the cast.
Interviews: Shirley Henderson and Craig Parkinson on their starring roles
Here Shirley, 56, and Craig, 46, reveal more about The House Across The Street...
What were your first impressions of this drama?
Shirley says: "I loved the danger of it, the delicate quality, the sense of the unknown. I was very surprised to be offered the role, though! I don't think I've ever had this big a part in a TV show, where I'm in almost every scene – I was really nervous about it!"
Craig says: "I found it immediately intriguing. When I read the scripts, I initially thought it was going to be one thing, and then it morphed into something else completely. Also Shirley is one of my favourite actors, so as soon as her name was mentioned I couldn't turn the job down!"
How do you see your respective characters?
Shirley says: "Claudia's a quiet woman, who's on her own a lot and in her own thoughts. She has been lonely for a while, she's had a lot of medical things going on and I think she's having a breakdown. Then one day everything changes when she walks up her path towards her house and sees that there's something going on in her street. Maybe the case of missing Emily is what she needs to feel worthy and alive again."
Craig says: "George is recently separated from an unhappy marriage. He's a good, loving dad, who's trying to make a new start. He doesn't know that many people in the area, but he begins a friendship with Claudia that turns, he believes, into a sort of relationship."
How do they react to the missing child case?
Shirley says: "Claudia initially recognises the sadness in these parents who have lost their daughter. I don't think she really knows she's becoming obsessively involved, though. Maybe if she just sat down properly and thought, what on earth am I doing, she'd see it. But there's something pulling her in. She also hasn't got anybody to talk to about it, so it begins to emotionally affect her."
Craig says: "When something like that happens in a community, it rocks everybody. Then ultimately life has to go on and that's what George is doing. But he's also concerned about Claudia's obsessive nature. She goes down this rabbit hole, which he feels isn't very healthy. That's what makes this drama so intriguing – there's odd behaviour from a lot of characters, so it keeps you guessing."
How challenging did you find shooting such an emotional series?
Shirley says: "Sometimes I'd sit on the pavement between scenes just to get my thoughts together and run the lines in my head. Wondering how to bring to life a character that has lots of emotional scenes is always challenging, but getting to have magic moments with such a brilliant cast and crew made it all worthwhile!"
Craig says: " I find it very easy to shake everything off once we've stopped filming for the day, it's the build-up that's tricky for me. A couple of days before we shoot I start going over every scene in my head, worrying about making them good!"
Why do you think society is always so interested in stories like this?
Shirley says: " It's the human condition to be curious. People are interested in the sad and the bad things that happen in life. But the thing about our story is that Claudia goes to extremes – she goes to a point where her interested could be dangerous!"
Craig says: "As a parent, I find it very difficult to hear about reports of real-life cases, I always turn the television or radio off. But this isn't just a series about a missing child, it's also a thriller about unhealthy obsession!"
Who's Who — a brief guide to the main characters in The House Across The Street
Claudia
(Shirley Henderson)
The lonely primary school nurse is recovering from double mastectomy, while struggling to maintain a meaningful relationship with her 12-year-old son. Then, when local girl Emily Winter goes missing, Claudia becomes fixated with the case, but her personal mission for the truth soon gets out of hand.
George
(Craig Parkinson)
Likeable teacher George is new to the area, but becomes friends with Claudia when he starts tutoring her troubled son, Rhys. But he soon becomes concerned about Claudia's odd obsession with the Emily Winter case, especially when she begins to question his innocence.
Owen
(Ian Lloyd Anderson)
Emily's dad is distraught when his youngest child goes missing and he soon finds himself opening up to Claudia after she finds him drunk and distressed in the local woods. Although he seems an ordinary family guy, is there more to him than meets the eye?
Sabine
(Lisa Dwyer Hogg)
Emily's mum Sabine has secretly been struggling in her marriage to Owen, which isn't as rosy as it seems from the outside. But when the police investigation takes a dramatic turn, Sabine and Claudia strike up an unlikely friendship.
Joanne
(Sara Powell)
Overly friendly neighbour Joanne is initially at the heart of the community search for Emily. But the harsh way she treats her disabled son, Simon, and her strange collection of life-like dolls leads Claudia to suspect her involvement in Emily's disappearance.
Get the What to Watch Newsletter
The latest updates, reviews and unmissable series to watch and more!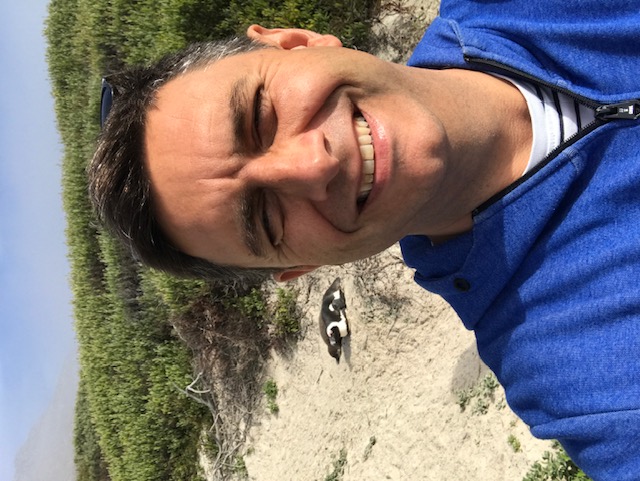 TV Content Director on TV Times, What's On TV and TV & Satellite Week
I'm a huge fan of television so I really have found the perfect job, as I've been writing about TV shows, films and interviewing major television, film and sports stars for over 25 years. I'm currently TV Content Director on What's On TV, TV Times, TV and Satellite Week magazines plus Whattowatch.com. I previously worked on Woman and Woman's Own in the 1990s. Outside of work I swim every morning, support Charlton Athletic football club and get nostalgic about TV shows Cagney & Lacey, I Claudius, Dallas and Tenko. I'm totally on top of everything good coming up too.