Kim Woodburn calls Phillip Schofield a 'phoney' on This Morning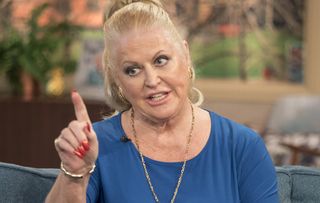 (Image credit: Ken McKay/ITV/REX/Shutterstock)
Kim Woodburn was in combative mood when she discussed her Celebrity Big Brother experiences on ITV's This Morning
Not content with falling out with her Celebrity Big Brother housemates, How Clean Is Your House presenter Kim Woodburn turned her fire on Phillip Schofield when she appeared on ITV's This Morning today.
Phillip and his co-host Holly Willoughby were chatting to Kim by video link, when Holly asked if she regretted going in.
Kim replied: "I loved the money. Adorable! It beats cleaning lavvies! But no, I may be 74, but don't mess with me… Don't bully me, I've been around for too long."
Holly said: "I wouldn't, I'm terrified!"
Phillip said: "Are you saying that we are bullying you?"
Kim responded: "You are giving me the impression that you don't know what you're talking about Phillip. Go in that house for 24 hours and sit there, then you tell me why I was annoyed."
"I get it, I understand," said Phillip. "But I know why people reacted in the way that they reacted to you because of the way you make me feel sitting on the sofa – you're already making me feel confrontational… We are just asking you questions, that's our job!"
Holly tried a joke: "This is Big Brother, could we split up the argument that's happening here!"
But Kim wasn't having it: "No you're not Phil, you big phoney."
The atmosphere was TENSE on This Morning's sofa today
Earlier, she'd spoken about the CBB house and atmosphere: "It was stinking after 10 days [when] I went in. Why should I clean it? They lived in stink and filth, the lot of them."
On the night she had to be removed from the Big Brother house, Kim said: "When you go in very late, you're in for a bit of a wallop anyway…"
Phillip said: "But that didn't happened to Chloe and that didn't happen to Jessica, they weren't treated like that."
Kim: "They weren't people that wanted to say a word out of place. They wanted to put up with it and I don't put up with it. Phillip, you were not in there, I know what I went through. I went through hell on earth. They said, 'Get back to your cleaning woman...'"
Phillip: "Well, you said worse!"
Holly asked: "Why did you stay in there then? If it was hell on earth?"
Kim replied: "Why should I go and lose a massive sum of money for those bums? Naturally I thought of it, would you lose a shedload of money? Enough to buy a house? Not on your nelly!"
Phillip asked: "So how much did they pay you?"
Kim: "It's nothing to do with you – what are they paying you?"
Smiling, Phillip said, "Well it's nothing to do with you either! But don't you reckon you'd have got on so much better if you'd just been nicer? If you'd been a nice person?"
Kim replied: "I think I am a nice person. I'd like you to have a word with all the crew I'd ever worked with, I am very very polite."
Kim also described fellow housemate Nicola McLean as 'a nasty piece of work', winner Coleen Nolan as 'two-faced' and 'a horrible person' and Jedward as 'honest, good boys'.
*Kim came third in the 2017 Celebrity Big Brother final
Get the latest updates, reviews and unmissable series to watch and more!
Thank you for signing up to Whattowatch. You will receive a verification email shortly.
There was a problem. Please refresh the page and try again.