Britain's Got Talent auditions round four - and Ant and Dec can't stop laughing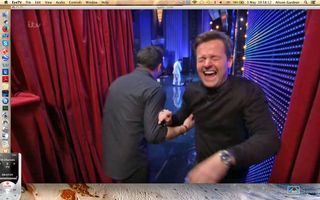 So who is it that has Ant and Dec trying but failing not to laugh out loud backstage as the fourth round of Britain's Got Talent auditions continued?
He's an impressionist called Jenson Zhu and he was funny…but it was very hard to tell if he meant to be.
"I've never performed in public before," Jenson, 37, revealed, just before he went on stage. "I assume Dave and Simon will like me. But sometimes English girls can be unpredictable, so I'm not sure about Amanda or Alesha."
Jenson's first impression was of Barry Gibb from the Bee Gees, complete with singing.
"I have to confess that when I sing in falsetto I feel like I have lost my testicles," Jenson said after his performance.
Then he moved on to Elvis - but Amanda Holden had to tell fellow judge Simon Cowell who Jenson was supposed to be.
"Sorry I don't look like Elvis - it is genetically impossible," Chinese Jenson explained.
It appeared it wasn't any easier for him to be the Godfather, either.
Ant and Dec were falling about laughing backstage, but Simon was stony-faced as he sat in on the judges' panel.
"Let me make this easy for you," Simon told Jenson. "You are the worst impressionist I've ever seen, or heard, or had on this show. Dreadful. Awful. You're a nice guy but it was terrible."
"Awful but really funny." Alesha Dixon said.
"I think you're a really funny guy," David Walliams told Jenson. "You could have a future in comedy."
Not if Simon has anything to do with it…
Osiris Young, 33, failed to impress any of the judges - even Alesha who, he claimed, had given him good advice when they met in Corfu 12 years ago.
"You told me to pursue my dreams," Osiris told Alesha, when he got on stage. Possibly she hadn't heard him sing when she did that.
Osiris sang - and danced to - Coldplay's Sparks but didn't spark any interest in the judges. He got four buzzes and walked off before any of them could say anything to him.
"I'm glad he walked off," said Alesha, "because I wouldn't know what to say to him."
Also failing to make the right impression on the judges was Alexander, 29, who shouted a song no one recognised, and After Party, an a cappella group described by Amanda as "shambolic". Singer Joey James, duetting with a face drawn on a piece of paper, was also moved offstage pretty quickly.
But the worst of the worst was Domenico Pagano, a ventriloquist with a chicken puppet. It sounded as if the chicken was being strangled but it was supposed to sound like singing. The bird - and the audience - were put out of their misery as Domenico was buzzed off.
But those few acts were the weeds among some truly blooming great acts.
Ant and Dec were taken with puppet Patsy May, who cracked a few good jokes then sang the Mama Cass hit Dream a Little Dream.
Simon liked the puppet a lot. "I see you in Amanda's chair next year," he told Patsy.
"Are you married?" Simon asked her.
Feigning alarm, David Walliams shouted: "Don't make her pregnant!" Then, turning to Patsy, David added: "Seriously, he would find a way."
David was soon distracted from that concern, though, when Crazy Rouge stepped on stage. A burlesque dance group, they revealed more than their dancing skills and brought a smile to Simon's face.
"There's something for everyone," sighed David, who had to give himself a few slaps across the face.
"You're all gorgeous," said Amanda. "I could watch you all day."
The judges - and Ant and Dec - couldn't take their eyes off magician Christian Farla, either. But they still couldn't work out how Christian magicked up not one but four glamorous assistants.
"It was really good," said David. "Just as you think you've met one of your girlfriends, you meet the other three."
The next act on stage didn't really settle the judges, either. REAformed is a girl group who sang Kiki Dee's I've Got the Music In Me and had Alesha dancing in her seat.
"The judge we want to impress is Alesha," the girls said before they performed. And they did.
They got a "yes" from each of the other judges - and a golden buzzer hit from Alesha. So REAformed go straight through to the live semi-finals.
All that excitement made REAformed a hard act to follow but Kieran Lai, 17, did just fine.
Body-popping dancer Kieran's routine was inspired by the Tin Man from the Wizard of Oz - and the judges put him on the yellow brick road to the next round.
"Brilliant concept," David told the teenager. "Those moves were out of this world."
"You are without question one of the best dancers we've had on this show," Simon added.
Ten-year-old pianist Curtis Elton made a good impression on the judges, too, with his medley of classical music.
But the act that followed Curtis was much more up Simon and David's street.
Pole dancers Terri and Lisette had Simon tongue-tied but he managed to vote them through to the next round.
Voting through boy band Jack Pack was easy for David, Alesha and Amanda, too… Simon had no say in it as he was away having his baby for this part of the auditions.
Adam, 28, a barman, Alfie, 24, a painter and decorator, Andrew, 32, a father of two who "fixes ovens" and Sean, also 32, a gardener, said they have only been singing together for about six months.
Not long - but long enough for the judges. After they'd finished singing That's Life, David, Alesha and Amanda were beaming. They liked their swing style.
"I just love you guys," said Alesha.
"We've got boy bands but nothing like this," Amanda told them.
"Fantastic," added David. "I think if Simon were here he'd be very excited about you."
Simon was back for the final act - and he was excited about it.
Eva Iglesias (no relation to Julio or Enrique) is a 40-year-old supermarket assistant from Southampton who has already been rejected by the X Factor and The Voice. Had her ship already sailed?
"Just because I'm 40 doesn't mean I haven't got it," said Eva. "You've got to believe in yourself. If I don't do this now I never will," she told the judges.
"Are you married?" Simon asked.
"No," Eva replied.
"Why?" asked Simon… And in charged David.
"Why have you never got married?" he said to Simon. "You're 53!"
"Because no one will have me," answered Simon.
"I discovered late in life that I can sing and want to do something with it," said Eva, bringing the conversation back around to her.
And she certainly did something with Carole King's (You Make Me Feel Like) A Natural Woman.
"We hardly ever have anyone who comes on and sings with that passion and emotion," David told Eva. "You were really singing from the heart."
"I nearly didn't come today. My heart was broken by the person I love," Eva told the judges, tearfully.
"Carole King's heart was broken when she wrote that," Simon said. "I understand why you giving it what you gave it. So you can believe this: 'f*** them, you were great."
And how the audience roared. They loved Simon for that - and then he went home.
Click here to find out exactly why Alesha hit the golden buzzer for REAformed.
Britain's Got Talent continues on ITV on Saturday, May 10
Get the latest updates, reviews and unmissable series to watch and more!
Thank you for signing up to Whattowatch. You will receive a verification email shortly.
There was a problem. Please refresh the page and try again.