Spec-tacular Exclusive! George Rainsford reveals the real reason doctor Ethan Hardy has ditched his trademark glasses!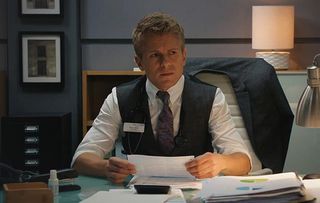 (Image credit: BBC)
George Rainsford reveals all
First Ethan Hardy and now Rash… Why does no one in the ED wear glasses?
We talked to George Rainsford, who plays acting clinical lead Ethan Hardy in BBC1's Casualty and asked him, why Ethan ditched his specs.
Here George reveals why Ethan is now a no-glasses zone…
Since Ethan took over as Holby ED's clinical lead, he's been sporting a new look. Have you enjoyed the change in wardrobe?
"Yes, we've dressed him up a little bit to own his new role. I've really enjoyed it actually. Initially we tried on the suit so he could impress on his first shift."
Why has he remained suited and booted ever since?
"We weren't going to continue it necessarily, but everyone enjoyed it. Between conversations with the producers and costume department it felt like it's a different time and it's quite nice to smarten him up. He may be rubbish at authority but at least he looks the part!"
The glasses have been missing from his ensemble for a while. Why is that?
"The glasses were technically really difficult to work with. We work with studio lights and there were regular conversations about reflection issues making it very difficult to film. You'd often get the Director of Photography saying things like, 'Can you keep your head at that angle?' I was fine doing that for a while but then all the emotional post-Cal storylines came in and the glasses were problematic. We had a conversation and came up with a creative way of losing them."
It was a symbolic moment too then, when Ethan stopped wearing his glasses after Cal's death?
"Yes, we all agreed this could be an eye-opening moment for Ethan. The start of a new chapter for him. There was a scene where Ethan removed the glasses and put on Cal's stethoscope. What we tried to reflect in the show was a goodbye to the old Ethan and a goodbye to Cal."
A 'Be More Cal' moment as well, perhaps?
"Yes, the start of a new chapter of 'Be More Cal' for Ethan really. He's trying to be a bit more like his brother and toughening up... A quality that Cal had. That was our creative reasoning behind it. The technical reason was they were just really difficult to work with, unfortunately, due to how the studio is lit!"
Do you miss wearing the glasses?
"I always liked the glasses. They established Ethan's character quite quickly. But I like to think now he's established enough not to necessarily need them. He's more grown up."
Casualty airs on Saturdays on BBC1
Get the latest updates, reviews and unmissable series to watch and more!
Thank you for signing up to Whattowatch. You will receive a verification email shortly.
There was a problem. Please refresh the page and try again.