Casualty's Crystal Yu: Lily's working overtime to save Ethan's career at Holby!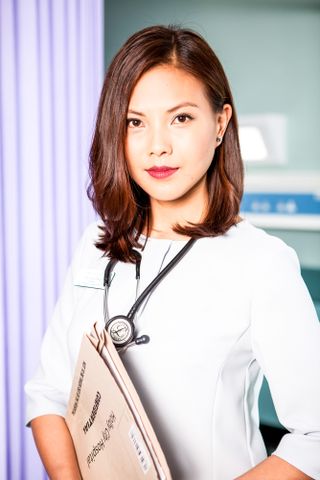 (Image credit: BBC)
Casualty star Crystal Yu reveals why blunt medic Lily Chao isn't going to let Ethan resign without putting up a fight!
In a recent chat with What's on TV's Elaine Reilly, Crystal also reflects on Lily's grief at the sudden death of her father, explains why that led to her bullying of Alicia, and hints at what's in store for Ethan and Cal…
Why is Lily sure Ethan's shock resignation last week was a mistake?
"Ethan's overworked and overtired. He blames himself for making mistakes and he blames the system for failing both patients and doctors. But Lily knows Ethan really wants to be at Holby City Hospital. He's a brilliant doctor. Yes he's been let down by the system, but she doesn't think throwing a tantrum and giving up makes anything better!"
What does Lily think when she catches Ethan looking for jobs in Australia?
"She thinks he's running away from his problems! She'll always be brutally honest with him, so she tries to help him realise he needs to calm down and look at the situation with a new perspective. As doctors, they have to do the best they can in the given circumstances."
Does she have a plan to stop him leaving?
"She asks clinical lead Connie (Amanda Mealing) to please help convince Ethan to stay! Lily reminds Connie that Ethan's a great doctor and the department can't afford to lose him. Connie knows everything Lily's saying is true and his departure would be a massive loss to the ED."
Does Lily have an ulterior motive for wanting Ethan to stay?
"There is an element of selfishness! He's her only friend, and the only one who understood why she acted the way she did towards Alicia (Chelsea Halfpenny) while grieving the death of her father.
"But Lily also empathises with Ethan because she was in a similar situation last year when she was so overworked she crashed her moped into a young girl! She felt immense guilt after the crash and also thought the only thing she could do was resign. Because what do you do after you've caused an accident because you're working so hard you're overtired?"
You've had some great storylines, especially, as mentioned, when Lily's father died and she began bullying Alicia. Did you enjoy that tough subject matter?
"I loved playing that storyline. It's been lovely to discover more about Lily's vulnerability and the facade she keeps up during her daily hospital life. As a consequence of that she made wrong choices, especially when it came to Alicia."
How would you explain her actions back then?
"She was grieving and was so clouded about everything. The only thing that was kept her sane at that time was the medicine, while human interactions were a big blur to her. She regretted the whole thing, but unfortunately it was too late."
What reaction did you get to that story?
"Most people thought Lily was a witch! But some people also tweeted me saying, they thought what Lily was doing was terrible, but that they sympathised with what she was going though in losing a parent.
"I was really lucky in the sense that, because Chelsea Halfpenny and I get on so well and trust each other, we could take the story as far as it could go."
Do you think Lily would like to rekindle her near-romance with Ethan?
"She'll always have a soft spot for him, but at this point I don't think Lily and Ethan are more than good friends. Their friendship's so solid they're possibly beyond romance now. There was a time Lily wanted to be with Ethan (George Rainsford), but now she'd rather have a life-long friend than to be boyfriend/girlfriend and that not work out."
Ethan has yet to discover he and brother Cal are adopted and he may have inherited Huntington's disease. Will Lily be involved in this shocker?
"Seriously, those boys need to communicate! I can't say too much as it's going to be a massive revelation when it comes to light! Lily's definitely going to be an anchor for Ethan at this turning point in his life, when he feels everything's falling apart…"
Casualty continues on BBC1 on Saturday nights.
Watch star Sunetra Sarker talk about the medical drama's National TV Awards nomination.
Get the latest updates, reviews and unmissable series to watch and more!
Thank you for signing up to Whattowatch. You will receive a verification email shortly.
There was a problem. Please refresh the page and try again.