Casualty's Lee Mead: 'I wanted to be a footballer – but I was terrible!' (VIDEO)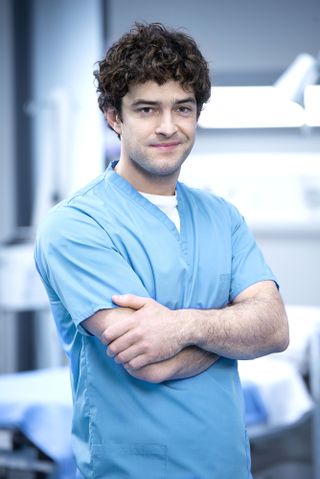 (Image credit: BBC/Warren Orchard)
Chatting about the inspiration behind his new musical tour, Some Enchanted Evening, Casualty and West End star, Lee Mead also reveals to What's on TV his first career choice wasn't singing or acting.
"I wanted to be a footballer – but I was terrible!" laughs Lee. "I didn't start [musicals] until I did a school production of Grease and was cast as Danny at 15."
Since then the star of West End hits including Joseph and the Technicolor Dreamcoat, Wicked and Legally Blonde: The Musical has never looked back. And while it's a far cry from football, Lee has grown to love his chosen profession and hopes to celebrate it on his new tour, Some Enchanted Evening…
Lee, who plays loveable nurse Lofty on Casualty, explains: "I wanted to do songs from the classic Hollywood film era. Songs like Guys & Dolls, Some Enchanted Evening from South Pacific and The Way You Look Tonight from Swing Time.
He adds: "It was a very special era… On my tour I'm trying to have the essence of that era and bring it to the stage… I've new arrangements of these classic songs, which is very exciting!"
Even more exciting for Casualty fans is the fact his Holby City co-star, Amanda Henderson (nurse Robyn Miller), joins Lee on most legs of the new tour!
Lee reveals: "Henders' [Casualty dressing] room is next to mine and naturally we spend 10 hours a day together on set. I soon discovered she's done a couple of shows herself – she was in the Les Mis film and a recent production of Oliver! in the West End.
"We get on really well and started singing on set. She's got a beautiful tone to her voice and did a number on my last tour. So I asked her to come on this tour as my main guest. It should be fun!"
For more, watch the full video above. "]
To see Lee and Amanda in action Some Enchanted Evening ticket and venue information is available from Lee's official website.
Get the latest updates, reviews and unmissable series to watch and more!
Thank you for signing up to Whattowatch. You will receive a verification email shortly.
There was a problem. Please refresh the page and try again.