Charlotte Salt: The real trauma paramedics on Casualty are awe-inspiring!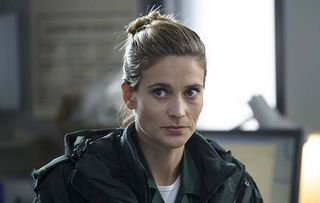 (Image credit: BBC / Alistair Heap)
Paramedic or doctor? Casualty star Charlotte Salt reveals which role she prefers and why…
We've got so used to seeing Casualty character Sam Nicholls as a paramedic we'd almost forgotten she played an ED doctor on the show from 2011 until her exit in 2013. And who can blame us, since Charlotte's return to Casualty in 2017, Sam's proved a natural paramedic.
Here we talk to Casualty star Charlotte Salt about Sam's changing role…
Which do you prefer playing, a doctor or a paramedic?
"Definitely a paramedic; it's just so much more fun being out on location! You get to do all the fun stunts on the dramatic sets; also you don't go stir crazy just filming in the ED every day. It keeps it fresh because every day is a new adventure, rather than trying to find nuances in the same set."
What are the downsides to such an action-packed role?
"It's so much more exhausting and hard work because you're dealing with the elements the whole time [remember the cave rescue episode? Pictured below]. It's great now it's summer but it's been a tough old winter, as you can imagine, with filming in the middle of all that snow! That said, although it's hard-core it's definitely more fun."
You're often involved in intense, gory scenes. Are you squeamish?
"I actually kind of enjoy it! It's fascinating. Sometimes you'll see some random fingers lying around in the make-up department and there's a whole room of prosthetics so you become a bit immune to it. You think: 'that looks great, so bloody!'"
Do you get feedback from real paramedics?
"Yes, and we have trauma paramedics on set constantly advising. They work so hard to try and find the truth [in our Casualty stories]. Obviously when you're filming you always have limitations but they really help [by advising] 'this is how it's done', 'hold that like this' or 'you wouldn't say that'. They're great!"
They must be inspiring people to work with?
"Definitely, even just hearing their stories during takes is awe-inspiring! Here we are pretending and this is what they do. Michael [Stevenson, who plays paramedic Iain Dean] and I just think 'Wow!'"
Do you feel very much at home on Casualty now, playing Sam as a paramedic?
"It does still feel quite strange still, playing Sam as a paramedic. It's great working with Michael; we have so much fun and get on really well. I think we've a great friendship on and off screen."
Will Iain and Sam's flirty friendship come under pressure in this week's Casualty, when Sam's new love interest, nurse Jacob Masters, joins them on their paramedic duties? Find out on Saturday in Casualty on BBC1 at 8.20pm.
Get the latest updates, reviews and unmissable series to watch and more!
Thank you for signing up to Whattowatch. You will receive a verification email shortly.
There was a problem. Please refresh the page and try again.