Richard Winsor: 'Cal's hunt for his birth mother becomes his true mission on Casualty'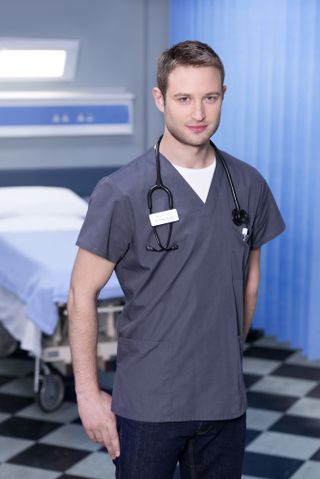 (Image credit: BBC/Warren Orchard)
2015 has been a rollercoaster year for Casualty doctor Cal Knight – and it's not over yet...
So far, Cal's stolen his brother's inheritance money, mistakenly believed he was father to baby Matilda, and has just discovered he was adopted as a child!
Chatting to What's on TV about Cal's shock adoption storyline, Richard Winsor reveals it's not going to be a Merry Christmas for the ED Doctor, as he decides to look for his birth mum.
Richard revealed: "I can't say too much about Cal's hunt for his birth mother, but a fantastic actress will be playing her in later episodes."
He added: "This becomes Cal's true mission. He decides he wants to find out if Ethan is his true bother, as they have an important bond."
But this being Casualty, the path to the truth is rocky, shocking and full of danger.
Richard explained: "A lot more things are going to happen, which could lead to even more of a downward spiral for Cal!"
Yet while Cal keeps the discovery of his adoption secret from his brother (who may not even be his brother!), he does have some support in the form of Casualty favourite, Charlie Fairhead.
Richard said: "A really lovely relationship starts to form between Cal and Charlie. Charlie knows how to deal with a dysfunctional younger man and naturally slips into a father role. This is a challenging time for Cal and it's going to be a very big Christmas storyline! Charlie will help pull Cal out of the dark places he ends up in!"
More Casualty news and interviews available here
Get the latest updates, reviews and unmissable series to watch and more!
Thank you for signing up to Whattowatch. You will receive a verification email shortly.
There was a problem. Please refresh the page and try again.