Our seven favourite facts about Casualty's Jacob Masters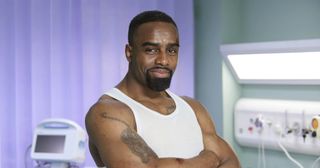 (Image credit: BBC/Alistair Heap)
Think you know Casualty's Jacob Masters? Think again. Here are our seven favourite facts about the senior staff nurse with the Saturday night swagger...
Connie from the block He and Connie Beauchamp are from the same part of south London. The fact Jacob obtained this knowledge about the notoriously private clinical lead was one of the very first indications she was mad about him! Now can you sort out your differences and get back together please?
Not so macho Jacob exudes the characteristics of a macho man but he's not completely fearless - he's got an intense phobia of spiders! Fortunately when a couple of tarantulas were running around the ED, Doctor Lily Chao was on hand to protect Jacob from facing his Arachnophobia fears…
Sofa not-so good He has no sofa! When Rita recently revealed she needed a place to stay, Jacob had to admit he'd swapped his sofa for a cross-trainer! Those muscles don't work themselves, you know. And we need him in good shape, as Jacob's heavily involved in the Casualty 30th Anniversary special…
Knowing you, knowing… everyone! It seems Jacob gets around. He knows fellow nurse Louise Tyler from a previous life. They trained and worked together earlier in their career. But we've yet to know if there's more to this story… Was Louise a former squeeze? He's also a close personal friend of new consultant Elle Gardner (Jaye Griffiths). And we have it on good insider authority that these old school pals are privy to each other's secret past…
Age of Aquarius His birthday is January 29th. Which makes him an Aquarius. Perhaps that explains why this water-carrying air sign has a tendency to go off-track but is also bluntly truthful?
Know your worth He is a Band 6 senior staff nurse. Which means he earns somewhere approximately between £26, 000 to £ 34, 000 a year. Personally we think Jacob deserves a promotion, given the fact on duty he's been near-fatally shot, buried alive, and thinks nothing of rushing into burning buildings or off ravines to save lives!
Baby love He's a dab had at changing nappies and babies love him! Don't believe us? Tune into next week's Casualty on BBC1 at 9.25pm on Saturday 25 June, when Jacob's on hand to help Dylan take care of his baby sister Rihanna. He even sings to her!
Staff Nurse Jacob Masters is played by former EastEnders' star Charles Venn. Watch our interviews with the charismatic star here and here.
Get the latest updates, reviews and unmissable series to watch and more!
Thank you for signing up to Whattowatch. You will receive a verification email shortly.
There was a problem. Please refresh the page and try again.