Undeniable star Claire Goose: 'I learned everything about TV acting on Casualty'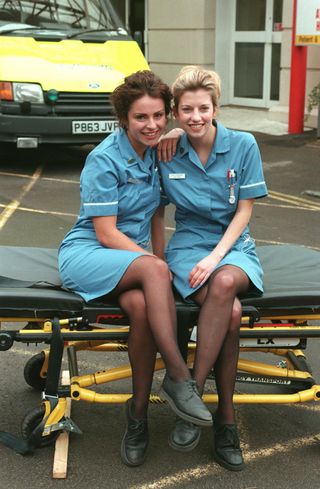 Claire Goose says she learned everything she knows about TV acting from her role in Casualty.
During an interview with What's on TV about her role as Jane in ITV's two-part thriller Undeniable, Claire made it clear she hasn't forgotten her roots as Nurse Tina Seabrook, a role she played from 1997-2000): "Casualty was an amazing training ground, especially when I started. Things you could spend years trying to learn doing odd jobs, I learned in about six months on Casualty – it was fantastic!"
Claire (pictured, with Casualty co-star Jan Anderson) added that she's equally proud of her more recent roles:
"I'm so proud of Undeniable at the moment, it was a very intense role. I also really enjoyed doing Exile with John Simm, Olivia Colman and Jim Broadbent, as it was challenging in a different way and wonderful to be part of. But I'm proud of everything I've done. Casualty and Waking the Dead were wonderful, too."
Watch Undeniable on Monday, April 14 at 9pm to discover if doctor Andrew Rawlins (Spooks' Peter Firth) really did murder Jane's mum in the concluding episode of ITV's two-part thriller.
Get the latest updates, reviews and unmissable series to watch and more!
Thank you for signing up to Whattowatch. You will receive a verification email shortly.
There was a problem. Please refresh the page and try again.