David's hair-raising behaviour revealed!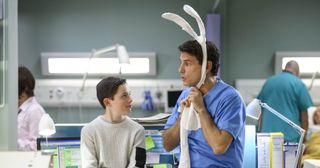 (Image credit: BBC / Alistair Heap)
Is Casualty nurse David putting his son, his patients and himself in danger?
Nurse David Hide (Jason Durr) makes a big decision this week and opts to come off his Bipolar medication completely. His friends at the ED are keeping an eye on him, but haven't noticed David's caginess when questioned about his psychiatrist…
Will anyone spot the increasingly less subtle changes in David's behaviour? And will the nurse's last-minute impulse to take his son, Ollie, out of school for the day and bring him to the ED backfire?
David dishes up a breakfast fit for a rugby team and then takes his young son Ollie to work with him. But will David's decision not to take any of his Bipolar medication affect the normally reticent nurse?
Casualty Elle
While Ollie hides from staff nurse Jacob, David helps Elle treat schizophrenic patient Monica. When it comes to Monica's treatment, David believes he knows best – but will Elle reprimand him for an unprofessional, angry outburst?
Despite David's increasingly bizarre behaviour, Elle trusts his judgement on treatment for patient Monica. Would Elle reconsider her decision if she knew David's been reducing his medication for months?
Will David help save Monica's life, or endanger it? Monica is played by guest star Tupele Dorgu, better known as former Coronation Street machinist Kelly Crabtree.
Having broken the news to Ollie that this is his last day in Holby, as his mother wants him in Spain with her, David is determined to make their last few hours as fun as possible. But will David's funny bunny routine help lift Ollie's spirits?
There are heartbreaking scenes as Ollie realises his father's condition has worsened. Will any of David's co-workers come to the same conclusion before the situation gets potentially dangerous?
Get the latest updates, reviews and unmissable series to watch and more!
Thank you for signing up to Whattowatch. You will receive a verification email shortly.
There was a problem. Please refresh the page and try again.