FIRST LOOK: Sharon Gless in her Casualty scrubs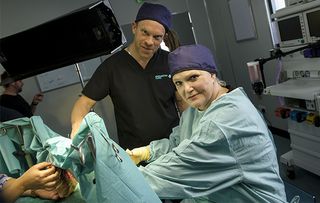 (Image credit: BBC / Alistair Heap)
This week Casualty has everything, from big deceitful reveals to Sharon Gless as a surgeon!
WARNING: Contains spoilers. Also contains images some may find disturbing
Not sure if we mentioned it (here, here, here and here) but Cagney & Lacey star Sharon Gless is making a special guest appearance in Casualty.
It turns out doctor Dylan Keogh (William Back) has been keeping a massive secret since Charlie's stag do. He covertly arranged for Robyn's boyfriend Glen (Owain Arthur) to have life-saving brain surgery. Dylan's mentor Zsa Zsa (Sharon Gless) flew to the UK, performed the risky op, and ever since Dylan's been helping Glen with his lengthy recovery!
In this week's Casualty Glen turns up to see Robyn on the day of his daughter's christening. But first he has a LOT of explaining to do…
After Glen left Robyn at the altar, he decided to drink himself to death, as his brain tumour symptoms worsened
Casualty Sharon Gless
Dylan assisted Zsa Zsa as she operated on Glen. Did they all keep their cool?
After the operation Glen's hard work to recover started. Meanwhile, Dylan worried his double life would catch up with him
Back in the present, familiar faces attend Charlotte's christening. Maybe Dylan should sit in the back and keep a low profile?
No, David and Glen aren't suddenly getting married. Instead David welcomes Glen back and takes him to Robyn
Robyn relents and allows Glen to hold their daughter. But the road to true forgiveness is tough terrain!
Get the latest updates, reviews and unmissable series to watch and more!
Thank you for signing up to Whattowatch. You will receive a verification email shortly.
There was a problem. Please refresh the page and try again.