Casualty 30th: Charlie Fairhead's 10 most memorable moments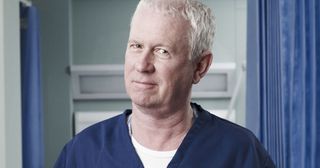 Casualty celebrates its 30th anniversary this Saturday and one man who's been with the show every step of the way is Charlie Fairhead, played by Derek Thompson
Casualty celebrates its 30th anniversary this Saturday and one man who's been with the show every step of the way is Charlie Fairhead, played by Derek Thompson.
Here, we relive Charlie's finest moments...
Charlie Fairhead is shot Casualty's first working title was The Front Line, but Charlie and the team found themselves in the line of fire in the final episode of series five. A schizophrenic who has murdered his wife's friend arrives at Holby A&E and panics at the sight of a policeman. Pulling a gun from a briefcase, he takes a member of staff hostage, before firing at Charlie Fairhead. Luckily our man is only wounded!
Charlie almost kisses Duffy The long-running 'Will they? Won't they?' between these two made Charlie and Duffy the Ross and Rachel of Casualty, but the closest they came to a proper kiss was under the mistletoe in the 1992 Christmas special. Unfortunately the moment passed, yet with Duffy returning to the show this year we have our fingers crossed for a happy ending!
Affair with Baz Apart from Duffy and the NHS, the great love of Charlie's life was Dr Baz Wilder and the pair were a couple almost from the word go in series one. After a rocky patch and an abortion, the pair split and Baz left Holby, so audiences were on the edge of their seats when she returned a few years later as a married woman. The years hadn't dimmed Charlie and Baz's passion and after a party they snogged and began an affair. Their son, Louis, was born in September 1995.
Charlie and Baz get married The couple's impromptu wedding (hastily organised after Charlie proposed to Baz during a hostage siege at a solicitor's office) ended early when a fire broke out at another casualty department…
The guests rushed back to Holby to help deal with the injured, but soon after they arrived, a gangster hijacked an ambulance and ran Charlie over. Luckily he wasn't seriously injured and was able to finish the wedding ceremony with Baz later that day. EastEnders, eat your heart out.
https://youtu.be/rfiYer2AnzE
Charlie delivers Duffy's baby Three years had passed since the carnage of Charlie's wedding and Baz had long since departed to Canada with their son Louis. Feeling down in the dumps, Charlie popped in to see how his old friend Duffy, when she suddenly went into labour. Luckily Charlie is a nurse, so was able to deliver the baby.
https://youtu.be/rpls-_dW5Tg?t=4m35s
Charlie's first heart attack In an intense finale to series 14 in March 2000, after dashing off to the toilets in a bid to escape an annoying patient, Charlie suffered a pulmonary embolism. Although if you are going to have a heart attack, a hospital is probably the best place…
Charlie nearly drowns The near-death-experiences start to come thick and fast for Charlie Fairhead now, as a suicidal Claire drives her car off the edge of a harbour and into sea. Fellow passenger Luke manages to save Charlie. But Claire dies...
Charlie's second heart attack After finding his son Louis' girlfriend Shona worse for wear in a graveyard, Charlie is furious with her attitude to parenthood. Yet as they travel back to Holby, Charlie begins coughing up blood and crashes the car. One of his oldest friends, Elliot Hope, operates on him and saves his life. Another close call. Ly off the bacon sandwiches Charlie!
https://youtu.be/du_66KiTX0E?t=40s
Charlie in Romania Despite Charlie's best efforts, his son Louis eventually went missing after getting mixed up with drugs. The much-loved nurse discovered Louis was living in a rough part of Romania, addicted to heroin and had accumulated a large amount of debt with dodgy drug dealers. With the help of Connie he finds his son – who's on the verge of illegally donating a kidney! – in Bucharest and brings him home.
Charlie's third heart attack Charlie had yet another cardiac arrest last year after diving into freezing water to save drowning bride, Zoe. Back at the hospital he suffered a massive heart attack.
Charlie's 30th anniversary Charlie's mates throw him a surprise party to mark 30 years of service at Holby this week. Things go terribly wrong, although mercifully, Charlie manages to avoid a fourth heart attack!
Charlie Fairhead celebrates 30 years of service when Casualty's 30th anniversary feature length episode screens at 8pm on BBC1 on Saturday, August 27
Get the latest updates, reviews and unmissable series to watch and more!
0
Feature writer for TV Times, What's On TV, TV & Satellite Week and whattowatch.com
Sean has been writing about all things telly for over 10 years and in that time he's been lucky enough to interview stars like Ian McKellen, Tom Hardy and Kate Winslet. His favourite shows are The Great British Bake-Off, People Just Do Nothing and Succession and in his spare time he enjoys drinking tea, doing crosswords and watching football.
Thank you for signing up to Whattowatch. You will receive a verification email shortly.
There was a problem. Please refresh the page and try again.