Evicted Jeremy answers the question: 'Did you and Steph have sex in the Big Brother house?'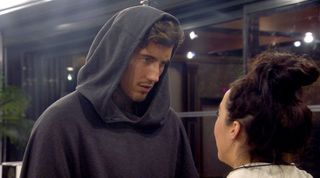 Jeremy McConnell has become the sixth housemate to be evicted from Celebrity Big Brother.
The former Mr Ireland was happy to leave the house, although fellow nominee Stephanie Davis – with whom he has enjoyed a fledgling romance – was left in floods of tears, insisting: "I want to go instead!"
Jeremy McConnell was happy to leave the CBB house (Channel 5)
As Jeremy left the house, he gave her locket he had worn around his neck – a good luck present from his mother.
Speaking to Emma Willis, he said he could not help falling for Steph – even though the former Hollyoaks actress was in a relationship with model Sam Reece.
He said: "I just followed my heart and went with it … I kept gravitating towards her. I don't know what it looks like. It is what it is, we felt for each other. I kept going back to her. It kept getting stronger, like a snowball effect."
Stephanie and Jeremy go under covers in Celebrity Big Brother (Channel 5)
He admitted that if he was Steph's boyfriend, he would have felt "gutted. Absolutely gutted".
Sam was not present at the eviction, with Emma explaining: "We haven't been able to make contact with him."
Jeremy said: "Obviously, I like to think that I'm a respectful lad, I understand what her fella must be going through and that.
"I do understand the boyfriend's situation … I normally am proud of myself, I think I have a bit of integrity, but obviously I don't."
Emma interviews Jeremy post-eviction (Channel 5)
Many housemates, including Gemma Collins and Scotty T warned Jeremy not to get involved with Steph in the house and wait until the show ended, but he chose not to follow their advice.
He told Emma: "I know it was the right thing to do, to wait, but look – I can't explain what I'm feeling, you know? It's too late now."
With just a week left until the end of the reality show, the two will soon be reunited.
Stephanie and Jeremy didn't just enjoy pillow talk (Channel 5)
On the future of their relationship, Jeremy said: "Being apart, it gives both of us time to think. I'm not saying that when she comes out we're going to start being together.
"We both need time off. Even if you don't think it's right with Sam, you still need time to be single and reflect on what you want."
During Friday night's episode, Steph and Jeremy got intimate beneath the covers in the Celebrity Big Brother house – although it was unclear whether the pair had full sexual intercourse.
Did Stephanie and Jeremy – or didn't they? (Channel 5)
After viewing the scene as part of his exit interview with Emma, Jeremy joked: "I thought that was one of those Hugh Hefner videos or something. Look, it is what it is. I can't really elaborate on that. That's what happened."
In footage screened on the Channel 5 show, the two contestants shared a bed and made so much noise that other housemates were forced to leave the room.
As they lay in bed together, Steph first said: "It's our last night in here."
Jeremy told her: "I'd never do anything like that in here."
But the two continued to move under the covers together, with Steph complaining that she was not wearing nice underwear. She also let out a cry.
Later, she worried: "Do you think I was loud? What if they show me doing that on TV?"
Fed up Danniella left Stephanie and Jeremy to it in the bedroom (Channel 5)
Gemma Collins and Danniella Westbrook went to the kitchen after becoming fed up with "shenanigans" in the bedroom.
Danniella said: "All I can hear is them getting it on, I'm so embarrassed. I don't want to take my fingers out of me ears.
"I couldn't do it, could you – on the telly?
Gemma was shocked by Stephanie and Jeremy's behaviour (Channel 5)
"Don't take her foot off the gas, does she? It's one thing after another. It's just a real shame. It's just a level of disrespect for everyone in that room."
The Only Way Is Essex star Gemma replied: "I cannot believe it."
Celebrity Big Brother continues on Channel 5, Saturday, January 30, 10.00pm.
Get the latest updates, reviews and unmissable series to watch and more!
Thank you for signing up to Whattowatch. You will receive a verification email shortly.
There was a problem. Please refresh the page and try again.