Bleed for This | Miles Teller's scrappy blue-collar bruiser stages a remarkable comeback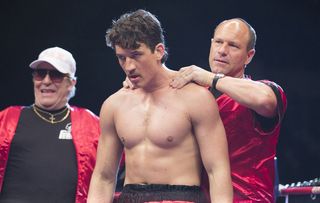 (Image credit: Seacia Pavao)
Stepping into the ring as a successor to Paul Newman, Robert DeNiro, Russell Crowe, Mark Wahlberg and other screen champs, Miles Teller in Bleed for This is the latest contender to take on a Hollywood boxing biopic. Pound for pound, boxing must throw up more bizarrely larger-than-life characters than any other sport, and in the figure of Vinny Pazienza - the scrappy blue-collar bruiser from Rhode Island who staged one of boxing's most astonishing comebacks - he's indubitably playing one of those.
Pazienza broke his neck in a near-fatal car crash in 1991, shortly after winning a world title. His doctors emphatically ruled out a return to boxing, telling him he'd be lucky to walk again. Thirteen months later, the self-described 'Pazmanian Devil' was back in the ring and on his way to another championship belt.
Pazienza's story is a gift for writer-director Ben Younger, making a comeback himself, more than a decade on from his last film, 2005's Uma Thurman romcom Prime. He tells it in a fairly conventional, old-fashioned manner, but his characters are colourful enough to keep us engaged.
Teller's Vinny brims with swaggering braggadocio right from the start. Going for broke every time he straps on his gloves, he is suicidally gung-ho well before his accident. To make the required weight before a bout, he peddles away furiously on a gym bike, his body wrapped in cling film to sweat off the pounds, and ends up in hospital even when he wins, suffering from dehydration.
Then comes the crash. Its aftermath leaves him wearing a so-called 'Halo', a circular metal brace screwed into his skull that resembles an instrument of medieval torture. For most, drinking a glass of milk would be hazard enough while wearing a Halo. Vinny, however, has unmatched reserves of masochistic resilience. Undeterred by the risks and the pain, he begins training again, to the dismay of his boisterous Italian-American family (Irish actor Ciarán Hinds is curiously cast as his dad) but supported by his boozy but canny coach (a bald-cap-wearing Aaron Eckhart).
The rest is history and, as such, somewhat predictable given the film's genre. The resulting drama is never less than watchable, but Younger and Teller can't elevate the movie to classic status. They certainly give Vinny's fights a bruising vigour, but they fail to give us much insight into his inner life beyond the do-or-die stubbornness that sustained his comeback. When it comes to the final decision, Bleed for This isn't a knockout winner, but it does come through on points.
Certificate 15. Runtime 117 mins. Director Ben Younger
https://www.youtube.com/watch?v=husP0TLo9PY
Get the latest updates, reviews and unmissable series to watch and more!
Thank you for signing up to Whattowatch. You will receive a verification email shortly.
There was a problem. Please refresh the page and try again.