Adam plans to get the factory – and Eva, says Coronation Street's Sam Robertson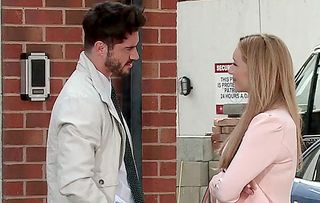 As Adam Barlow ramps up his revenge plan against the Connors, he realises he has growing feelings for fellow plotter Eva Price! Corrie's Sam Robertson explains all...
Adam Barlow's plans to get back at the Connor family take an unexpected turn when he finds he's falling for his partner in payback Eva Price in Coronation Street.
"Initially, he just saw Eva as someone to help him wreak havoc on the family he feels stole his dad's [Mike Baldwin] business empire," Sam Robertson told Soaplife. "But as Adam and Eva have been plotting together, he's started developing feelings for her, which has really taken him by surprise!' And there are more surprises to come…
Does Adam tell Eva how he feels about her? "Yes, but with actions rather than words. He can see how Eva [Catherine Tyldesley] is genuinely hurt by what's been happening to her and, when he suggests that it might be an idea to go to France to spend some time with her mum, Stella, she thanks him for everything he's done for her. In that moment, seeing her so vulnerable, Adam acts on instinct and kisses her."
How does she react? "That would be telling, but she does take off for France to get out of Weatherfield for a while."
What is it that draws Adam to underdogs? There's Chesney and Mary as well as Eva… "He sees himself as a bit of an underdog, too, and that makes him want to fight their corner against people who treat them badly. Adam's always been a lone wolf. His parents died when he was young and he's had to fend for himself. There's something in helping these people that comes from the feeling of being an outsider."
Maria Connor suspects that Adam and Eva are plotting something… Does Adam have any inkling about this? "No, he's oblivious to the fact she's starting to suss something is going on and that she's told Aidan. It's a dangerous position for Adam to be in because there's no love lost between him and Maria – or Maria and Eva, either."
How do you think Adam has changed since he first returned to Weatherfield? "He's more rounded than he was. He isn't really a player where women are concerned. His fling with Rosie Webster has developed into a fun friendship and he does seem to have genuine feelings for Eva. He also doesn't think Aidan is good enough for her."
What is his ultimate game plan? "To get the factory and the girl. He wants it all!"
Coronation Street, ITV
Get the latest updates, reviews and unmissable series to watch and more!
Thank you for signing up to Whattowatch. You will receive a verification email shortly.
There was a problem. Please refresh the page and try again.