'Aidan sacks Eva!' It's business over pleasure reveals Corrie's Shayne Ward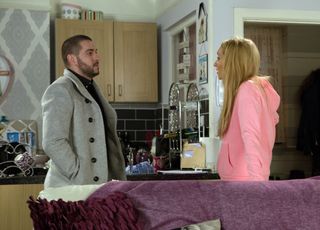 (Image credit: Mark Bruce)
When Eva drags Aidan into her plot to free 'slave' Marta from the O'Driscolls, he has to choose between losing Underworld or losing his lover. Coronation Street's Shayne Ward reveals which one the factory boss chooses to Soaplife
Aidan has no idea Eva (Catherine Tyldesley) is hiding Marta. How does he find out?
"When Eva disappears at a dinner party at the O'Driscolls', Aidan finds her in their office searching for Marta's passport. He's like 'What are you doing?'"
What does she tell him?
"She's convinced Marta [Edyta Budnik] is being kept as a slave, but Aidan has no idea and he's mortified. He's about to sign the biggest deal he's ever brokered with the O'Driscolls, so he's also angry."
Do the O'Driscolls catch them?
"Yes. Eva pulls out a passport she thinks is Marta's… just as Richie [James Midgley] and Julia [Malgorzata Klara) O'Driscoll walk in! And it turns out to be Julia's passport."
What happens?
"Aidan and Eva end up getting thrown out of the house and Richie tells Aidan he'll be going to his dad about this."
What happens when Richie meets with Johnny (Richard Hawley)?
"Aidan knows he's in trouble! Richie can't believe they'd rifle through his house and that they'd think he's keeping a slave. Aidan explains it was all Eva and he has to believe him."
And does he believe him?
"Luckily, Richie says he's not going to pull the order… but Aidan has to sack Eva."
Will he do it?
"He knows he'll have to do it. The factory is just about staying afloat, but if the O'Driscoll order goes ahead, it's going to secure everyone's future. Aidan has to think about the people whose livelihoods are at stake at Underworld."
Will it end Aidan's relationship with Eva?
"It hits him hard. She's going to think he believed the O'Driscolls over her and that's not going to go down well."
Will Eva give up her idea that Marta's being kept as a slave?
"Everything is going to totally erupt… and Aidan will be drawn back in."
Watch this unfolding story in Coronation Street on ITV from Monday 29 February
Get the latest updates, reviews and unmissable series to watch and more!
Thank you for signing up to Whattowatch. You will receive a verification email shortly.
There was a problem. Please refresh the page and try again.