'Anna hands over Miley to Faye in front of her friends' says Corrie's Debbie Rush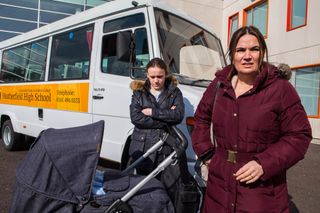 Coronation Street actress Debbie Rush tells Soaplife why Anna sees red with Faye over baby Miley…
Anna gets tough as teen mum Faye [Ellie Leach] continues to duck out of her responsibilities.
"Faye keeps wanting to go out with friends and Anna's furious, pointing out she has responsibilities now – Faye has to grow up and face the fact she's a mum," says Debbie. But when Faye tells a lie to get out of caring for Miley, Anna sees red…
How does Faye fib?
"She's with Miley and Tim [Joe Duttine] when she sees her mates getting on the bus so she makes out she's missing a museum trip when really her friends are going go-karting, Tim believes her and says he'll look after the baby."
What happens when Anna finds out?
"She's very angry – she knew very well Faye's friends were going go-karting. Anna feels let down by both Faye and Tim. She no longer feels he's trustworthy."
Bet she's even angrier with Faye!
"Fuming. Earlier in the week, Anna comes home from work to find Faye in front of the TV while Miley's crying away in her crib. That was bad enough, but now she's telling lies in order to fob the baby off."
What does Anna do next?
"She decides shock treatment is the only way and goes to the school with Miley to meet Faye on her return. In front of all Faye's friends she hands Miley over and says she is her responsibility, not Anna's."
Sounds drastic…
"Life is very difficult for Anna right now. She's a great mum but having to feel responsible for a tiny baby in addition to everything else is pushing her over the edge."
One good thing comes out of all this – Jackson admits to being Miley's dad…
"Jackson [Rhys Cadman] sees Anna insisting Faye take the baby. He feels so guilty he finally comes clean to his parents and later that day his mum brings him round to talk to Faye and Anna."
Does Anna welcome this?
"She's wary of letting someone else into the mix, but can't deny it's good for Miley if her dad and other grandparents are in her life. Anna's also at the end of her tether so any help is appreciated."
Get the latest updates, reviews and unmissable series to watch and more!
Thank you for signing up to Whattowatch. You will receive a verification email shortly.
There was a problem. Please refresh the page and try again.