Beverley Callard leads tributes to Anne Kirkbride at memorial service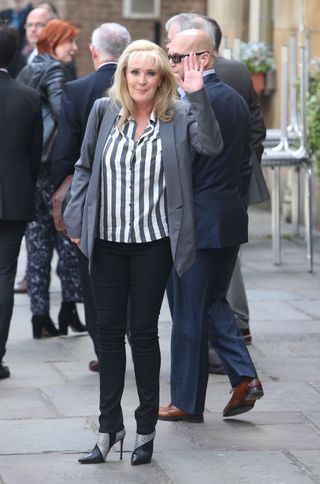 (Image credit: PA)
Beverley Callard led the tributes to Anne Kirkbride at this morning's memorial service for the Coronation Street actress who died in January.
Beverley, who plays Liz in the soap, recalled how she became great friends with Anne before they worked together on Coronation Street.
"I first met Annie 28 years ago. I was filming at Granada - not Coronation Street, but something else - and we saw each other in the canteen.
"We kept smiling at each other and there was just something that clicked. She came over to me and said to me: 'You're an Aries, aren't you?' I said yes, and she said: 'We'll get on.' And we did, for such a long time.
"She was just the most wonderful woman. She was strong and sexy and funny and everything you could wish for in a person. We were great, great friends."
She also shared the story of the part she played in Anne getting together with her Corrie co-star Dave Beckett, who she eventually married.
"She always hoped she'd meet the man of her dreams," said Beverley. "One day she said they were casting for a new boyfriend for Deirdre. so she immediately went to look at his photo in Spotlight to see what he looked like. She said: "I just know we're going to get on. He's a Leo.
"David arrived and started filming with us, and do you know what? They were pathetic. They used to look at each other with looks of love and lust - from afar, at first.
"Then Annie said: 'He's asked me out. He's taking us out.' I said: 'Fantastic, where's he taking you?' She said: 'No, he's taking us out. You're coming as well.' I sat there bored out of my brains."
Beverley closed her eulogy by saying: "We just have to say we are so thankful that she has been in our lives. We all miss her every single day. It's great that so many people love her so much and have travelled such a long way to say goodbye to her, and just to say - we really love you, Annie."
William Roache, who plays Deirdre's husband Ken, read a poem called She Is Gone, which began with the line: "You can shed tears that she is gone. Or you can smile because she has lived."
Meanwhile, Elle Mulvaney, who plays Amy, the granddaughter of Anne's character Deirdre, shared some fond memories of her "screen grandma".
"I'm not just remembering my on screen grandma," she said. "I'm also remembering my friend.
"Annie was always making everyone laugh on set. She always had everyone laughing and groaning at times when she was singing on set at the top of her voice.
"In one of my scenes I had to use a skipping rope. Next thing you know Annie was having a try!"
Elle also spoke about the scenes she filmed for this week's episodes where her character Amy was trapped in the fire – started by her mum Tracy – at Victoria Court.
"Annie would have loved the scenes we filmed for the fire, because she always had a thing for fire fighters!"
Elle closed her eulogy by paying tribute to Anne and reading a short poem.
"Annie is now one of God's many angels and will be missed.
But I know for me she isn't truly gone and she will always be in my heart.
I will finish with a small verse for Annie.
'I think of you with love today,
Just the same as yesterday,
The memories we made I will cherish forever,
The singing, the stories and laughter together,
It was a privilege to know you and call you my friend
This isn't goodbye, just goodnight for a while.'"
Get the latest updates, reviews and unmissable series to watch and more!
Thank you for signing up to Whattowatch. You will receive a verification email shortly.
There was a problem. Please refresh the page and try again.