Billy and Todd become the Street's first gay parents: 'Corrie has always moved with the times!'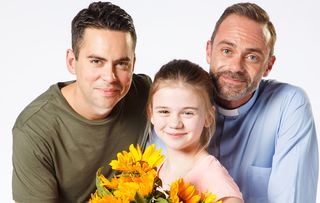 (Image credit: Mark Bruce)
Their characters, Billy and Todd, will soon become the legal guardians of schoolgirl Summer Spellman, making them the Street's first same-sex couple to have a family
It's a case of two men and a little lady in Coronation Street, when Billy the vicar and partner Todd become the legal guardians of Summer Spellman, daughter of Billy's now late ex-boyfriend, Drew. It's a big commitment for the loved-up pair and a defining moment in Corrie history – the characters are the first same-sex couple on the show to raise a child together.
Actors Daniel Brocklebank and Bruno Langley talk about the journey ahead, working with child actress Matilda Freeman, and why they'd love their alter-egos to tie the knot.
How do Billy and Todd feel about the prospect of raising Summer? Daniel: "I don't think Billy is under any delusions that they're adopting a 12 year old who is grieving, and with his training, he'll have had experience with things like that. I think that he's very up for the idea of being a dad, and of him, Todd and Summer being a family." Bruno: "Todd can be quite selfish, but as soon as he met Summer, he saw that she had this spark. She's very quick and intelligent, and probably reminds him of himself a little bit. And when the homophobic grandmother, Geraldine, turned up and said 'You're not going to raise this girl', he wasn't going to let her get one up on him!"
Given that Summer is an adolescent, can you foresee a lot of drama ahead? Daniel: "I can imagine Billy desperately trying to read the back of a Tampax box and working out how he's going to have that conversation with her! But I suppose it's like that for any parent, when you've never done it before. It's all trial and error." Bruno: "There's a scene where Tracy says to Todd: 'You've got no idea of what's going to happen!' But I reckon there's a lot of scope for comedy in that."
Billy and Todd are the first same sex couple in Corrie to raise a child together. How do you feel about that? Daniel: "Corrie has always been a forerunner in terms of LGBT rights, and I'm thrilled! And I adore working with Bruno, so for us to have this extra layer brought into Billy and Todd's relationship is great. I would've loved to have been a dad, so if this is the closest I ever get to it, then brilliant." Bruno: "It's another bit of Corrie history. The show has been moving with the times since its creation, and it's just reflecting what's happening in real life."
Daniel, do you have any nieces, nephews or god children? And if so, what has that taught you about children? "I have a niece who was born in March, a nephew who's four, and three goddaughters. I just get to fill them with sugar and give them back to their parents! I suppose it's all about patience, love and understanding – and these are Christian values that Billy would be dishing out on a daily basis, along with the Coco Pops."
Bruno, as a father in real life (to 10 year old son Freddie), what would your advice be to Todd? "Probably to enjoy the small moments, because before you know it, they're grown up and they won't need you so much."
How do you think the other residents will react to Billy and Todd being parents? Will there be a few ruffled feathers? Daniel: "Of course there will be – surely the point is to ruffle feathers, and I'm sure there'll be many a whimsical quip coming out of Norris's lips!" Bruno: "Do you know what, I don't think there are going to be any characters saying anything! I can't imagine a scene where someone's disgusted with the fact that they're raising a kid together."
Having a child puts pressure on any couple. Do you think that this might cause cracks in Billy and Todd's relationship? Daniel: "It will change the dynamic of their relationship. One would hope that, as with any couple, it will bring them closer together. People have normally got time to prepare for parenthood, and obviously this came about in a different sort of way. But I'm hoping both of them are spontaneous enough to be able to cope with the things that it throws at them." Bruno: "It depends what the writers want to explore. I know they have got plans to elaborate on Billy's back story."
Todd has a rather chequered past – Bruno, do you think that now he is a father, his dark days are behind him? "The conundrum is that in order to adopt Summer, Todd has rented a flat with Billy. But if he doesn't have a good job, he can't pay for it, and so he's gone into business with Adam Barlow. I'm not a scriptwriter, but I know there are going to be points where Todd's morals will be put into question again."
Do you think Billy and Todd will have different ideas on parenting? Daniel: "Absolutely; I think they're going to come at things from different angles. Todd is much more playful and mischievous than Billy. Billy tends to like to do things by the book, whereas Todd tends to fly by the seat of his pants a bit more." Bruno: "Yeah, I think Todd will be a bit too lenient. It's like that with me in real life!"
Photographer: Mark Bruce
How have you found working with Matilda Freeman, who plays Summer? Daniel: "I did screen tests with five different actresses and I knew immediately that she was 'the one.' With a lot of child actors, you have to drive the scene yourself, whereas with Matilda, you can throw stuff at her and she runs with it. She has settled in remarkably quickly. I had 20 years experience in the industry before I joined Corrie and I was sh***ing myself on my first day! But she was as cool as a cucumber." Bruno: "When I first starting working professionally, when I was 17, I was absolutely terrible. Things like hitting your mark for the camera were perplexing to me, and I was nervous all the time. She just walked on set and did it. She said to the director during one scene: 'Do you want me to cry on this take?' I looked at Dan and I was like 'Sh**, she is really good! She's going to show us up!'"
Now that Billy and Todd are parents, would you like them to seal the deal and get married? Daniel: "I'd love them to get married, because I'm a hopeless romantic! I also think it would be an interesting thing to highlight with the Church of England, because at the moment, if a gay vicar got married, they'd get fired." Bruno: "That would be another bit of history for the show, so I assume that's probably on the cards at some point. Getting married abroad would be a good idea. How about the south of France?"
Get the What to Watch Newsletter
The latest updates, reviews and unmissable series to watch and more!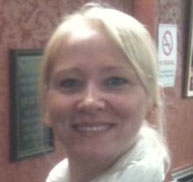 Alison Slade has over 20 years of experience as a TV journalist and has spent the vast majority of that time as Soap Editor of TV Times magazine.
She is passionate about the ability of soaps to change the world by presenting important, issue-based stories about real people in a relatable way.
There are few soap actors that she hasn't interviewed over the years, and her expertise in the genre means she has been called upon as a judge numerous times for The British Soap Awards and the BAFTA TV Awards.
When she is not writing about soaps, watching soaps, or interviewing people who are in soaps, she loves going to the theatre, taking a long walk or pottering about at home, obsessing over Farrow and Ball paint.