Corrie's Chris Gascoyne: What happened when I flatted with Roy Cropper (VIDEO)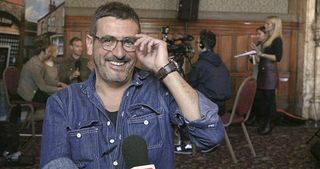 Glasgow locals were treated to an unusual sight earlier this, when Corrie co-stars Chris Gascoyne and David Neilson were living in their midst and often out on the town together
Corrie star Chris Gascoyne returned to the Street after a two-year break on Monday, but what was he doing during that absence?
Well, flatsharing with co-star David Neilson (Roy Cropper) is one thing.
The curious situation occurred when they co-starred in a production of Samuel Beckett's bizarre, macabre stage play Endgame at Glasgow Citizen's Theatre earlier this year.
Were they a real life equivalent of The Odd Couple? Not a bit of it, Chris told What's on TV: "We got on brilliantly.
"We were both pretty tidy. We were quite respectful in that sense. I used to smoke out the window and I don't think he approved of that too much, but let me get past it. I used to eat all his chocolate biscuits, but he only kicked off about it once, we got over it."
The situation got weirder when they ventured out on the town together, Chris reflected.
"Well the thing was, I had got, at that point, a completely shaved head. I looked completely different. David had grown a big beard and his hair had grown and nobody recognised him. I was getting all the hassle everywhere we went. If we went to the local pub I'd get all the hassle. David would just sit there, watching it and say, 'Oh, you handle it very well.'"
"It started annoying me, so I'd point out, 'Look, it's Roy Cropper!'"
Get the latest updates, reviews and unmissable series to watch and more!
Thank you for signing up to Whattowatch. You will receive a verification email shortly.
There was a problem. Please refresh the page and try again.