Corrie's Chris Gascoyne talks about Peter's bond with half-brother Daniel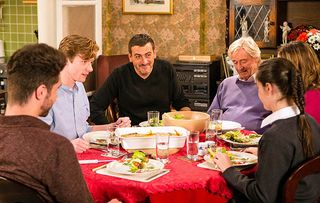 (Image credit: Mark Bruce)
What's the true motivation behind Peter Barlow's attempts to get closer to his half-brother Daniel?
Few people would choose the hapless Peter Barlow as a big brother figure, but his half-sibling Daniel is starting to look up to him. "They've formed a bond," actor Chris Gascoyne who plays Peter tells Soaplife. "Peter sees himself in Daniel and can relate to what the boy has been through - they both have Ken as a dad so share the feelings of abandonment and loneliness." The new caring/sharing Peter is even trying to build bridges with Nick Tilsley (Ben Price), but he's having none of it!
Has Peter turned over a new leaf? "He's certainly trying to make a fresh start and he's managed to find some level ground. He likes the fact that Adam [Sam Robertson] and Daniel [Rob Mallard] are on the Street, he's building a very good relationship with Leanne and is trying with Nick. However, Nick is not really playing ball."
Tell us more about his relationship with Daniel."There is definitely a bond between them but Peter is also suspicious of Daniel because he's quite evasive. He needs to know who Daniel really is to welcome him as a proper member of the Barlow family. He also rightly believes that Daniel is lying about his circumstances."
What does Daniel say about his mother Denise?"He explains that she has gone missing. Peter really wants to involve Ken [William Roache], but he is in no fit state to deal with any emotional impact. Peter and Daniel go to the police station to report Denise missing. He's looking out for Daniel, there is nothing in it for him and he genuinely wants to help."
How does he feel about Nick?"He wants Leanne to be happy and if Nick can do that then great. He's willing to try to build a few bridges. He senses that Nick is jealous of his relationship with Leanne [Jane Danson], though."
Does Nick have cause to be jealous?"Peter and Leanne have a great relationship. They have very deep roots because of their past and the fact that they are both parents to Simon. Sometimes Nick's actions are valid as he always seems to know when Peter's up to something, but Nick is also a real worrier and gets paranoid."
Is he bothered by Nick? "That's an interesting one because the balance always shifts. I kind of like the fact that nobody wins and nobody loses overall - it is like Mike Baldwin and Ken Barlow. Nick likes to say things like, 'I'm a better man' but Peter finds that embarrassing and thinks Nick's an idiot."
Coronation Street, ITV
Get the latest updates, reviews and unmissable series to watch and more!
Thank you for signing up to Whattowatch. You will receive a verification email shortly.
There was a problem. Please refresh the page and try again.