Colson Smith: 'I got fed to the lions when I turned 16 and went into Corrie's adult green room!'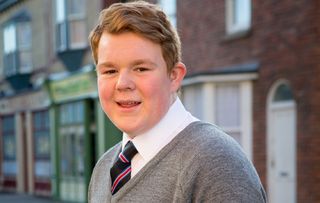 (Image credit: Joseph Scanlon)
The soap star talks about being Bethany Platt's unlikely saviour during Coronation Street's recent child grooming storyline and the on-set banter in the ITV soap...
Heroes come in all shapes and sizes – and it's Craig Tinker who has become Bethany Platt's in Coronation Street. The Special Constable recently diced with danger and risked his career to get his Sergeant and mentor, Neil Clifton, to confess to having sex with the vulnerable schoolgirl, who was groomed by 'boyfriend' Nathan Curtis.
As Craig is set to be questioned by his superiors over the dubious way he obtained evidence, we caught up with Colson Smith, 19, who plays the new recruit…
Are you surprised that out of all the characters in Coronation Street, it is Craig who has turned out to be Bethany's savour? "Yes; you don't automatically think of Craig as the hero, but I guess he was in the right place at the right time. Bethany needed somebody to listen to her and he's the sort of person who will sit back and listen, and not judge. It's Craig's personality that has meant he has become the hero."
Craig was a dopey kid when he first came to the cobbles and didn't speak very much. Are you surprised by the man he has become? "Yes, and it has been really good to play the twists and turns of Craig's life. He's been through a lot – when Faye had her baby we saw a different personality, and when his dad came into the show, we saw a bit of an angry and passionate side to Craig. With the Bethany story, this is probably the first time he's really had to step out of his comfort zone."
Craig has to face his superiors at the police station this week, over the way he got a confession out of Neil. How would he feel if he was given his marching orders? "Being in the police force is the first time where he's felt accepted and belonged. He is upset at the thought of losing his job, but he understands that if that happened, it's because of what he did for Bethany. So for him, that's OK."
You joined Corrie in 2011. What has it been like for you, growing up on a soap? "I was 12 when I joined, and I suppose that being with adults and having friends that were a lot older than me means that I've grown up quickly and I've got quite an old head on my shoulders. I always tell my friends at home that my banter's far better than theirs because I've had more experience. I got fed to the lions the minute I turned 16 and went into the adult green room!"
Tell us more! "Alan Halsall (who plays Tyrone) is the King of Banter! But what happens in the green room stays in the green room. Let's just say I learnt quite early on not to leave my mobile phone unaccompanied!"
When you look back at your childhood, does it surprise you that you have become an actor? "My dad said to me that when you're a parent and your child is first born, you hold them in your arms and you think: 'This kid is going to be a…' and he'd have never said 'actor' in a million years.
"I don't really know where it came from. I was born in Devon in the most rural of rural places, and when I moved to Yorkshire and became a townie, I did loads of stuff after school. I played football, cricket, and I went to a drama class – and the thing that stuck was drama. I kind of got lucky with it; it was a hobby that turned serious."
Speaking of children, would you like Craig to settle down and have a family one day? "I imagine Craig being the sort of guy to want that life. He's not had the best of backgrounds, and there's not much stability in the Tinker family. So I think Craig just wants stability and normality.'
Craig has fallen for Bethany – would you like them to become an item? "It'd be interesting to see. Obviously, she has been through a lot, and I believe Craig will be there as a friend; get her back onto the track of enjoying her life and being a teenager. If romance happens, it happens. But it'd be nice to have more scenes with Lucy Fallon."
Get the latest updates, reviews and unmissable series to watch and more!
Alison Slade has over 20 years of experience as a TV journalist and has spent the vast majority of that time as Soap Editor of TV Times magazine.
She is passionate about the ability of soaps to change the world by presenting important, issue-based stories about real people in a relatable way.
There are few soap actors that she hasn't interviewed over the years, and her expertise in the genre means she has been called upon as a judge numerous times for The British Soap Awards and the BAFTA TV Awards.
When she is not writing about soaps, watching soaps, or interviewing people who are in soaps, she loves going to the theatre, taking a long walk or pottering about at home, obsessing over Farrow and Ball paint.
Thank you for signing up to Whattowatch. You will receive a verification email shortly.
There was a problem. Please refresh the page and try again.