7 things you never knew about ex Coronation Street villain Connor McIntyre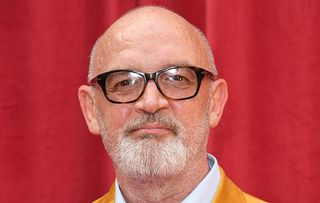 (Image credit: Doug Peters/EMPICS Entertainment)
Connor, who won 'villain of the year' at the British Soap Awards, didn't plan on becoming a huge soap star
He was one of the best villains soap land had ever seen before he met his maker at the hands of Anna Windass, but former Coronation Street star Connor McIntyre is worlds apart from his legendary onscreen character Pat Phelan. Here's 7 things you never knew about him...
1. He left school with no qualifications
Connor grew up in Liverpool, first in Aigburth, then Toxteth where his mum and dad both worked in a bookies, but the former Dingle Vale school boy has admitted he wasn't the keenest of pupils.
"I don't suppose I was academic, I wasn't that bright. So in short, I seldom went to school," he admitted in an interview with the Liverpool Echo.
"I'd hang out, smoking, doing what they do now when they don't go to school, normal Tom Sawyer and Huckleberry Finn stuff...okay it might not have been that, but it feels like it when you're that age."
Connor therefore left school with no qualifications and decided to go straight into work.
2. He used to work as a lifeguard
Before becoming an actor, Connor was somewhat a jack of all trades and has previously worked as a lifeguard and a car salesman. After leaving school, he started out as a lifeguard through a job creation scheme.
"I worked at Austin Rawlinson baths in Speke. Was I a good lifeguard? Well, I didn't lose anybody," he once said. "And it was a good job, especially in terms of climate and what it was like then. I was quite sporty and active."
This then led to Connor getting a job at nearby St Ambrose Boxing Club.
"I was a boxing coach and I did some boxing myself but it's no game to be in unless you have total commitment. But it really was a great time and I still have some good friends who I worked with there," he revealed.
Connor then went to stay with his Royal Navy brother Noel in Plymouth. He worked part-time as a car salesman in Germany travelling back and forth from Plymouth.
3. He has a degree in fine arts
He may spend his time onscreen terrifying the residents of Weatherfield, but offscreen Connor is an artist.
Despite leaving school with no qualifications, the soap star studied a fine arts degree, gaining a first class honours, and then embarked on an MA in contemporary art practice at the University of Plymouth, in 2015.
Connor has his own official website which is full of his creative artwork. He's also the founder and co-director of The Alamo Project, the largest independent artist led studio space in Plymouth, which offers a mentoring environment for emerging artists.
4. He didn't start acting till he was 30
Connor was a latecomer to stage and screen, and discovered his passion for acting aged 30. While living in Plymouth, one day he decided to visit the Barbican Theatre and asked if he could sit and watch a group of actors, who were there rehearsing a play.
Connor can still remember that moment: "I had an epiphany. I had a moment, in that dark space, like when John Lennon saw Chuck Berry, I thought – now that's a good job!"
According to IMDB, his first acting role was in TV series Backup which aired in 1995. He's also starred in London's Burning, The Jury (below) and Drop Dead Gorgeous.
5. He once played a nurse in A&E
Back in 2002, Connor landed the role of nurse Terry Harker in TV series Always and Everyone.
The medical drama, which was broadcast on ITV, ran from 1999 to 2002. Connor also starred in Doctors and Casualty.
6. He nearly almost died while filming
Back in 2003, Connor had a brush with death while filming Murder City.
He suffered a near-fatal heart attack, and if it hadn't been for the fact that he was only minutes away from the Royal Infirmary in Manchester when it happened, Connor believed he would have died.
Since the awful incident, Connor's outlook on life has certainly changed. "I have become increasingly philosophical about things," he recalled in an interview with The Mirror last year.
"I have had a near-death experience and that gets your priorities sorted. I have stared death in the face."
7. He used to live with his co-star Richard Hawley
Connor used to be roommates with his Coronation Street co-star Richard Hawley, who plays Underworld boss Johnny Connor.
The actors began co-habiting a couple of years ago when Richard needed somewhere to crash that was close to the soap's set in Manchester.
At the time, Richard told Lorraine Kelly: "It's the odd couple. We stay together five days a week we share a flat together in Manchester.
"It's been a very enriching time actually, it's quite funny, because we lounge around in our pyjamas, each one of us play the other characters in the show (when practising our lines) ... I've got my northern wife in Phelan!"
Coronation Street continues on ITV.
Main pic: Doug Peters/EMPICS Entertainment
Get the latest updates, reviews and unmissable series to watch and more!
Thank you for signing up to Whattowatch. You will receive a verification email shortly.
There was a problem. Please refresh the page and try again.