Coronation Street star Sally Carman: Why playing 'manky' Abi is good for my ego!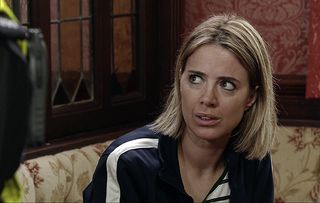 Folk can't believe how glam she is off-screen!
Troubled mum Abi Franklin isn't the most glamorous of Weatherfield residents, but Coronation Street actress Sally Carman wouldn't have it any other way.
The star tells us that she loves her character's scruffy look, especially as it means people are taken aback when they see her off-screen looking a whole lot smarter.
Says Sally: "I love the fact that Abi is manky. I love that her hair's a mess, she's got hardly any make up on, wears really dodgy black eye liner and has awful clothes, and I want her to stay that way; I want her to remain that kind of person. And it means I only have to spend five minutes in costume and make-up!
"Off-screen, I'm the opposite; I put a load of make up on and curl my hair. It's brilliant; it's so good for your ego because you go out and people are like 'Oh, you're so pretty in real life.'
"I'm not particularly, it's just that I've made an effort!"
Abi's drab look isn't about to get any better, as she'll soon end up in prison.
In next week's episodes, son Seb trashes the florists when he finds out that Tracy Barlow set up his mum for sabotaging Michelle Connor's car. When a cop turns up, Seb hides in the back room and Abi then steals money from the cash till to make it look like she's the guilty culprit.
It does the trick - she's arrested, and later sent down for sixteen weeks.
Adds Sally: 'The police officer is about to discover Seb so she has to take them off the scent by grabbing some money. It's the first decent thing she's really done for her kids.
"She's been in prison before – she's practically got a wing named after her. So she knows her way round and she'll be able to handle herself."
Sally pic: David Fisher/REX/Shutterstock
Get the latest updates, reviews and unmissable series to watch and more!
Thank you for signing up to Whattowatch. You will receive a verification email shortly.
There was a problem. Please refresh the page and try again.