Does Coronation Street's Sue Nicholls do her own stunts? The Audrey Roberts actress reveals all…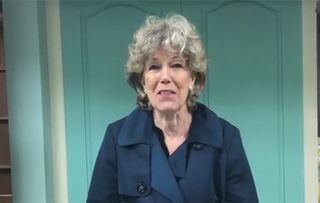 Corrie fans were left aghast when Audrey fell victim to a vicious mugging this week
Coronation Street's Audrey Roberts hasn't had the best week as she became the victim of a vicious mugging attempt.
The popular character was knocked to the ground as a load of kids on bikes mounted the cobbles in bid to steal her handbag. Poor Audrey!
Audrey (played by Sue Nicholls) along with Roy Cropper and Brian Packham, were attacked by the youths after meeting with clairvoyant Rosemary Piper. Although the two gentleman fought off the would-be thieves and called an ambulance, things didn't end there.
Roy then went to confront Leanne and Peter, saying he noticed that their Simon was one of the attackers.
But what got us thinking was whether or not Sue Nicholls had paid a trip to stunt school before filming this episode and whether or not the 74-year old does her own stunts.
Well, we didn't have to wonder for a long time as she has revealed all...
Sue took to the Corrie Instagram page and said: 'I'd just like to tell you that I've just done the most magnificent stunt in the whole of the Coronation Street era. But, I can't tell you that because I didn't do it. I had the most wonderful stunt lady called Daz.'
So there you have it.
To be honest, we're very relieved because poor Audrey took an almighty blow to the hip by the look or it.
Thankfully Roy was on the case and told Peter and Leanne that Simon had to confess to the police, or else he will report him.
Simon went to see Audrey in hospital, but his actions proved insincere, as he later boasted to his friends that the police won't be getting involved.
What an idiot!
So what will happen next? Will Audrey make a swift recovery and will Simon get his comeuppance? Tune in to find out.
Get the latest updates, reviews and unmissable series to watch and more!
Thank you for signing up to Whattowatch. You will receive a verification email shortly.
There was a problem. Please refresh the page and try again.