'I don't want to mess things up,' says Corrie's Georgia Taylor about her return as Toyah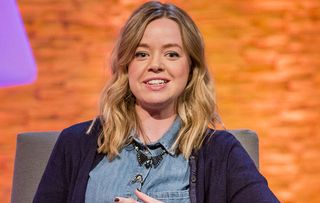 (Image credit: S Meddle/ITV/REX/Shutterstock)
Toyah Battersby is back on Christmas Day, as a big part of the Coronation Street festive special – and more. Here, Georgia Taylor talks about the tricky decision to go back…
Sitting in Nick's Bistro, Weatherfield's alternative to a pint and pork scratchings in the Rovers, it's time for a chat with Coronation Street's Georgia Taylor, who has returned to the soap after a 14-year absence to bring back Toyah Battersby. Such fancy establishments weren't around in Toyah's day. The whole set, in fact the whole studio, is brand new to Georgia. Now 36, Georgia was a just 22 when she left the soap. Having arrived as a gobby, riotous teenager, she turned into a tree-hugging hippy with her on-screen love, Spider (Martin Hancock).
And now she's back, turning up at stepsister Leanne's flat on Christmas Day after an almighty bust-up with her husband. Since she left, Georgia has been a jobbing actress on everything from Law & Order: UK to Casualty, where she played Doctor Ruth Winters for four years and met her long-term boyfriend Mark Letheren, who she lives with in Bristol. Georgia talked to The Mirror about finding her feet on her return, the horrors of looking back at the early days, and comedy Christmas turkeys…
Was it terrifying to be back at first? "I'm kind of the new girl, but I'm kind of not. The first time I walked into the green room I saw Jennie McAlpine [Fiz], one of my best friends, so I had a cup of tea with her, and that helped. And it took half an hour to eat a sandwich, because people kept coming up and giving me hugs. There's a lot to take in, we're in a new studio and there are a lot of new faces."
And you're back as a part of the Christmas Day episode. So, no pressure… "I know how much importance they place on those kind of episodes. It's a privilege to be part of it, but it's not like I carry the whole episode, there are so many things going on."
Have you been asked back before? "I was asked for a couple of episodes for Les and Cilla's wedding. But I was working on something else and I've always said if I came back I'd want to commit to it and not just be a wedding guest. I wanted good storylines and a real reason to return."
Was coming back a tricky decision? "It took me a few months. My heart said 'yes' and I was getting excited, but there was a lot to think about. People responded to Toyah first time around and I don't want to mess that up and undo the good work I did. That still might happen, I suppose… Also, I've been a jobbing actress for 13 years and when you're in a show like this you're committed. So it was, 'Am I ready to get myself in a position where I'm just in one job and focused on one character?'."
Did you ask for advice from anyone? "I messaged Jane [Danson, who plays Leanne] straight away. She was delighted at the prospect, but she understood why it was a massive decision to make, so she wasn't trying to emotionally blackmail me. She was like my counsellor. She's got such a balanced view on things, and she's also one of my best friends. When I made the decision she was over the moon."
What did your boyfriend make of you going back to full-on soap stardom? "When I got the call I felt flattered but panicked, and he's been really supportive. He's an actor, we've had long periods of time with him away on tour, or working in New York, so it's not alien for one of us to be away. Bristol will be my sanctuary, it'll be good for me."
Did you watch old footage of Toyah before you came back? "I did and it was horrendous. I'm not exaggerating, I don't know how I lasted as long as I did. How did they not go, 'She's awful'? They nurtured me and gave me the benefit of the doubt. I hope I was a better actress when I left than when I arrived."
What kind of reaction have you had about your big comeback? "People who've been messaging me have been positive. They're nostalgic about the Battersbys and grew up with Toyah and Leanne causing mayhem. And it won't be anything like back in the day. It was crazy. I just clung on to Jane then, the attention was insane."
Has it been easy to slip back into character? "I'm still finding her. It would be ridiculous if I played her how I did when I left. I was just a baby. I want to see the massive contrast between her and Eva [Catherine Tyldesley, who plays Leanne's half-sister]. She's not as well put together as Eva."
Coronation Street, ITV
Get the latest updates, reviews and unmissable series to watch and more!
Thank you for signing up to Whattowatch. You will receive a verification email shortly.
There was a problem. Please refresh the page and try again.