Corrie's Alison King: 'I'm looking forward to doing the school run in my pyjamas'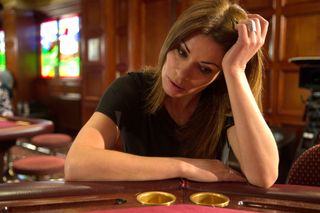 Alison King (opens in new tab) tells Soaplife about her emotional Coronation Street departure – and about her plans for life after Carla Connor!
What was it like filming Carla's exit?
"I'm shattered. These last few weeks have been possibly the hardest and most emotionally draining of my time on the Street over the past 10 years. I feel a bit broken and I can't keep going at this pace. I really would be in danger of breaking myself if I did."
So you're leaving the Street because you need a rest?
"Yes, but that's not the only reason I'm going… I had a career before I joined Coronation Street. I'm 43 and if I don't leave now I can't see that I ever will! Some 40-somethings seem to be rather hot-to-trot on TV right now, so I want to get out there and see what I can do."
Have you any definite plans?
"There are some rather exciting things coming up, but I can't say what at the moment. There's so much good stuff on TV right now. ITV are making great series like Marcella. (opens in new tab) I loved The Affair (opens in new tab) on Sky Atlantic and I'm a massive fan of The Bridge (opens in new tab). I'd also like to do some comedy for a change."
Would you consider any reality TV?
"Only Strictly Come Dancing (opens in new tab)! Maybe… I love to dance and I used to do a lot when I was very young, although I've completely lost any technique I had. The problem is that, as quite a private person, I'm not keen on all the other personal stuff that goes with the dancing."
You've also said you want to spend more time with your seven-year-old daughter, Daisy…
"Yes. We're both looking forward to me being around more. I'll be doing the school run in my pyjamas! We're also planning to go away somewhere when Daisy's on school holiday at the end of May."
What are you going to miss the most about Corrie?
"The people… They're my family at the end of the day and I can't even talk about it without crying. I see more of them than I do anybody and we all look after each other so, so much."
Is there anything about Carla you'll be glad to leave behind?
"The sickly grape juice that is Carla's red wine substitute, and her voice. If I ever do anything else, please remind me not to do a nasally voice like that ever again!"
Did you do the voice from your first audition?
"Yeah. I'd been down in London so long my voice had gone really neutral and I'd forgotten how to do a Manc accent. Before my audition, I went around Manchester with a recorder and got people to speak into it. I did my own nasally version of what I heard for the audition and it stuck! I've taken a little bit of that home with me so I'm going to have to get rid of it."
Will you go back to Corrie?
"They have kindly left the door open for me. It's amazing that they have. I can imagine coming back here in the future and hanging my hat up. But it's not good for me professionally to say I'm taking a break rather than leaving. Then I wouldn't be considered for things because it would be presumed I'd be returning before long."
Are you going to take any souvenirs from Carla's wardrobe?
"They're all near enough mine anyway, so, yes, I will! I'll also be taking some of her coats. I don't want her boots, they're knackered. My feet and toes are fractured from being on the cobbles. I just got a stress fracture on my metatarsals so I'm absolutely not going to wear high heels, ever again."
Coronation Street (opens in new tab), ITV
Get the What to Watch Newsletter
The latest updates, reviews and unmissable series to watch and more!