Corrie's Ben Price: 'You become meshed in the relationship – I'll miss Alison so much'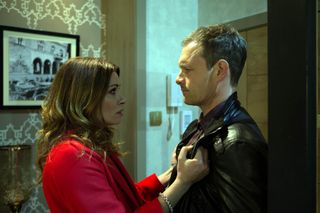 (Image credit: Joseph Scanlon)
Nick tells Carla he can't marry her because of his brain injury, as Corrie star Ben Price (opens in new tab) reveals to Soaplife…
Did Nick always expect his health problems to return?
"Yes, but only when he was much older. It's his greatest fear he's now going to be like this for ever. He decides he has to handle it alone, away from Carla [Alison King (opens in new tab)] and his family. He's aware his life will change and he expects to be on his own."
When does he tell Carla?
"After his disastrous stag night, he feels he can't burden Carla with his blackouts and rages. He thinks she should be with a well man, someone who can care for her in the way she deserves, and Nick believes he's no longer capable of being that man.
"Carla reacts badly, as you'd expect. She's annoyed and angry because she doesn't know the real reason, and she thinks there's something else going on. She wonders if he's found out about her one-night stand with Robert [Tristan Gemmill (opens in new tab)]. Nick's got no idea about the lengths she's been going to in order to make sure this wedding goes ahead."
Will Carla be able to change his mind?
"She'll try to convince him and maybe he'll think if he can get away from the street and all the stress, sell up and start a new life with Carla, then maybe it will be all right. He wants it to be OK, but he fears the worst."
We know they're not going to walk off into the sunset together because Alison is leaving!
"I'll miss Alison so much. The laughs, the crying… all of it. You become meshed in this relationship, which is so important because you work so closely together. It's fantastic for Ali that she's going off to do different things. But, for me, it's very, very sad."
Coronation Street (opens in new tab), ITV
Get the What to Watch Newsletter
The latest updates, reviews and unmissable series to watch and more!