Corrie's Sally Ann Matthews: 'Kev was a bit of a stunner back in the Eighties. Everybody wanted that 'tache!'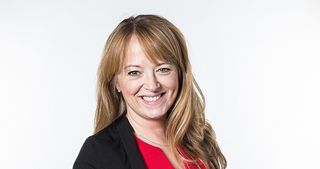 (Image credit: Joseph Scanlon)
After 21 years away, Sally Ann Matthews is back as Jenny Bradley in Coronation Street – and that can only mean trouble.
TV Times chats to her about returning to the cobbles...
You often get called Jenny in the street. Do you mind?
"I spent a lot of time trying to shake off Jenny, but then I realised I would never be able to and it would be better to embrace it."
Why did you decide to leave Corrie?
"I felt that Jenny Bradley was holding me back from doing other work because people still thought I was 15, but I reached a turning point and felt happy to come back. I am proud to be part of a show that has been going for so long."
Jenny tried to con Rita when she left, so when she returns, what reaction does she get?
"Nobody is pleased to see her. What she did to Rita has morphed and been exaggerated. Fortunately for Jenny, Rita is on holiday when she first comes back to the street."
It's Kevin Webster who finds Jenny. Tell us how?
"Kevin finds Jenny whilst trawling through online dating profiles and she recognises his picture, so they arrange to meet."
Has she always liked Kevin?
"Back in the Eighties, Kev was a bit of a stunner. Everybody wanted 'that tache. Jenny certainly had a bit of a crush on him."
How long are you back for?
"I am here for a little while. The story has a beginning, middle and an end."
Where has Jenny been all this time?
"I don't know. People remember her as a tearaway teenager, but I think she has had a full life in the past 21 years."
When you left Corrie you had a part in Emmerdale. How long were you there for?
"I was in Emmerdale for a year, but nobody noticed. I was the world's best paid extra!"
Your husband is a criminal QC. How did you meet him?
"I met my husband when I was doing Romeo and Juliet in Liverpool. I was never any good at dating. I was having a drink with Michelle Hardwick, who is Vanessa in Emmerdale, when this American guy bought us drinks.
"I wasn't interested and had a bit of eye contact with my husband who eventually came over and rescued us – he doesn't watch TV so didn't know who I was."
Did you feel nervous about coming back to Coronation Street?
"I was ridiculously calm, which is strange because on every other job I am a nervous wreck. The worst bit for me was having to keep it a secret for six months. On my first day back, I was super relaxed, perhaps it's because I was working with Michael Le Vell."
How did you feel kissing Michael Le Vell?
"I used to hate kissing scenes when I was younger and I was always snogging somebody. I used to think 'What if they think I really fancy them?' It was great snogging Michael as I knew he knew I didn't fancy him."
Are you happy to be working with Barbara Knox again?
"Barbara and I have always been in touch. We went out for dinner last week and thought we would be back early. We did five hours of non-stop talking and only got as far as 1995!"
Get the What to Watch Newsletter
The latest updates, reviews and unmissable series to watch and more!