'Eve and I had to do the kiss about six times!' reveals Coronation Street's Colson Smith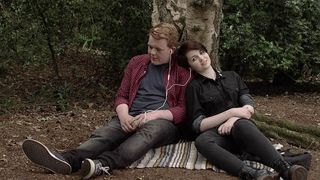 Love is in the air for Craig Tinker when a camping trip brings romance, Coronation Street's Colson Smith tells Soaplife…
Craig is a lovely lad, who's ripe for his first taste of romance… and he gets it. Craig meets a girl named Caitlin Ryan on holiday and there's a definite chemistry between them.
"Craig's wandering around searching for a phone signal when he bumps into Caitlin. They get chatting and it turns out they share similar interests, then they end up falling for each other," Colson (opens in new tab) says.
So, what's Caitlin like?
"She's quite arty and edgy. There's definitely something about her and she really brings out the best in Craig's personality."
What does his mum, Beth, think?
"When Craig first tells her he's met a girl, Beth [Lisa George (opens in new tab)] – and everyone else - thinks he's making her up. But then Caitlin and her dad, Dougie [Paddy McGuinness (opens in new tab)], join them for a barbeque and it's obvious she does exist!"
What interests do Caitlin and Craig have in common?
"Art. When Craig first meets Caitlin [Eve Gordon (opens in new tab)], she's been sketching. Later, he finds out he's got an A grade in his GCSE Art, as well as good grades in nine other GCSEs. He's a smart kid and fancies going to art college when he's older. Caitlin decides to sketch Craig, then, later on, she kisses him. He's over the moon."
Was it your first screen kiss?
"Yeah. I wasn't that nervous about it initially, but then Alan [Halsall (opens in new tab), who plays Tyrone], and Paddy ripped into me! Paddy kept going wrong on purpose so we ended up having to do the kiss about six times. It ended up being a great laugh, though."
What does Dougie think of Craig?
"Dougie's your typical, 'Get your hands off my daughter' kind of bloke. He walks in on Craig and Caitlin when they're kissing. Dougie liked Craig when he first met him, but he goes off him after the kiss. By the end of the week, though, Dougie's warmed to Craig again. Seeing his daughter with a boy is a bit of a test for Dougie."
Is it just a holiday romance?
"I'm not quite sure where Caitlin and her dad are supposed to be from, but I've a feeling it's Wales. We'll see what happens. I'm hoping they meet up again, but maybe they'll end up going out with other people. It's a case of wait and see, but it's certainly a week Craig will never forget."
Coronation Street (opens in new tab), ITV.
Get the latest updates, reviews and unmissable series to watch and more!
Thank you for signing up to Whattowatch. You will receive a verification email shortly.
There was a problem. Please refresh the page and try again.