'The real reason I went grey…' Coronation Street's Tristan Gemmill tells all!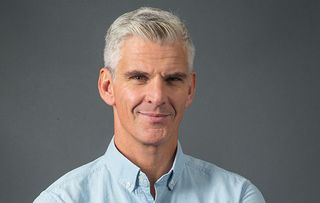 (Image credit: Mark Bruce)
Corrie actor Tristan Gemmill tells Soaplife about his decision to go grey, his love of tennis and how he could find out that he's related to Danny Dyer!
When it comes to telly silver foxes, they don't come much foxier than actor Tristan Gemmill, who plays Corrie Bistro proprietor and chef Robert Preston. It's almost a year now since he stopped dying his hair and we reckon he's all the more handsome for going 'au naturel'. So why did he wait so long to do it?
What's the story?
"There are a number or reasons," Tristan laughs in an exclusive chat with Soaplife. "I'd toyed with stopping with the tinting for quite a long time, but the problem was continuity on Coronation Street. Because we film in blocks that are out of sequence, I couldn't be grey in one scene but dyed-black in the next! The chance came when Robert was sent to prison last year and I had about six weeks off. I figured it was now or never – although I consulted the producers first, of course. They were fine about it fortunately." Bet Tristan's follicles are thankful, too!
What's happening in Coronation Street? See the latest soap storylines
Coronation Street star Tristan Gemmill's interview with Soaplife on acting - and letting his hair go grey!
Tristan Gemmill as Robert Preston with Kym Marsh as Michelle Connor in Coronation Street
Soaplife: What kind of reaction have you had to the silver fox look?
Tristam Gemmill: "A much bigger one than I thought I'd get! I much prefer not having to dye my hair. In order for it to look reasonably authentic, I was having to get it done every week – not great for the condition, plus it was a real pain. There comes a time in every man's life when he has to stop trying too hard, I think, and I'd reached mine."
S: Can you tell when other guys have had a 'dye-job'?
TG: "Immediately. When you've it done yourself, you just know when other men are dying their hair. You recognise it. Enough of the hairy talk, though! What else shall we chat about?"
S: Er, your prowess as a tennis player? We hear you're a right little Roger Federer!
TG: "Hardly! I do enjoy playing tennis, though. It's my fitness thing, if you like. I'm not into going to the gym or going running just for the sake of it. I need a competitive reason to get out there, which means I like to play a proper match and hopefully win."
S: Guess you're watching Wimbledon, then…
TG: "Absolutely. I can't get enough of it. Roger Federer is probably my favourite player. He's almost 37, but he has more than still got it."
S: You were in Casualty before Corrie, of course. Do you keep in touch with any of your old mates there?
TG: "I had a lovely chat and a drink with some of them at the BAFTAS a few months ago. Casualty's become a bit grittier since I was in it. That's no bad thing, though."
Tristan Gemmill - with dark hair - as Adam Trueman and Lucy Gaskell as Kirsty Clements in Casualty
S: What was your inspiration to become an actor?
TG: "I always wanted to act. When I was 12-years-old, a TV production about Churchill starring the late Robert Hardy and Nigel Havers needed young school students to appear in it, and I was chosen. I spent a couple of days on set with Robert and Nigel, and it made me even more keen to act. My parents said, 'Make sure you get your exams in case it doesn't work out in 10 years, so I did'.
S: That sounds like good advice!
TG: "It's advice I would pass on to aspiring actors now. It's a lot harder today than when I started out. Competition is so high. For every part you go up for, there are 200, 300 or 400 people who want it, too. It's great if you have talent, but it's no guarantee for success."
S: Would you encourage your three children to follow in your footsteps?
TG: "I'd be actively discouraging them not to! You have to deal with rejection and insecurity. You have to be fairly thick-skinned."
S: You're a southerner by birth, but you're playing a northerner. Are there any northerners in your family?
TG: "Not in my immediate family, although I had a great grandfather who came from Barrow in Furness and I also have some Scottish blood. I'd like to do one of those DNA tests to find out more about my ancestry."
S: Maybe you could do the TV programme Who Do You Think You Are?
TG: "I'd love that. Maybe I'd find out I was related to Danny Dyer or something!"
Get the What to Watch Newsletter
The latest updates, reviews and unmissable series to watch and more!