'I'm much more chilled since becoming a mum,' says Coronation Street star Paula Lane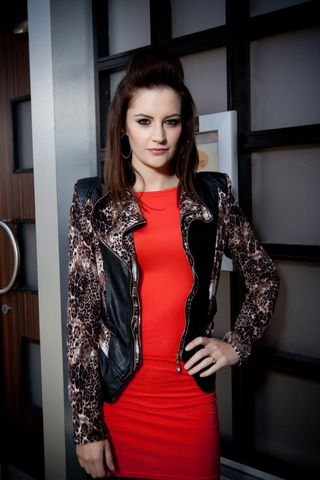 Paula Lane talks to Soaplife about loving life with her new son, Arthur, her actor-husband Tom and her starring role in Coronation Street.
Playing Kylie Platt in Coronation Street means Paula has been at the heart of some of Corrie's most gripping plots ever… Kylie sold her son, she's been addicted to drugs and, several weeks ago, she took centre stage on the live episode, as Kylie killed her drug-dealing ex, Callum Logan (Sean Ward (opens in new tab)) when he attacked Sarah (Tina O'Brien (opens in new tab)). Oh, and she's the mother of baby Arthur, who'll celebrate his first birthday on News Year's Eve.
Paula's (opens in new tab) face lights up at the mention of her son. "He honestly is the most content, most placid baby I've ever known," she said. "I know I'm very lucky. My priorities have changed since becoming a mum… But that's fine. I always wanted to become a mum and I'm so much happier as a result."
So, would you say you feel totally fulfilled these days?
"Oh, yes. While it's crazy being so busy at work and having a baby, I seem to be doing OK. Arthur's great. I'm more chilled than I was before. I guess you have to be or you'd drive yourself around the bend."
What do you do for childcare?
"I've got a very good support network. My husband Tom [Shaw (opens in new tab)] has Arthur when I'm working, or my mum does... I couldn't do it without them and it works for us. There are good days and bad days. Sometimes I'm at work for 12 hours, but sometimes I'm home by the afternoon. There's no set routine and that's what makes it exciting."
You ran the London Marathon in 2012. Do you think you'll do it again?
"I don't know. I was quite poorly the day after I did it and had to take time off. I don't know if running 26 miles suits the kind of runner I am. I'll happily do a half marathon, though. It suits me better and I still get the adrenalin rush. Now, when I go for a run, I sometimes take Arthur with me in one of those special jogging pushchairs. If I'm shattered, I'll go for a walk instead. I don't punish myself."
You and Tom recently opened a children's drama academy in Hebden Bridge, Yorkshire. What made you do that?
"I know from personal experience the advantages that acting can bring to a young person and it can be a great starting block for building confidence in a young person, for example with public speaking and social skills."
Harry McDermott (opens in new tab) (Kylie's son Max) is a great little actor…
"He genuinely enjoys it and wants to be on set. There's not a day when he's ever moaned to us and was even happily working on his birthday."
You and Jack P Shepherd (opens in new tab) (Kylie's husband David) have a real on-screen chemistry. Do you get on well away from the cameras?
"Yeah, we're very comfortable with each other. If we've got any emotional scenes, we can just say to each other, 'I need a minute' and it's fine. You know what makes each other tick, and if one of us is having a rough time, the other knows whether to steer clear. It's a friendship and I think that's why we work really well together."
As a killer, will Kylie will get her comeuppance?
"Morally if you kill someone in soapland there has to be justice in the end. I guess I'll just have to see what happens, but there's a lot, lot more to come for Kylie and the rest of the Platt family. It's the most challenging storyline I've ever been involved in."
Coronation Street (opens in new tab), ITV
§
Get the latest updates, reviews and unmissable series to watch and more!
Thank you for signing up to Whattowatch. You will receive a verification email shortly.
There was a problem. Please refresh the page and try again.