'I want Aidan to be a bad boy,' says Corrie's new recruit Shayne Ward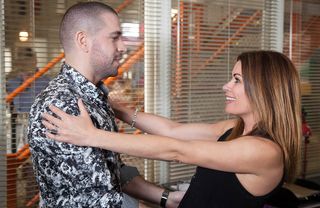 Aidan Connor arrives in Coronation Street to rescue Carla's failing factory, says ex X Factor champion Shayne Ward. But it's a bigger mission than he realised!
Tell us more about Aidan...
"He's an Irish Mancunian – just like Michelle Connor [Kym Marsh] and her late brothers, Liam and Paul. He was brought up on the same estate as the Connors and Carla. He's been living in Tenerife for a few years and while he likes his life there, he's also up for a new challenge."
And Carla's a big challenge!
"Aidan remembers Carla [Alison King] as this strong person who could really look after herself and it's not nice to see her losing it in front of his eyes."
How does he know Carla's in trouble?
"He receives a secret phone call and comes over as soon as can."
Is Aidan a nice guy?
"He is. He's cheeky, charming, confident and a bit cock-sure, with a strong sense of family. You don't want to cross a Connor! It'll be interesting to see what the writers do with him and whether they'll show a nasty side to him. I'd quite like him to be a bit of a bad boy, actually."
Can he do business with Carla?
"I can't imagine it will be all plain sailing because both Carla and Aidan are strong characters. I can see him having a few run-ins with Sally [Sally Dynevor], too. I'm looking forward to having some set-tos with familiar faces."
Who might catch his eye when it comes to romance?
"I'm hoping there will be a love interest for him before long. Maybe a new or returning character…"
And Aidan's dad and sister will be joining him in Weatherfield soon…
"Yes, and I'm looking forward to that, and how we'll connect and bounce off each other. The more new Connors the merrier, I say!"
Coronation Street, ITV.
Get the latest updates, reviews and unmissable series to watch and more!
Thank you for signing up to Whattowatch. You will receive a verification email shortly.
There was a problem. Please refresh the page and try again.